How ArtsEmerson Serves As A Model For Equity In The Arts
At a meeting with several arts organizations in 2013, David Howse, then the executive director of the Boston Children's Chorus, became frustrated. He was sitting in a meeting with other arts leaders as they discussed how inclusion and diversity efforts that lead to civic transformation could be the "new normal" in Boston's cultural organizations. He was tired of asking the same questions: Why am I the only person of color in this room? Why don't the boards and the executives of major artistic institutions reflect the passion and values of inclusivity that their programming proclaims to uphold?
Then came a surprise. A newcomer in the room spoke up. He asked the same questions Howse often posed. What were these institutions doing to confront biases and white supremacy internally before trying to serve communities they've often ignored? Why the sudden fervor now? Was it just because issues of cultural equity were now in the proverbial zeitgeist — trendy keywords that signal an arts organization is relevant? Were folks performing their wokeness?
"I think we get into these rooms as leaders and we sort of perform for each other and we kind of appease and sort of bow to the donor," said Howse in an interview. "And that's not who I am. And so to find a voice who wasn't afraid to actually create disruption in a meeting where we are on our best behaviors was incredibly refreshing."
That stranger was David Dower, ArtsEmerson's artistic director who arrived in Boston in 2012 and soon took the baton from its founder Rob Orchard, who'd started the organization in 2010 — the year Boston solidified its standing as a city without a white cultural majority, according to the U.S. Census.
ArtsEmerson has not only filled a void in the cultural ecosystem with new work, it has also emerged as a model of how to do the internal, uncomfortable work of attempting to reform systemic inequalities in the arts — helmed by Dower as artistic director and Howse as executive director.
The presenting organization of Emerson College, ArtsEmerson began its 10th season this month. It's staging a mix of international work (like "Passengers" from The 7 Fingers) and original, daring work (like "Detroit Red," a look at Malcolm X's formation in Boston by renowned playwright Will Power, and "Parable of the Sower," a theater adaptation of Octavia E. Butler's seminal Afro-futurist novel by Toshi and Bernice Johnson Reagon).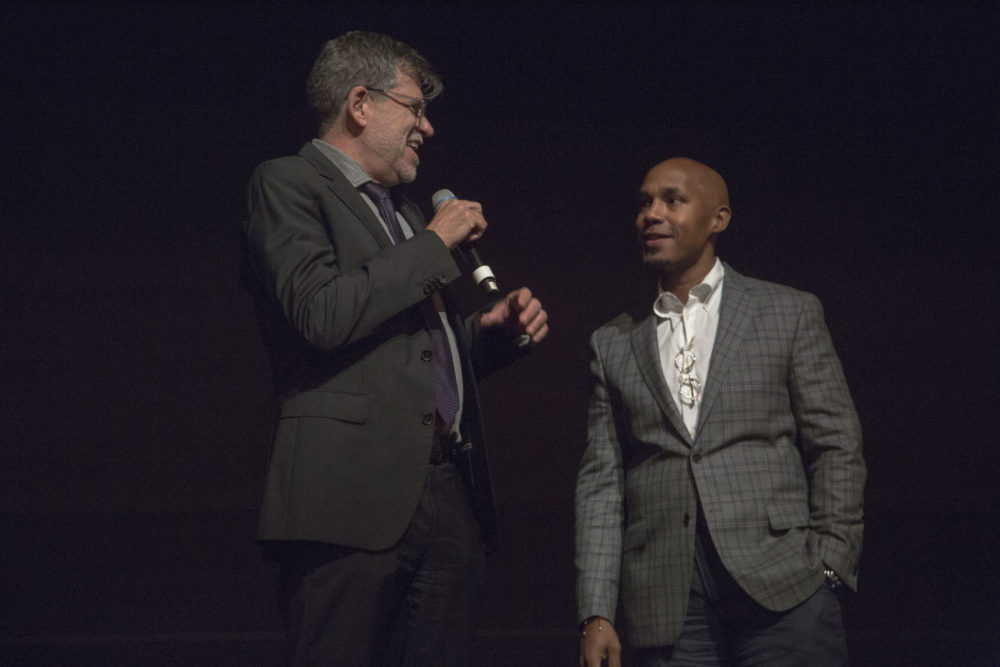 ArtsEmerson's advantages lay in part in what it lacked: No legacy donors and no tradition-bound board meant that it could be molded in a new, radical way that tackled some of the biggest obstacles in cultural equity. It is accountable to its audience, not to a board, Howse told me.
For Dower and Howse, that public accountability must be met with an internal reckoning. ArtsEmerson's programming must not be the only manifestations of its values. The institutional work also ought to live up to the principles the organization so vocally upholds. "There's a lot of organizations who are well-intentioned ... wanting to do the work but they just want to go to the solutions. They're not really wanting to uncover and discover what has created inequality," said Howse. For example, he said, when ArtsEmerson staff finished a training on undoing racism, many white employees were focused on "changing the world."
"They're like, 'We got it. We want to go to the solutions.' And I'm saying the solutions are vapid. They're not rigorous and robust. It's like window dressing — until you've actually acknowledged what got us here and have done the work."
So what does that actually look like? From its inception, ArtsEmerson has instituted programs at the intersection of civic dialogue and artistic exploration that have expanded its audience and engaged communities that arts organizations have historically ignored.
When Dower arrived in Boston in 2012 from Arena Stage in Washington D.C., he was hungry for change. He'd heard of Boston's fraught legacy of race relations and he sought to create an arts organization that could "change the city." He reached out to African American playwrights and directors and started planning ambitious programming that interrogated issues of race and power.
But one does not simply arrive in Boston and execute change. There are lots of open wounds here, sensitive nerves, fragile fault lines. Soon he discovered both white and black folks who wanted him first to listen, to take stock before offering up big solutions.
ArtsEmerson in 2013 established an Ambassadors Program, which provided theater tickets and gatherings for about 135 black Bostonians of different communities in order to form connections and hear about barriers to attendance. In order to engage with a robust group of people with connections to the African diaspora, the outreach for the Ambassadors Program focused in on varied groups within a bigger cultural identity: black Muslim women, black parents and new black Americans from the Dominican Republic, Haiti, Puerto Rico and other countries, among others.
ArtsEmerson has not only chosen plays that spark conversations around race and class, but has also consistently served as a convener on those conversations. Each season, it hosts play-reading book clubs for three or four of its productions, in which attendees unpack themes of race, class and gender in ArtsEmerson performances. This year, it's slated to present approximately 16 book club meetings throughout Roxbury, Dorchester, Brookline, Downtown Boston, West Roxbury and Allston.
To serve as a generative source of diverse productions, ArtsEmerson started the Gaining Ground fund, an ongoing effort with a goal of raising $3.5 million to support artists whose work reflects the African diasporic experience in America. So far, the organization has supported 14 projects, including "Mr. Joy," "The White Card," "Parable of the Sower," "Detroit Red" and "American Moor."
Since 2016, ArtsEmerson has also formed a partnership with deaf and hard of hearing folks who choose which season performances should include ASL interpreters.
Howse, 44, who'd led the Boston Children's Chorus from an organization that served dozens of children to a nationally-recognized institution that served hundreds of children, was particularly interested in how to build a space that spoke to all people. He admits ArtsEmerson is not there yet, partly because its focus on equity initially made more traditional audiences skeptical that theatrical excellence would not be prioritized. "When you start to move in a certain direction ... You're actually presenting narratives that are told often in bodies that you don't see often on stage. There is this sense of 'Oh, that's sort of social work and that's for those people. And it's not for me.' And so on a regular basis I encounter more traditional theatergoers who see theater all over the world who've never felt that ArtsEmerson was a place for them."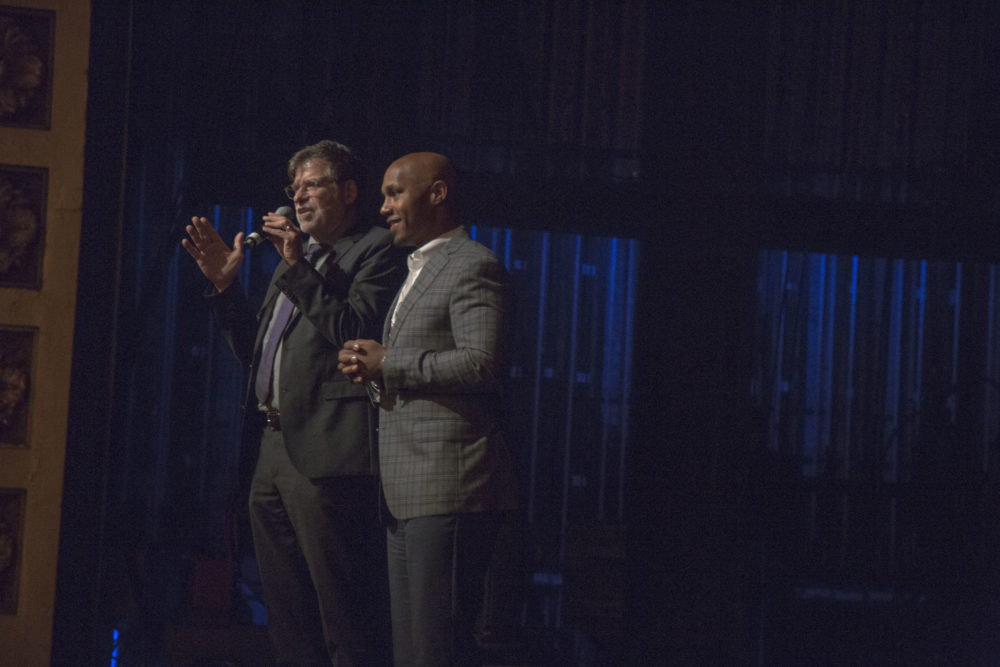 But if the last several seasons have showed us anything, it is that artistic excellence is the foundation upon which ArtsEmerson operates, not an after-thought. Dower has been radically transparent in breaking down the steps ArtsEmerson takes to program work that fosters conversation around race, class and gender equity. Each play being considered for the next season is explored using 10 criteria. These include: culture of origin of the work, if the work fosters conversation around race/class equity, the gender composition of the artistic leadership of the project, and the form and innovation of the production. But these are all criteria that are evaluated after the play is chosen for consideration for the art itself. As Dower writes, the "art leads."
As ArtsEmerson narrows down productions, the entire staff is then able to share thoughts on the initial list of dozens of plays being considered. At a recent staff meeting there, it struck me how much of it felt like a collective, not a hierarchy. Staff members were free to opine, wonder and question out loud.
Employees also form affinity groups based on areas of interest and priorities for the organization. These groups have focused on undoing oppression and advancing equity, accessibility, celebrations and unity, programming, staff retreats and more. "For example, members of our production team started a diversity task force to identify best practices in expanding the pool of diverse applicants in the production department. This work then led to a larger conversation across 5 additional Boston arts organizations," said Akiba Abaka, an associate producer.  "This was very motivating to observe and it makes one feel good to see this level of leadership in all areas of the organization."
Still, ArtsEmerson is not a "theater-for-all utopia," said Abaka. ArtsEmerson exists within Emerson College's Office of the Arts, which currently has 49 full-time employees, of which 12 (24.5%) identify as non-white — data that shows the organization is far from being truly reflective of the city.
The institution's efforts to make ArtsEmerson feel like a true home for all people has seen slow, incremental progress. According to information provided by ArtsEmerson, it welcomes an average of 45,000 guests each season. For the 2012-2013 and 2013-2014 seasons, 10.1% of patron accounts were identified as non-white and for the 2015-2015 and 2015-2016 seasons, 12.8% of patron accounts were identified as non-white — according to the ArtsBoston Audience Lab Initiative.
"We have to face ourselves every single day here. We have to work with our different teams. We have to do that work. And we are constantly listening and facing ourselves. And listening for our blind spots. It's very important to understand that there will be blind spots," said Abaka.
Earlier this year, for example, ArtsEmerson began productions with an indigenous land acknowledgement. A member of the audience came up to Dower after the show and asked when she'd see indigenous actors and issues on an ArtsEmerson production. "She's going to be calling me and checking in. And I'm accountable to her," said Dower.
When asked what he's still learning along the way, Dower said: "I'm amazed at how much I still don't have control over my whiteness in the sense of how what I feel is my authority, what I feel is my expertise and how it's valuable here; how it should lead, could lead, does lead. It's not even a question. Sometimes I just pull out 'Here's everything everybody needs to know' and it's actually everything I know but it's not necessarily what is needed."
At 61 years old, after more than 30 years of being a leader in theater, he's trying to co-lead ArtsEmerson not from the center, but from the outer circle — collaboratively with his staff — learning how to re-envision a theater organization as a catalyst for social change.
That means being willing to be "called out" when he gets it wrong. He said Howse calls it a "gift" when either of them gets to unlearn something that's getting in the way of equity. What a revealing frame of thought that could transform so many cultural institutions: It's a gift when someone points out our mistake — one that allows for growth, within us and thus, for our communities.