Boston's Public Housing Goes Private: Why The City Is Teaming Up With Developers
Emilia Perez moved to the Orient Heights public housing development in East Boston in the '90s, and she looked forward to a possible revamp of the property.
"I was happy every time people would say, 'Oh, they be doing the new buildings,'" she says.
That redevelopment — the demolition and rebuilding of 331 public housing units — is finally underway. Perez moved to a different part of Orient Heights during the first phase of construction, and some of her neighbors decided not to move back in when their new homes were completed, she says.
But now Perez has a new townhouse with built-in air conditioning and a good kitchen — which is important, because she likes to cook.
"I like what I see," she says of the reconstruction so far. "Everybody wants something new."
In this case, Trinity Financial, a private developer, is doing the construction, not the Boston Housing Authority, the agency in charge of the city's public housing. The company has undertaken similar projects for several other BHA sites.
The Orient Heights project is part of a years-long trend in Boston, and across the country, in which public housing authorities partner with outside developers.
Why Team Up With Private Companies?
A lack of federal funding has changed the way the BHA operates, says Kate Bennett, the agency's senior deputy administrator for redevelopment projects.
"We will never see the kind of federal dollars we'll need to transform those sites," she says, referring to large developments like Bunker Hill, the system's biggest. Bennett estimates the reconstruction project there will cost upwards of $1.5 billion.
So the BHA sought private developers and nonprofits to bankroll these construction projects, leveraging the value of the land to attract potential partners, Bennett says. Many cities across the country have adopted the same public/private approach, which is often called mixed-finance redevelopment.
The BHA has already redeveloped several properties this way, including Roxbury's Orchard Gardens (formerly Orchard Park) and Washington Beech in Roslindale. In those examples, square brick buildings closed off from the rest of the neighborhood have been transformed into colorful apartments, crisscrossed by public streets.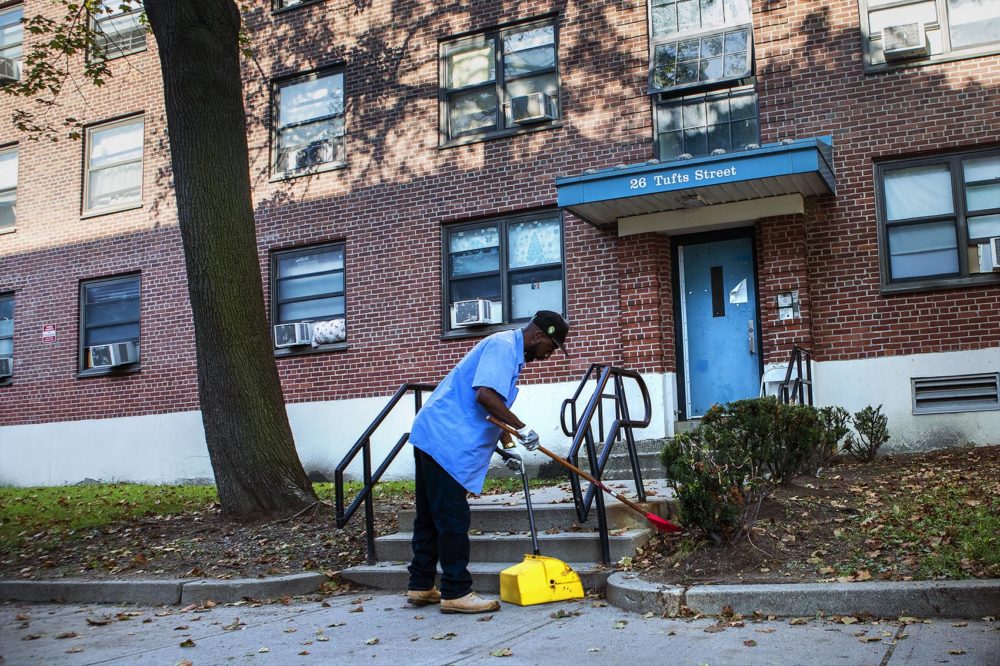 Some developments, like Maverick Landing in East Boston, were transformed from pure public housing to a mix of affordable and market-rate apartments. Bunker Hill, Mildred C. Hailey in Jamaica Plain and Whittier Street in Roxbury will all open up to different income levels as part of their overhauls.
In previous projects, the BHA did not always replace all the affordable units lost during redevelopment, Bennett says. The agency's current projects, though, will include at least as many affordable units as each development had before the revamp.
Who's Doing The Construction?
With mixed-finance redevelopments, outside companies oversee construction and the day-to-day management of the site, and collect the rent that tenants pay. The BHA retains ownership of the land.
Three nonprofit developers — the Jamaica Plain Neighborhood Development Corporation, The Community Builders and Urban Edge — have teamed up to rehab the Amory Street and Mildred C. Hailey (formerly known as Bromley-Heath) developments in Jamaica Plain.
Amory Street is currently undergoing renovations. Parts of Mildred C. Hailey are slated to be razed in the next few years.
Marty Jones, the interim CEO of Urban Edge, lists the problems at Hailey: Elevators are constantly out of service, forcing residents to walk up and down many stairs; heating systems are outdated and inefficient; doors need modern security systems.
"It's very hard to retrofit these old buildings to accommodate the things that are really needed today," she says.
So the nonprofits decided to start from scratch, with a vision of breaking up the isolated "superblocks" of public housing and opening up the neighborhood to public streets.
But there's more to fix than just physical problems, says Jones.
"Not only were these buildings identifiable when you drive by them, when a child goes to school, and someone sees their address as an address that they know is Mildred Hailey, they know that child is from a low-income family," Jones says. "And unfortunately, prejudice and other kinds of biases start to come up."
Jones says one goal of Mildred C. Hailey's transformation into a mixed-income community is to get rid of those class identifiers. The redevelopment plan proposes the replacement of 250 public housing units and the addition of about 360 affordable and market-rate units.
The reconstruction process is designed to keep current residents in the neighborhood. The new buildings will go up first, so current residents can move in. Then the old buildings will be demolished. Jones says the plan is for construction and demolition to start in the next few years.
Planning For The Future
The renovation and redevelopment projects currently underway will add 441 new affordable rental units to the city's housing stock, according to BHA spokesman Brian Jordan. That number doesn't include upcoming redevelopments like Mildred C. Hailey.
But there are 47,000 families on the waiting list for public housing in Boston, the BHA's Bennett says — a symptom of the lack of affordable housing in the city.
"It's been staggering for many, many years," says Bennett. "The reality is, we can't add very many. As it is, assembling the financing just to replace what we have, bring what we have forward for another generation — I mean, there are staggering needs."
If funding to renovate buildings is hard to come by, so is funding to keep the existing units affordable. That's why some BHA developments will transition to new funding models.
Some developments will start using modified Section 8 funding — a type of federal affordable housing subsidy that Bennett says is more stable because it has more bipartisan support in Congress.
The BHA has also learned how to make money through its partnerships with private companies, Bennett adds.
"In the early days, we would simply donate the land to the project," Bennett says, whereas today, the BHA leases the land to developers.
The BHA's redevelopment projects are scheduled to continue into the 2020s, bringing major changes to a system that started in the 1930s.
"BHA as an agency will own and manage directly fewer units," Bennett says. "But my hope is that — and our goal is that — we are continuing to preserve every unit and that we're continuing to improve every unit."