This One-Of-A-Kind Orchestra Is Trying To Reduce The Stigma Of Mental Health Diagnoses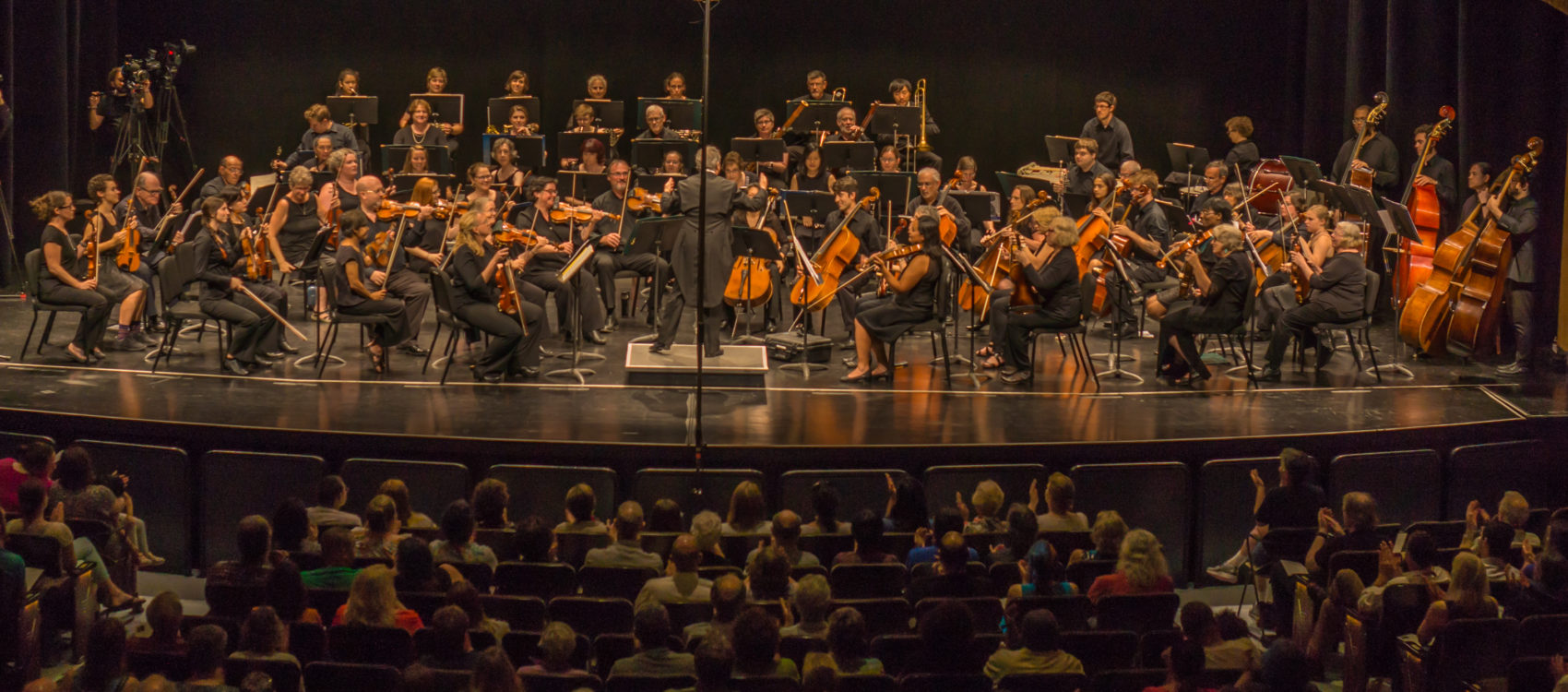 This article is more than 3 years old.
Ronald Braunstein traveled the world to lead some of its finest orchestras. He conducted the Berlin Philharmonic, the San Francisco Symphony, the Tokyo Symphony. And he collected the coveted Herbert von Karajan gold medal for classical music conducting in his early 20s. But throughout his career, he struggled with bipolar disorder.
"I was always inhibited about it," he says on the phone. He tried to keep it a secret.
The accolades and prizes only made him feel more inhibited. It wasn't until he was in his 40s that he finally went public with his diagnosis. "It just felt so liberating," he says.
It was a feeling he wanted to share with others struggling with their own mental health diagnoses. So in 2011, he started the Me2/ Orchestra in Burlington, Vermont, with his now-wife Caroline Whiddon, who serves as the executive director.
In the early years, Braunstein and Whiddon would commute to Boston once a week to try to get a second orchestra up and running. A new documentary called "Orchestrating Change," screening in the Boston area from Oct. 12 to Nov. 14, chronicles this period of the orchestra's development.
Me2/ Orchestra is currently the world's only known orchestra explicitly for people affected by mental health issues and addiction. Boston's chapter is now some 60 chairs strong and serves as the headquarters. New chapters of Me2/ are popping up as near as Manchester, New Hampshire, and as far as Oregon. About half the participants have diagnoses and others are allies, friends, or family members to someone who does.

Braunstein named his one-of-a-kind orchestra Me2/ a few years before Tarana Burke started the Me Too movement and before #MeToo signaled unity among a hidden population. When asked about the tie between the two labels, Braunstein says, "It always starts a productive conversation."
Oboist Corey Sweeney discovered Me2/ while doing research in graduate school at Arizona State. She knew she had some mental health problems at the time but was still thinking she could finish her music degree. When she sought treatment in Boston for a mental health crisis she realized she could join Me2/. "I was really gung-ho," she recalls by phone. She showed up on the first day. This fall, she will be an inaugural member of the Manchester orchestra just as she was for the Boston one several years ago.
One thing that amazed Sweeney about Me2/ is how musicians could walk through the rehearsal door and become something other than their "issues." She says people who have dealt with borderline personality disorder as she has, for example, otherwise "spend a lot of life living and talking with those problems."
No matter the situation, participants in the orchestra would feel validated, she says. That helps break down the stigma of illegitimacy that comes with mental health — thoughts like, "You don't have a broken arm, you can't see it, so it's not legitimate." Plus, she adds, at practice, "We didn't act afraid of each other" or "ask a bunch of questions." If anything, Sweeney appreciated having a place where she could just talk about music or what she did over the weekend — not her mental health.
Me2/ musicians have a range of expertise from conservatory training to high school band. Considering Braunstein's world-class pedigree, Sweeney marvels at the conductor's nonjudgmental attitude. "He conducts essentially amateurs and he doesn't seem like he's horrified or upset, he seems like he's having a great time," she says. Plus, he can adjust to having an abundance of one instrument or missing another. (Braunstein notes that the Boston orchestra currently needs violinists.)

In terms of the pieces the orchestra performs, Braunstein says he hasn't veered too far off the classical cornerstones he knows like the back of his hand — Beethoven, Brahms. That way, he says he can pick and choose what they can play "more easily and without as much stress." Braunstein says as times goes on, fewer people miss rehearsals because "they want to be there for their own healing or psychological benefit, but also because they feel a responsibility for the orchestra."
In addition to traditional venues, the orchestra performs inside hospitals, prisons and juvenile detention facilities. Braunstein often has conversations with the audience afterward and has been known to hand over his baton and give an impromptu conducting lesson. In Braunstein's view, the most important thing in music is listening. "The conductor gives a beat and everyone is supposed to relate to that beat," he says. Sure, that's what the musicians are supposed to play, "but it's much more if [the conductor] can encourage them to be together with each other than anything else."
"My goal is not the conducting — it's helping people," Braunstein says. He realizes that his audience has shifted, too. A formal orchestra audience dresses up and pays a lot for tickets. "It's a status thing," he says. "That's not our audience." The former wants to see how many mistakes are made, he reasons. For Me2/, "They just want to see how good we do."
---
"Orchestrating Change" screens on Oct. 12 in Back Bay, Oct. 16 in Charlestown, Oct. 17 in Belmont, Nov. 13 in Waltham, and Nov. 14 in Dorchester. All screenings are free, followed by a panel discussion with Braunstein, Me2/ executive director Caroline Whiddon, members of the orchestra, including Corey Sweeney, and moderated by behavioral health experts.