Designed To Spook, Anthem Theatre Unveils Poe's Fascination With 'Creepy Ladies'
Except that he liked them learned, Edgar Allan Poe was no fan of women who were livewires. The 19th-century master of Gothic horror preferred his damsels slender, placid and dying, dead or ghoulishly revivified, sod still clinging to their shrouds. And yes, that's pretty creepy. Hence "My Fascination with Creepy Ladies," conceived and directed by Bryn Boice and devised by Anthem Theatre Company (at the Boston Center for the Arts' Plaza Black Box through Nov. 3). Dimly lit and augmented by little more than diaphanous black draperies and rudimentary furnishings, it's a collectively performed compilation of short stories and poems that examines Poe's romantic if repellant fixation on the decaying female. In other words, no pits, no pendulums, no telltale hearts.
Of course, it's not really the ladies, but the narrators who are their fervid and fervent inamoratos, who are creepy. And that's not just the alcohol and opium talking. Poe had reason to be obsessed with expiring or expired women: he lost his mother when he was two, and his wife, Virginia (a cousin he married when she was 13), succumbed to tuberculosis in 1847, just two years after "The Raven" put the erstwhile editor, critic and little-known writer on the literary map.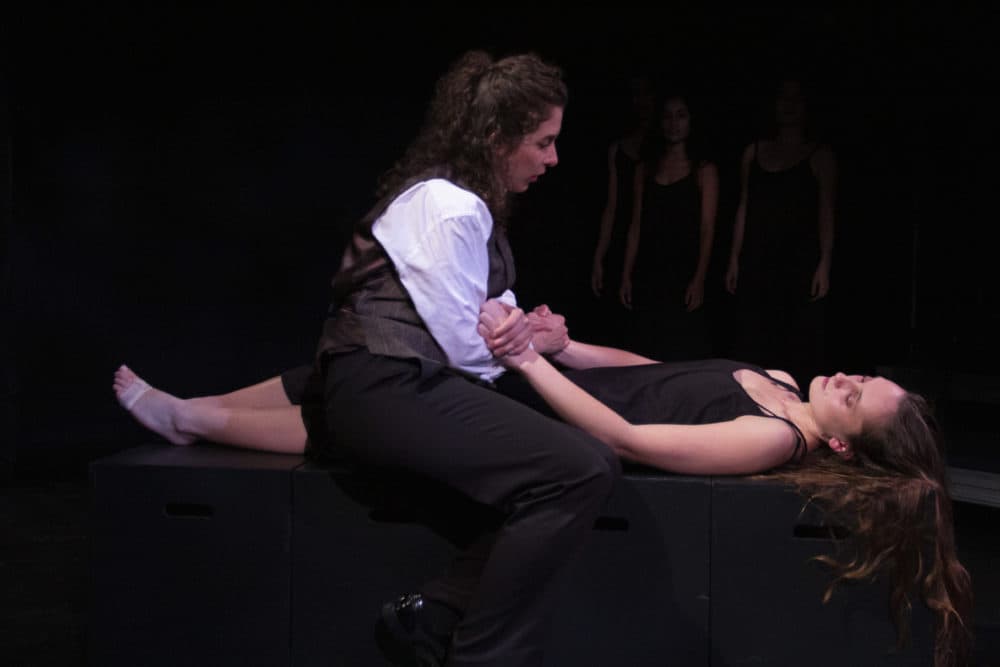 Indeed, in Anthem's darkly meticulous staging, the name "Virginia" is whispered in the interstices between the successively presented stories and poems that comprise the work (whose co-devisers include, in addition to Boice, Anthem's Lindsay McConchie, Johnny Kinsman and Michael Poignand). The play splits Poe into eight personae (the majority of them women) clad in matching 19th-century garb while his lost or moribund loves are represented by five slinking ladies in spaghetti-strapped black sheaths who dance as well as act their waxings, wanings and tremulous reincarnations.
Given the primal intensity director Boice drew from the all-female cast of Actors' Shakespeare Project's "Julius Caesar" and the lyrical coherence she brought to two dauntingly fragmented Caryl Churchill plays in Commonwealth Shakespeare Company's "Universe Rushing Apart," I had expected something more mosaic-like and imaginative from "Creepy Ladies" — which instead takes the form of straightforward if interestingly bifurcated narration. But I may have anticipated wrong. Right at the outset, a voiceover informs us: "We're trying to spook you." And at that, as well as at casting a shadowy spell, the piece succeeds. One person in the front row on opening night was visibly and audibly shaken by the conclusion of "Berenice," wherein the macabre contents of an innocuous-seeming wooden box scatter-dance across the stage.
"Berenice," with its meditative if also monomaniacal narrator, whose obsession with the "moral and physical" decline of his once lithe and lovely cousin narrows to a fetishizing of her teeth, is not only the weirdest but also the most compelling of the tales in "Creepy Ladies." Nevertheless, the more protractedly terrifying "Ligeia" (a battle between love and hate, vigorous will and the Reaper) and morbidly romantic "Morella" (in which a dead wife uncannily occupies the person of her child) echo the same discomfiting themes: a male narrator tortured by "the fever called living"; the wasting woman, whose erotic pull not only transcends the grave but grows stronger if more monstrous; the conflation of bridal bed and sepulcher. Creepy as that is, it's rendered here with a splintered formality that's eerier than overwrought.
On the other hand, Poe's melancholic if jingly poems touching on similar themes struck me as too literally presented in "Creepy Ladies," with a whiff of Jules Feiffer's iconic dancer wrapped in her leotard, leggings and intense solemnity. The cast delivers "Annabel Lee," "For Annie," "Irene/The Sleeper" and, of course, "The Raven" with its stony failure to deliver up "lost Lenore," in a manner more pat, lacking the measured urgency, rippling from narrator to narrator, that the twelve interweaving actors bring to the short stories. Nonetheless, the same preoccupations, with passion and surcease, sleep and death, predominate.
What I most admire, given Anthem's stated aim to "spook" us, is that its approach is so barebones and tersely atmospheric. Eschewing gory effects, "Creepy Ladies" allows Poe's febrile yet precise language to provoke our discomfiture and dread. Nor does the theater piece interpolate an overlay of Freudian analysis or feminist outrage. The effective ensemble — Siobhán Carroll, Olivia Z. Cote, Sarah Gazdowicz, Jessica Golden, Katie Grindeland, Johnny Kinsman, Luz Lopez, Jessica Scout Malone, Eric McGowan, Christine Power, C. Padraig Sullivan and Elena Toppo — goes about its now clustered, now swirling, now whisper- or whimper-infused storytelling in a manner that's hypnotic yet almost businesslike. It lets Poe put himself on the couch and take his own abnormal temperature.
---
Anthem Theatre Company's "My Fascination with Creepy Ladies" continues through Nov. 3 at Boston Center for the Arts' Plaza Black Box Theatre.