'The Lighthouse' Is A Hallucinatory Horror Movie About Having A Roommate
This article is more than 3 years old.
A horror movie about having a roommate, writer-director Robert Eggers' striking sophomore effort "The Lighthouse" is a visually arresting wallow in ye olde New England dread replete with phantasmagoric glimpses of sea monster tentacles and wounded mermaids washed up on shore. It's a wild, hallucinatory blitzkrieg shot in high-contrast black-and-white with a sound design that's more like a sensory assault. There are allusions to ancient ocean legends and fabled curses copped from Herman Melville and Samuel Taylor Coleridge, but beneath all the mythological bluster it's really a movie about two guys living too close together and driving each other slowly, spectacularly insane.
It's also an absolute riot, the season's sickest gross-out comedy gussied up in arthouse duds. Robert Pattinson stars as young Ephraim Winslow, a former lumberjack looking for a new line of work, reporting for duty as assistant lighthouse keeper on an uninhabitable hunk of rock somewhere in the North Atlantic. Willem Dafoe is his superior, Thomas Wake, a briny old bastard with a flowing beard who chews on a pipe and speaks in an almost impenetrable sea shanty patois. It's just the two of them assigned to a four-week, bad weather stint inside some awfully tight quarters, and they're instantly off on the wrong foot when prissy teetotaler Ephraim refuses a toast from his boozy boss.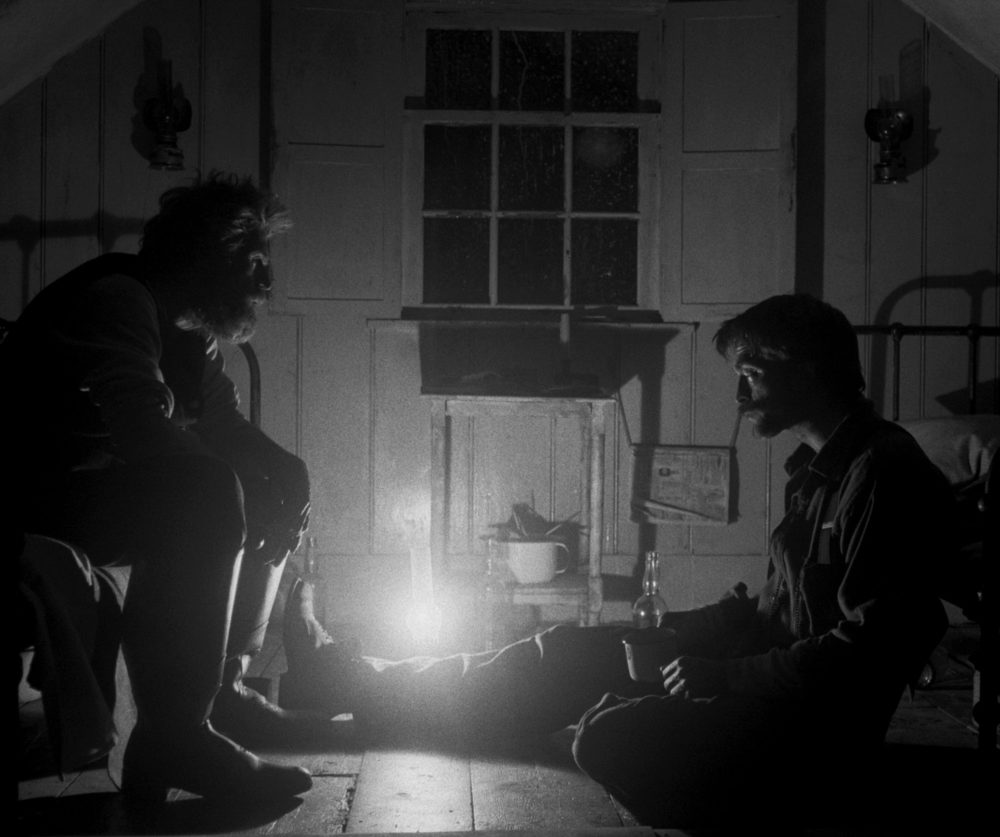 Wake is an irrational taskmaster and a roaring drunk, at night retiring up the tower to the light for secret, mysterious activities of which we only see disturbingly sexualized hints and sticky after-effects. There's some sort of strange, unholy power up there in all that illumination, but Ephraim is to remain downstairs scrubbing the floors and whitewashing the walls, bearing the brunt of Wake's constant insults and colorful invective. Theirs is a world without privacy nor a moment's peace, stealing away for furtive bouts of self-pleasure while living amid a fusillade of farts and other gassy emissions. (The movie keeps reminding you of just how bad everything must have smelled back then.) There's also this one annoying seagull who keeps taunting them, acting like a total jerk.
Ephraim and Wake eventually reach a tipsy detente at the end of their assigned time together, only to find that a storm has delayed their relief ship. And so the two men must wait, with dwindling provisions and an excess of alcohol, grinding away on each other's last nerve for a boat that may never arrive. That's when things start to get really weird. As our characters become increasingly unhinged, the movie's already tenuous grip on reality begins to slip altogether. Like Ephriam and Wake, we in the audience lose all sense of time as "The Lighthouse" launches from one surreal, sicko comic interlude to the next.
New Hampshire native Eggers has an archeologist's interest in local folklore. His rapturously acclaimed 2016 debut "The Witch" proffered a rather ridiculous amount of research for a tale of 17th-century Puritan settlers besieged by a satanic goat. The film was a huge indie hit but to my mind a dreary and joyless affair — one of those "elevated horror" movies too stodgy to provide genre satisfactions, and in many ways the temperamental opposite of "The Lighthouse," which with its emphasis on scatological humor and old-timey camera trickery suggests an Adam Sandler comedy directed by Canadian experimental filmmaker Guy Maddin.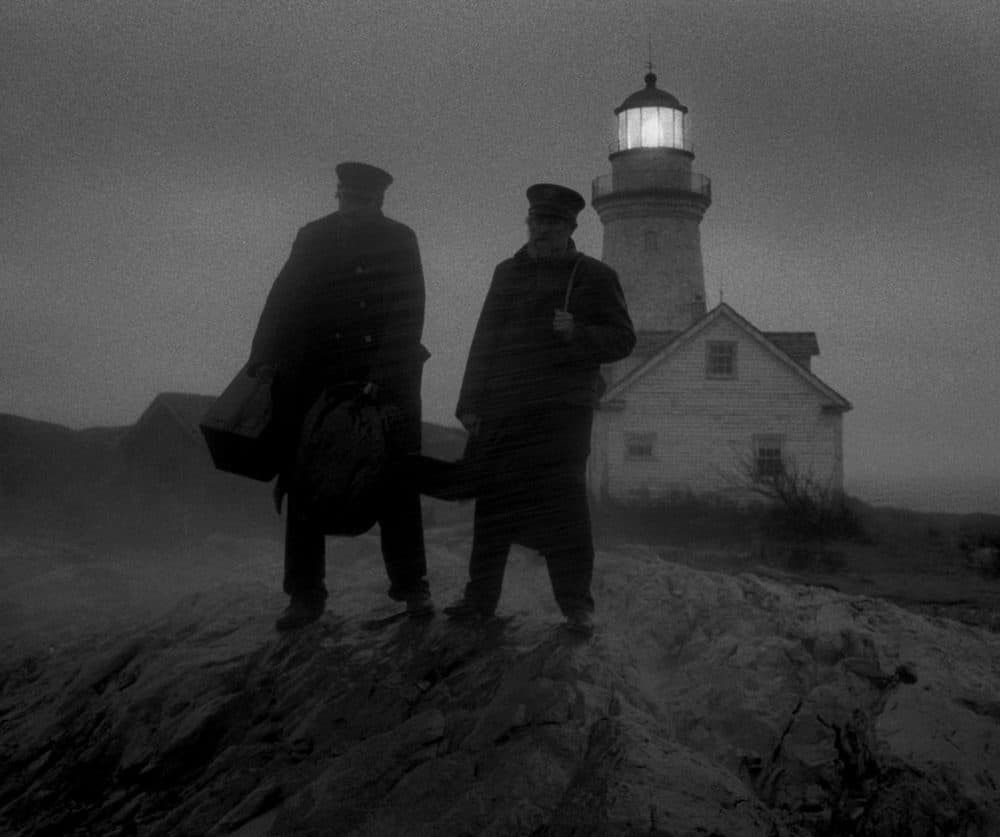 Has Willem Dafoe ever phoned it in? It's a question that occurred to me last year while watching him give underwater orders with the utmost gravity while astride a CGI shark in "Aquaman." Here's an actor who's always up for anything, giving a thousand percent no matter the project. He rips into the role of Wake with lip-smacking relish, savoring the dialogue's semantic insanity and pushing his physicality into the realm of the baroque. Dafoe's so much fun to watch here you almost don't notice how adept Pattinson is at playing multiple levels of mounting frustration, until he too finally gets his turn to explode. (Speaking of which, after "The Lighthouse," last year's "Damsel" and this past April's "High Life," the former teen heartthrob is setting some sort of record for scenes of onscreen ejaculation, a trend that will hopefully continue now that he's been cast as the new Batman.)
Eggers and ace cinematographer Jarin Blaschke shoot in the almost-square 1.19 aspect ratio — a screen size seldom used since the silent era — using vintage 1930s lenses on contemporary cameras to add to the picture's woozy sense of temporal displacement. The boxy frame cramps the claustrophobia while emphasizing vertical lines in Eggers' careful compositions, awash as they are in rib-nudging phallic imagery and hopped-up masculine energy. Such sly, self-conscious flourishes are what make "The Lighthouse" feel like the world's most elaborate penis joke, cackling at the elongated, erect title structure and the seamen stuck inside, ready to blow.