Today's Weather: Halloween Brings Spooky Wind Gusts, Showers And Humidity
This article is more than 3 years old.
Happy Halloween. Today is the final day of October, and it's going to be a bit wild over the next 24 hours.
The National Weather Service has issued a high wind warning for much of the Greater Boston area, as well as wind advisories for larger portions of the state.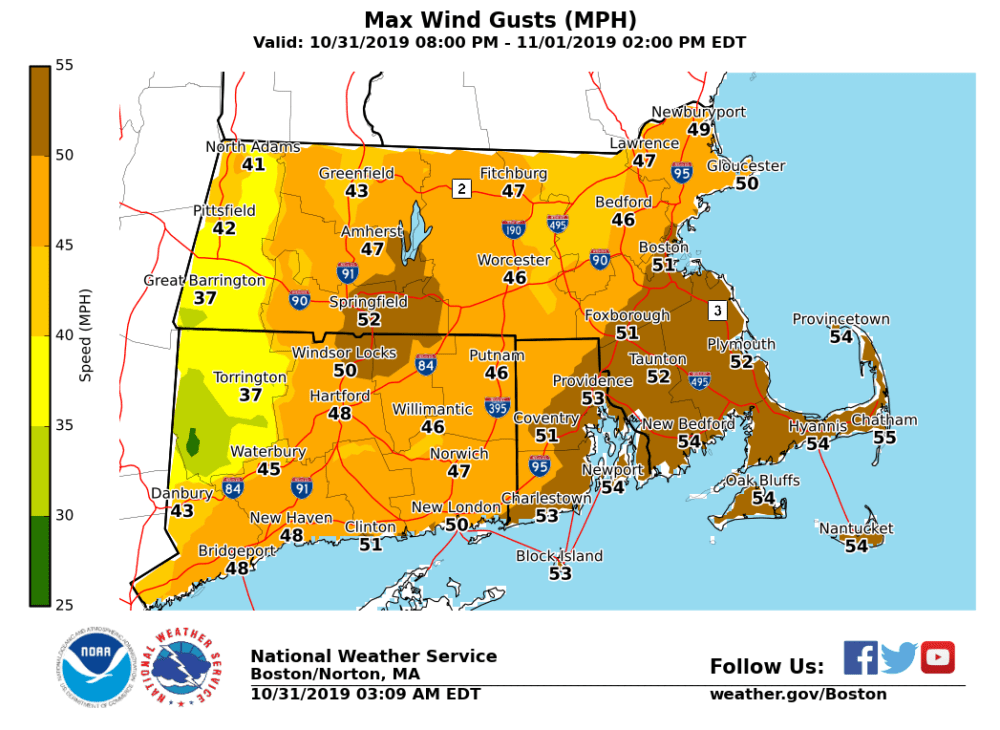 You may be a little bit scared as those winds really start to increase this afternoon and especially overnight. It wouldn't surprise me if the power goes out in spots, or if there is even some damage.
A strong southerly flow of air is going to bring in plenty of summer-like humidity this afternoon that will continue into the early hours of Friday. Showers this morning will tend to peter out this afternoon, and I think there is going to be a lull in the action this evening.
Although it may not be raining, those winds will be really gusty. If you have a costume with a hat or anything else that could blow away, you'll definitely want to make sure it's secure. Umbrellas will also likely become useless in the strong winds.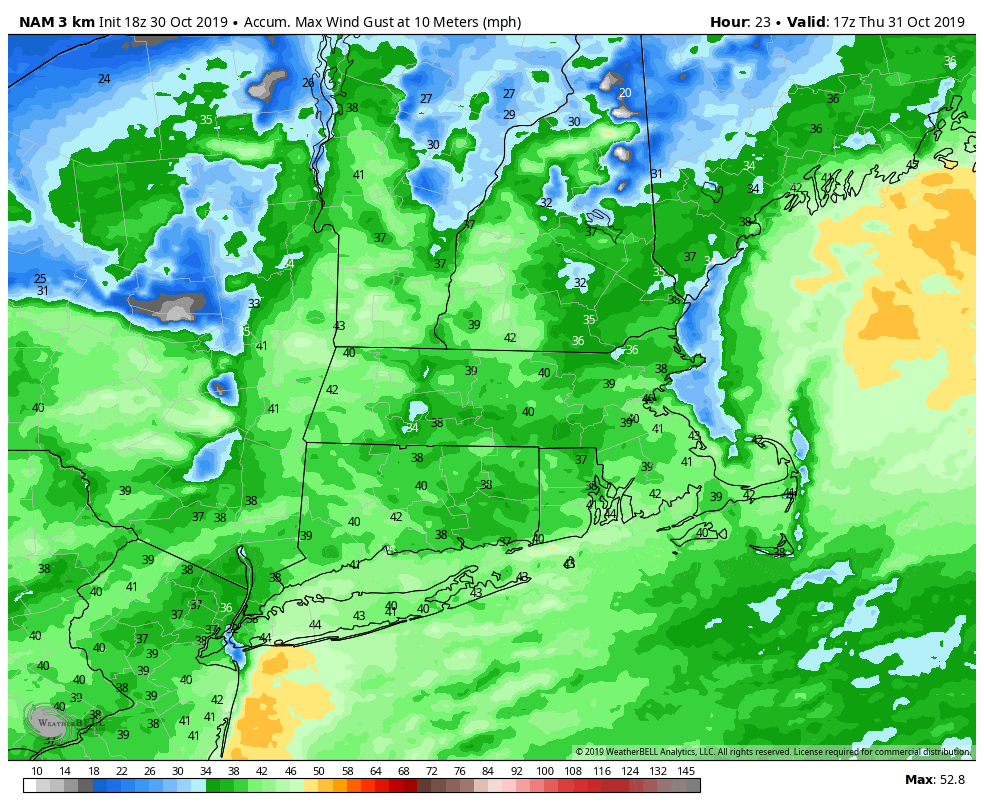 Temperatures today will reach 65 to 70 and will remain mild all evening long. There won't be any need for fall jackets and hats.
As a cold front approaches early Friday morning, another round of showers will move through. If you get up in the pre-dawn hours of Friday, it will still be warm and humid but by the time the sun comes up the humidity will have been swept out to sea and temperatures will be falling back into the 50s.
As skies clear on Friday, Canadian air will continue to take hold. Temperatures will fall from their morning highs in the sixties back down into the upper 40s and low 50s and basically remain there all day. The weekend will be sunny but cooler with temperatures between about 52 and 55 degrees.
You can follow my updates here and on Twitter @growingwisdom.
---
Thursday: Clouds, showers. Muggy. Highs 65-70. Becoming breezy to windy.
Thursday Night: Windy. Clouds and mild. Periods of showers return later at night. Lows holding in the 60s, but falling into the 50s around sunrise in Boston, early to the west.
Friday: Mild with morning showers. Falling temperatures and humidity. Clearing in the afternoon with the dry air.
Saturday: Lots of sunshine. Highs approaching 52.
Sunday: Generally sunny. Highs within a few degrees of 53.
Monday: Partly sunny and cool.  Highs 50-55
Tuesday: More sunshine. Highs 55-60.