30 Years Into His Career, Shepard Fairey Still Thinks Political Art Can Create Change
Play
This article is more than 3 years old.
On a bright new mural above a construction zone in downtown Providence, an image of a young woman gazes out with a serene expression. She's framed in radiating ribbons of red and blue, and bold words stamped in black: Creativity. Equity. Justice.
The painting was created by street artist Shepard Fairey, who is in town with a touring retrospective of his work called "Facing the Giant: Three Decades of Dissent." (He's also painting a mural at each stop.) The image of the young woman is quintessential Fairey, who has made a career by creating uplifting designs that promote progressive causes, like his iconic Obama "Hope" campaign poster.
Nick Nazarian, of Cranston, mans a private parking lot near Fairey's new mural. When asked what he thinks of it, he hesitated.
"Honestly, it's beautiful, but I don't really know art like that," he said.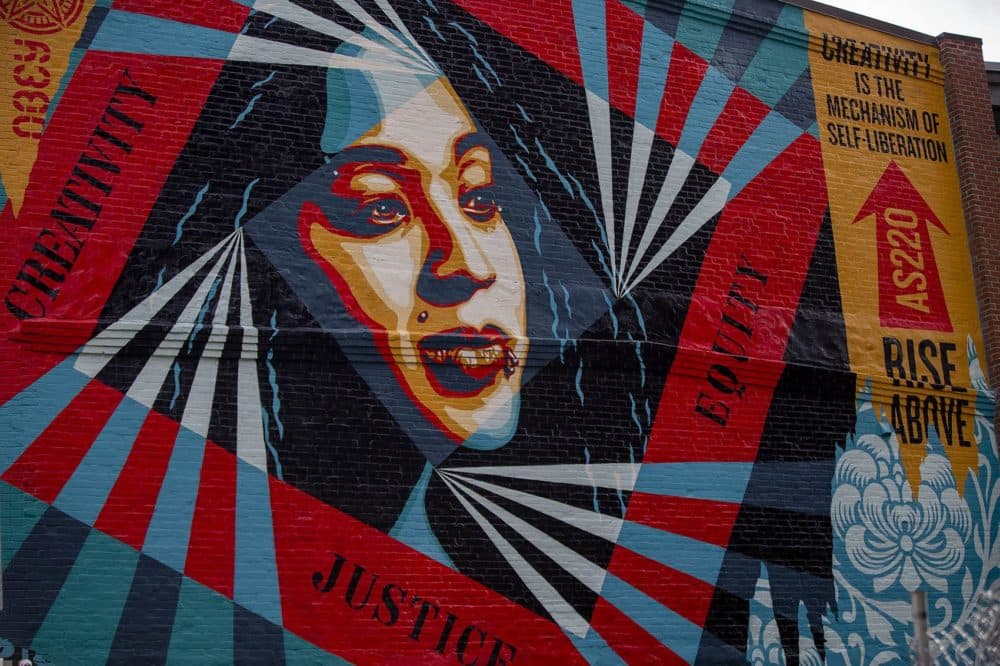 With a little prodding, though, it turned out Nazarian learned a thing or two from the fans who stopped by all week to check out Fairey's latest project. He brought up the artist's earliest stunt: a sticker with a black and white image of the pro wrestler André the Giant, copied from a newspaper, that Fairey created in the late '80s while a student at the Rhode Island School of Design.
"And then it went viral, when viral wasn't viral, right?" Nazarian said. "Stickers all over the place."
The André the Giant sticker proliferated around Providence, appearing on stop signs and in music venues — a real life meme. The image didn't really mean anything, but it earned Fairey street cred with punks and skateboarders.
Later, he paired the design with the word "Obey" in menacing block letters, in a wry critique of conformity. He also famously pasted the wrestler's head over a billboard ad for the 1990 reelection campaign of the city's disgraced former mayor Buddy Cianci. Fairey's prank struck a chord and helped him realize the power of art to draw attention and sell a message.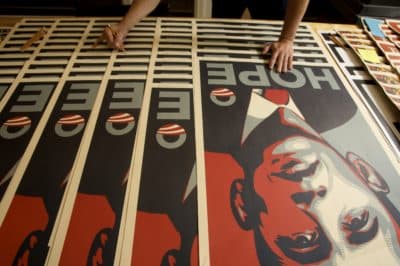 Today Fairey is a darling of the contemporary art world, with a design firm and his own clothing line — it's called Obey, naturally — whose estimated net worth of $15 million is a little at odds with his anti-establishment ethos.
Fairey's work sometimes lands him in trouble. His street art has gotten him arrested for vandalism, and he's been criticized for his habit of appropriating existing images in his designs. In 2011, he settled a copyright suit with the Associated Press over the photograph he based his Obama portrait on.
At the pop-up gallery in Providence on the afternoon of the exhibit's opening, Fairey took stock of his career, represented in 30 years worth of political prints that adorn the walls. The images are bold and stylish, riffing on pop art, advertising and soviet propaganda. Fairey reflected on how his style has gotten more palatable since its confrontational beginnings.
"I realized that those those images often got me a pat on the back from my peers who agreed with me, but most likely didn't change the minds of people who disagreed with me," he said. "So I started to think a little bit more along the lines of how I, as an artist, could, you know, seduce, then provoke."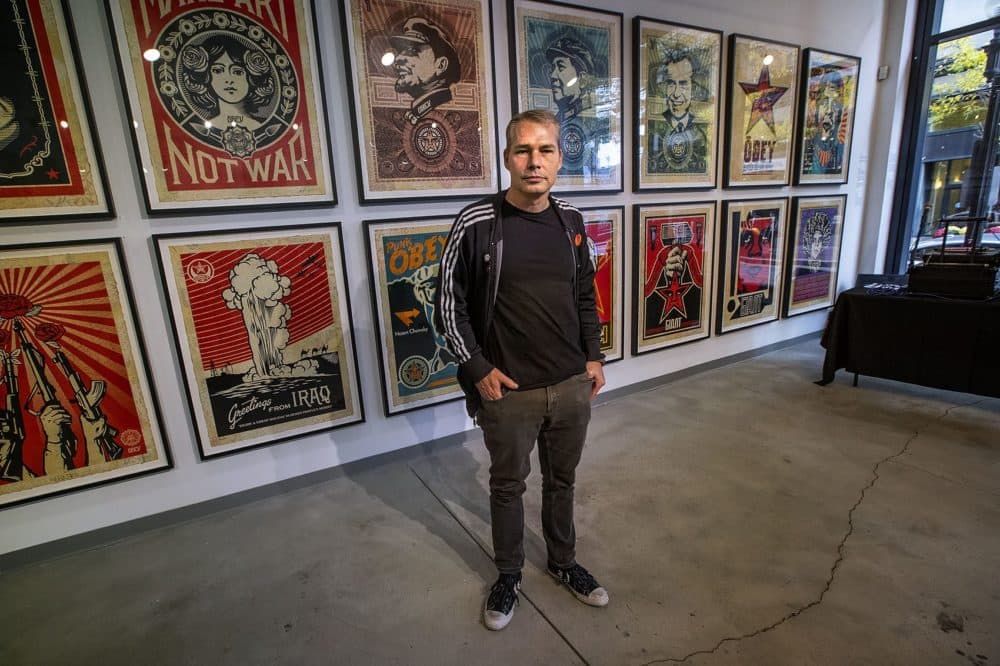 Fairey pointed to a print that looks a lot like the mural down the street. It's an inspirational image that's typical of the Fairey we know now — a young Latina with her chin tilted proudly and a flower in her hair.
"Even the groups disparaged most frequently are equally human," he said. "That's the statement it's trying to make."
Fairey said he tries to make a tangible difference by donating some of the profits from his work to activist organizations. Half the proceeds of the pieces sold at the exhibit go to the Providence arts nonprofit AS220, which partnered with Fairey on the mural. (The image of the young woman is a portrait of AS220's director of programs Anjel Newmann.)
Still, Fairey said political art can have an impact, even if it's not worth any money.
"I wouldn't make political art if I didn't think that it was capable of creating conversations that wouldn't happen otherwise," he said. "Because I think that when something impacts the viewer emotionally, then they have to wrestle with it intellectually."
"I wouldn't make political art if I didn't think that it was capable of creating conversations that wouldn't happen otherwise."

Shepard Fairey
It's a powerful idea, and one that Fairey's fans have taken to heart — fans like 13-year-old Jason Kokones, who came all the way from Brookline, Massachusetts with his family to catch the opening of Fairey's show.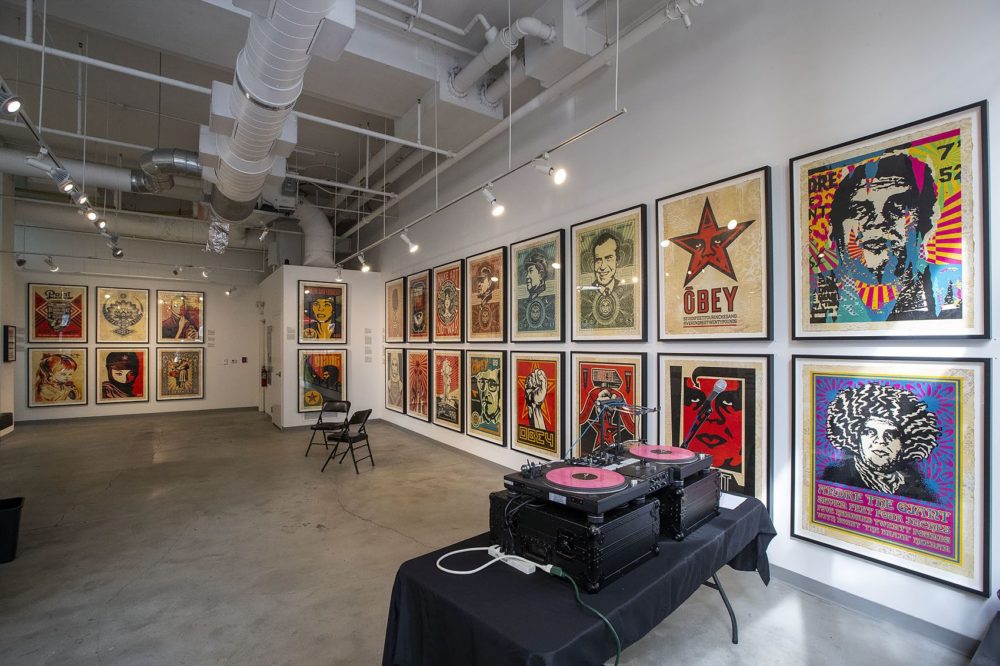 Standing on the sidewalk outside, waiting for the gallery to unlock its doors, Kokones said the political message is his favorite thing about Fairey's work.
"I feel like Shep's murals are like, they're very appealing," he said. "But when you look at it, you think about the deeper meaning."
It was late afternoon, and the gallery wouldn't open to the public for a while. Inside, Fairey sat for interviews. Kokones held his phone up to the plate glass window to snap a photo of his hero, and a roomful of art that wants to change our minds.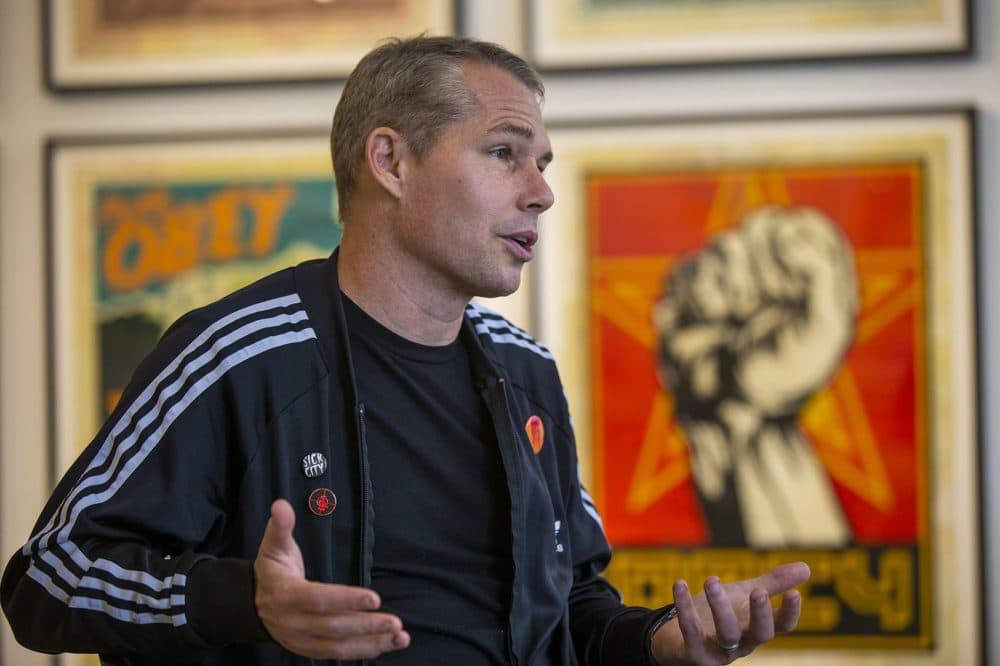 This segment aired on November 1, 2019.