With Its New Album, Hallelujah The Hills Wants To Help You Find Solace In The Sadness Of Existence
A few years after the Revolutionary War, veteran Daniel Shays rallied thousands of rebels to the Springfield Armory in western Massachusetts in an attempt to overthrow the newly formed government. A simple but proud man, he was outraged by a hefty tax bill from the federal government. The mob was broken up by the feds upon arrival, he subsequently took to the bottle and the story ends there. Nevertheless, Shays' legacy remains that of a bull-headed farmer from Brookfield, Massachusetts in a bad spot with the spirit to inspire an army.
It's a story that speaks of ambition and failure, of individuality versus greater powers, of downtrodden people and the comfort of cheap booze, of the occasional absurdity of life; it's about as American as you can get in all of its triumph and bitterness and rough spirit. And if there ever was a score to such a tale, it would belong to Hallelujah the Hills.
"Don't quit, it only makes your enemies glad," singer Ryan H. Walsh asserts in "My Name Sounds Sinister," the anthemic opening track to Hallelujah the Hills' raw seventh album, "I'm You." It marches to a rolling snare drum cadence with diligence, the gallant blare of a trumpet in the distance. Walsh builds momentum by rattling off brazen, catchpenny proverbs that feel like rallying cries for backup in a bar brawl ("Good luck, if there is such a thing as good luck!"). This energy propels into "Folk Music Is Insane," a loafing, albeit gripping porch blues set to a loquacious Ginsberg-esque telling of present day America's "weirdness in the woods."
For the last 15 years, Hallelujah the Hills have been building their legacy on the erratic momentum between triumphs and downfalls, establishing themselves as the rock band for the everyman who needs an energetic pick-me-up. Having come up with groups like Silver Jews and Titus Andronicus, they're a group that garners attention for representing how people actually feel, but are too timid to face their own realities. Within seconds of any of their music, you can feel their pulses beating with fervor.
And in its first two songs, the tones for "I'm You" are established: stoicness, questioning, confrontational, and unapologetic, with a teetering self-assurance. "The album takes place in America, specifically New England, and it's told by a narrator that sounds suspiciously a lot like me," Walsh tells me with a smirk, sitting on the floor of his YOTEL room in Times Square bathed in pink neon light, sipping a whiskey-soda.
Some of these traits are also found in his work as an author. In March of 2018, Penguin Books published "Astral Weeks: A Secret History of 1968," Walsh's report of the psychedelic and strange underbelly of Boston's late 1960s counterculture, detailing the mythic creation of Van Morrison's masterpiece "Astral Weeks." The undertaking of such a mammoth project put Walsh in a precarious mental state. Along with the book's intense publicity cycle and travel schedule, a huge stressor was the Fort Hill Community, a powerful, LSD-fueled cult formerly led by Mel Lyman, whose secrets were unearthed by Walsh; he believes Fort Hill attempted to discredit him with his publisher.
"At a certain point in the songwriting process, I was depressed, I was having panic attacks, I even moved back home with my parents for a while," he told me. "Writing the book was just an overwhelming experience — positive, but overwhelming. I mean, that large of a group of people have never liked anything that I've done before ... Everyone thought I was at the top of the world, but really I would see the book making it into all of these year-end-best lists and I'd be in my old childhood bedroom and no one knew."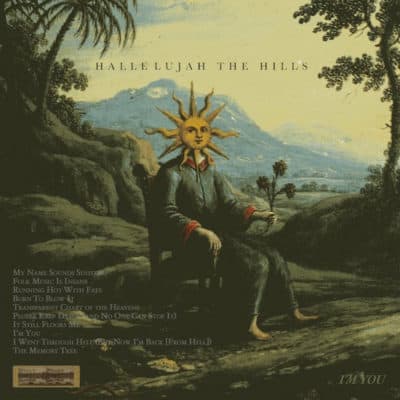 Herein lies the crux of "I'm You." The anxious, hurried thickets of "People Keep Dying (And No One Can Stop It)" reveal Walsh's reluctant acceptance of forces beyond his control. Backed by a band — including Brian Rutledge, Nicholas Ward, Joseph Marrett, Ryan Connelly and David Michael Curry — with a similar chaotic synchronicity as the band from Ziggy Stardust, Walsh defiantly salutes death with a raised middle finger above bursts of rock 'n' roll power chords and a jerking rhythm section. And on the drunken blues of "Born To Blow It," co-written Marissa Nadler, Walsh glosses over his own self-resentment with the whiskey-drawl of a man plagued by failure (Walsh and Nadler married in 2015, but recently separated). "I'm just my own great destroyer!" he yells with a startling shock, like a beer glass shattering against a brick wall; it's quintessentially New England in its earnest, raw delivery, underlined by organ swells and a creeping viola whimpering in the distance.
Much of "I'm You" is a return to the beginning for the Boston rock veterans. The frenetic, foot-stomping sounds of mid-aughts indie rock — similar to the punky pertinacity of Modest Mouse in the "Good News/Bad News" era — can be heard on "Running Hot With Fate," a sobering anthology of character stories that underline life's indiscriminate capriciousness. And with a nod to the group's early found-sound aesthetic, "I'm You" is lush with candid bits woven into the album's framework. There's abstract segments and subtle homages to David Lynch, Robert Pollard, and the late, great David Berman at nearly every juncture. For an album so deeply rooted in the brittle fragility of self, "I'm You" smartly acknowledges that the story of struggle without characters is a diary that no one wants to read.
With themes so grounded in cynicism and the unmovable realities of life, "I'm You" finds solace in the humor between the cracks of existence in some hard-to-reach places, like bitter failure and the ironic comedy of death. It's the journey of a narrator, through highs and lows, who manages to take personal strife and turn it into something profoundly funny, weird and inspiring — or better, something to make people feel less alone. "As hard and sad as things get, I do still always find life kind of … hilarious and absurd," he explains.
---
"I'm You" is available everywhere on Nov. 15. Hallelujah the Hills will be performing in support of "I'm You" at Great Scott on Dec. 19.