Study Finds Mass. Worst In Nation For Elder Economic Security
Single older people in Massachusetts are more likely to face economic insecurity than their peers in any other state, according to a new UMass Boston report.
The study estimates that 61.7% of state residents older than 65 and living alone do not have enough income to cover basic expenses such as housing, food, health care, transportation, clothing and household supplies.
"It's sobering," said study author Jan Mutchler, a professor and director of the Center for Social and Demographic Research on Aging at UMass Boston.
Although older Massachusetts residents tend to have higher incomes than elderly people in many other parts of the country, "these numbers suggest there are a lot of older people who are struggling financially," Mutchler said.
As the state's population continues to age, Mutchler expects the trend to continue, with major consequences for the well-being of older residents and their families. In some cases, adapting to economic pressures may mean that elderly people move in with family members, look to senior housing, or seek assistance from nonprofit or government programs.
For those who don't have that support network, or who don't quality for assistance, it may mean tough choices, like skimping on medical care, not eating an appropriate diet, or going into debt.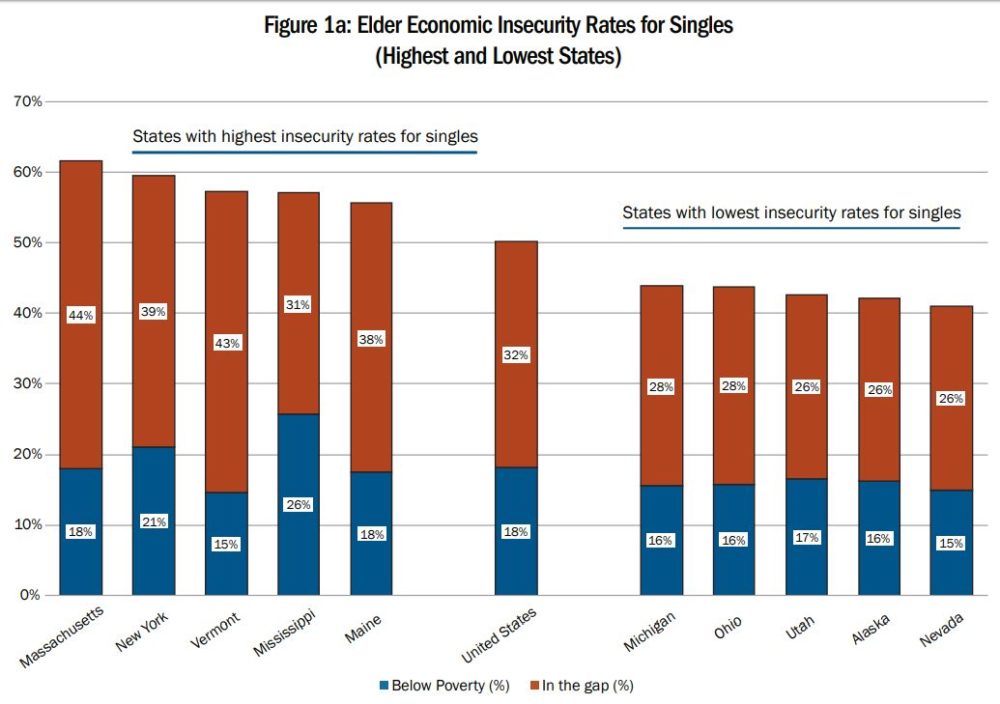 The financial picture is not much better for those living with a companion (a spouse, partner, or some other older adult). Massachusetts has the third highest proportion of senior couples who are economically insecure in the nation.
In Boston, 74% of elderly people who live alone do not have sufficient income to cover necessary expenses, and about 40% of those residents fall "in the gap," meaning their incomes are too high to qualify for public benefits such as the Supplemental Nutrition Assistance Program (SNAP), yet too low to achieve intermediate- or long-term economic stability, according to the report.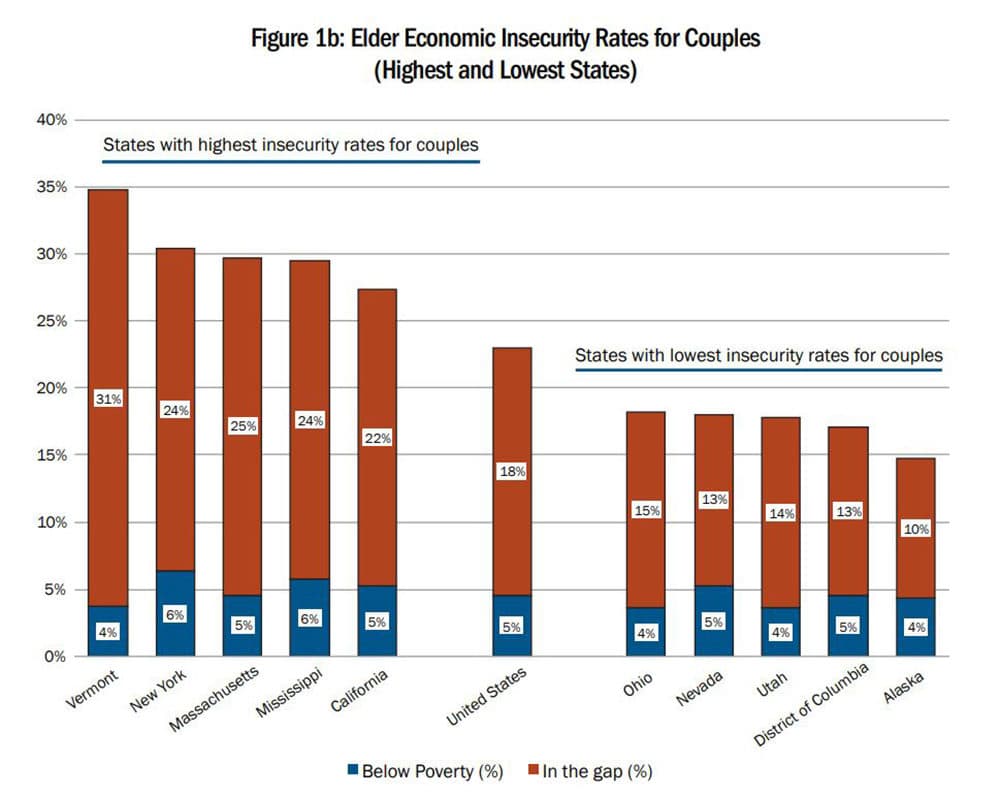 Mutchler and her team calculated a measure they term the Elder Index -- a county-by-county estimate of the income needed for older adults to live independently in their homes while also meeting basic needs
Then, the researchers used census data to determine the average income (which might include social security payments, pensions, and savings) for elderly people in each county in the country. If an older resident's income for a given area fell below the Elder Index, the researchers considered them "economically insecure."
Economic insecurity is not the same as poverty, Mutchler noted. That's because the term poverty, as the federal government uses it, does not factor in the vast differences in the cost-of-living among states. Because of this, elderly residents in Massachusetts whose income places them above the federal poverty level may still be unable to live independently or afford basic expenses.
Policymakers must tackle both income and expenses to properly address the problem, Mutchler said. On the income side, preserving social security and increasing the ability to work can help, she said. And as far as expenses, Mutchler said policies that increase affordable housing and reduce medical costs would ease some of the biggest sources of financial pressure.
"To the extent this very bad scenario prompts people to take action, I think it's a positive," she said.