Today's Weather: Breezy And Chilly With Temperatures Reaching The 40s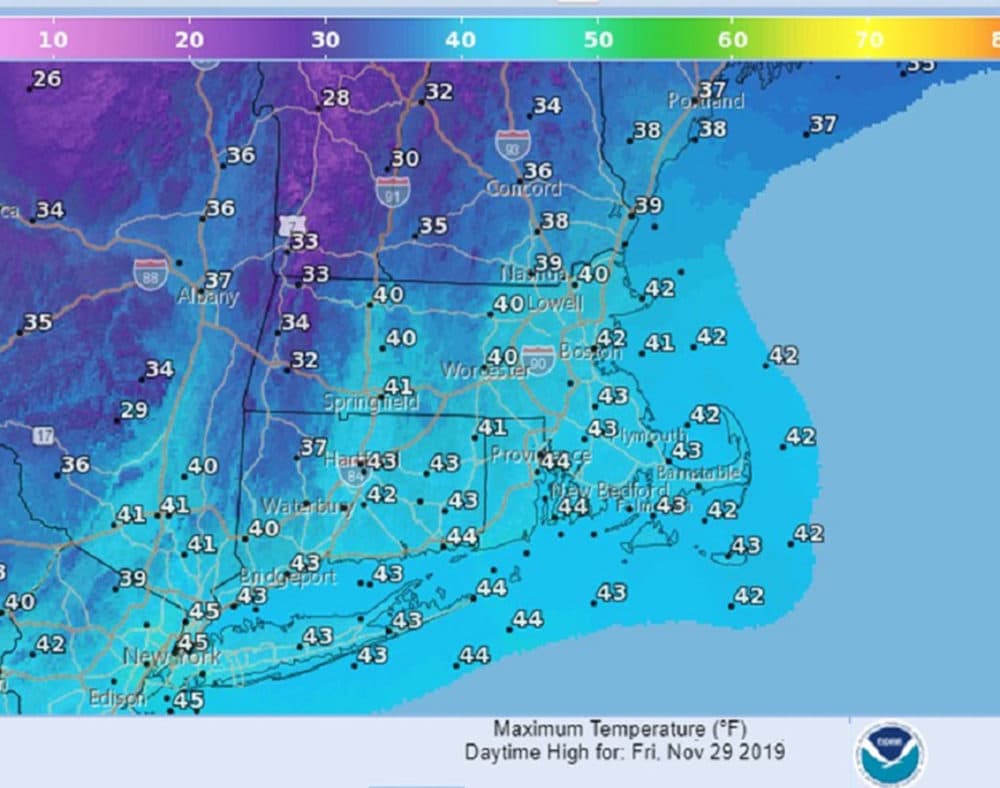 Cold Canadian high pressure has cleared away the Thanksgiving clouds. Friday we should expect breezy and chilly conditions that will last into Saturday.
We'll see below normal temperatures this weekend. Boston should have highs in the upper 40s Friday, but the rest of the weekend we will struggle to get out of the 30s.
What about snow? A storm is coming toward the area from the Great Lakes and Ohio Valley, bringing expected snow later Sunday. Judging by the track of the storm, we should see some snowfall across the state. The exact track, speed and intensity will all play a factor in how much snow. Even though cold air is solidly in place, some warm air aloft may cause a period of mixed precipitation for a while Monday. This always tends to cut back on snow totals.
We expect the snow to begin in Boston between 5 p.m. and 7 p.m. Sunday, with three to six inches on the ground by Monday morning. Some mixed precipitation Monday should change back to snow early Tuesday with another couple inches possible. These are only preliminary amounts based on the latest data. We will have a much better idea during the next 24 hours.
Today: Sunny, breezy, chilly. High 42.
Tonight: Clear, still breezy. Low 23.
Saturday: Sunny, breezy, unseasonably cold. High 38.
Sunday: Increasing clouds. Snow developing during the early evening and continuing at night. Highs in the mid 30s. Accumulation snow possible overnight.
Monday: Any mixed precipitation changing back to another period of snow.
High near 35.
Tuesday: Partly sunny. Highs 35-40.
Meteorologist: Dave Goldbaum for Dave Epstein