Kennedy, Liss-Riordan Sign People's Pledge, Chide Markey For Offering Alternative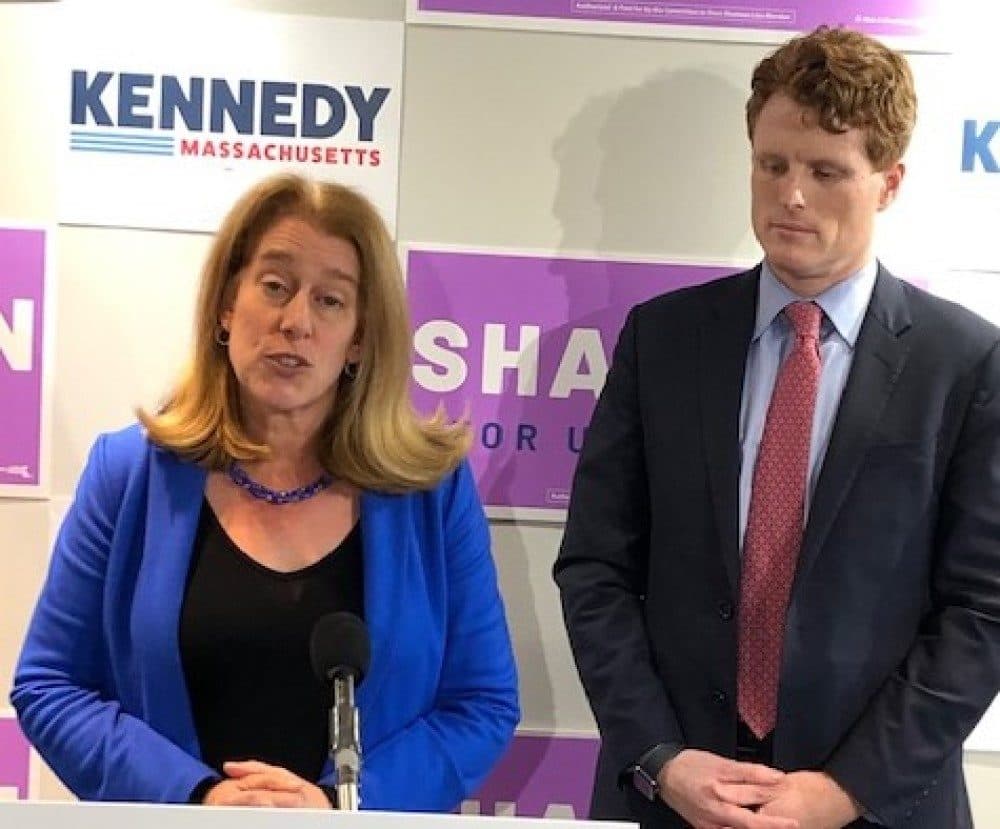 This article is more than 1 year old.
The two Democrats hoping to unseat Massachusetts Senator Ed Markey have signed a so-called "People's Pledge" to keep outside money from the 2020 race. Markey did not sign the pledge with U.S Rep. Joe Kennedy III and attorney Shannon Liss-Riordan, opting to offer his own version of the pact.
The People's Pledge, which was first signed by Elizabeth Warren and Scott Brown, is supposed to keep from the race "dark" money and personal attack ads funded by groups outside of Massachusetts. Kennedy and Liss-Riordan appeared together Monday afternoon in Boston to sign the agreement and call on Markey to do the same.
"I hope Senator Markey will come back around on this issue and join Congressman Kennedy and me in banning outside spending in his race," Liss-Riordan said. "This race should be decided by the people of Massachusetts, not by dark money or special interests."
Markey is offering his own "updated People's Pledge for the 2020 Senate primary to end the influence of negative third-party advertising and undisclosed money that is polluting American elections," according to a statement released by his campaign. Unlike the original pledge, Markey's would allow funding from "progressive organizations [that] have the right to make their voices heard ... with positive campaign advertising."
John Walsh, Senator Markey's campaign manager, told WBUR all three Democrats support the effort to limit dark money, outside interference and negative campaigning.
"But we're not interested in the collateral damage of silencing our progressive partners that all of us say we support," Walsh said. "Whether it be labor unions, women's health advocates, LBGTQ advocates, environmental advocates or many other [advocates]."
Markey, who supported the People's Pledge during his first Senate campaign in 2013, stands to gain the most from outside money in the fight to retain his senate seat. He co-sponsored the Green New Deal and is supported by environmental groups who have said they will spend $5 million to support his re-election.
But Liss-Riordan and Kennedy reject Markey's approach.
"If you believe there's too much money, there's too much money," Kennedy said. "The idea that you [make an exception for a] positive message, that is a loophole big enough to drive a truck through."
Liss-Riordan called Markey out for inconsistency.
"It's political expediency, and that's what people are not happy about," Liss-Riordan said. "Several years ago, when it was in his interest, Senator Markey cared enough about this issue to call outside money 'political pollution.' Today, not so much."
The People's Pledge signed by Kennedy and Liss-Riordan will only take effect if all three Democrats sign on.