Jamila Woods Creates Self-Portraits Of Blackness Through Her Music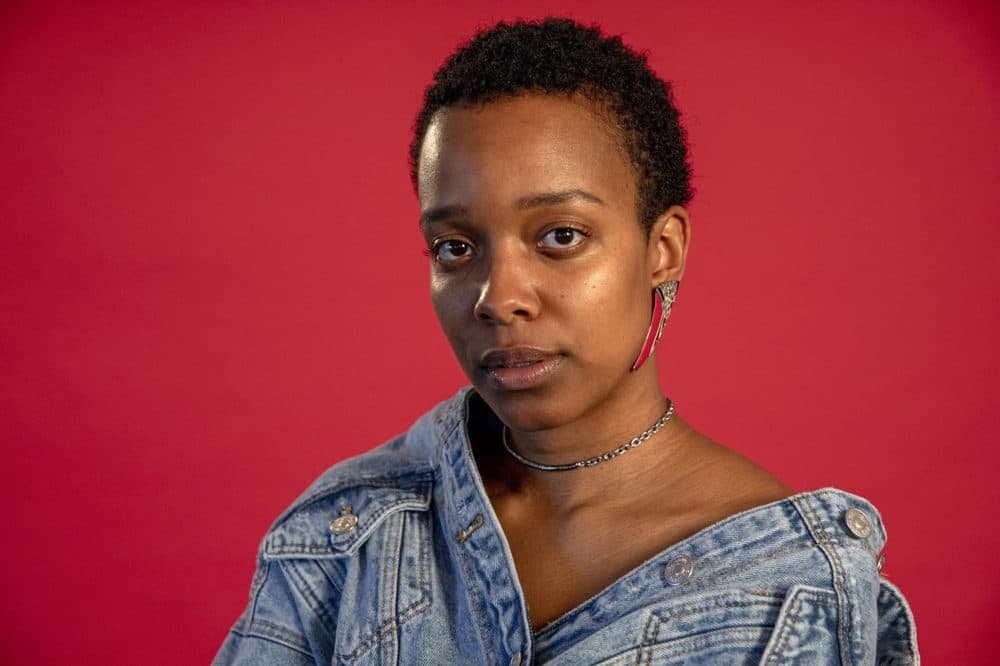 This article is more than 2 years old.
Jamila Woods' newest album "LEGACY! LEGACY!" didn't begin with music.
It began with a series of photographs in a book that Woods' mother kept in the house. Growing up, Woods would flip through the tome and examine the images. "It was called 'Songs of My People: African Americans: A Self-Portrait,' " Woods recalled with a soft smile. "I just loved the idea ... of pictures of different black people and calling that a self-portrait."
This metaphorical self-portrait, comprised of individuals who've pushed forward black thought and culture, forms the vertebrae of "LEGACY! LEGACY!" The album serves as an exploration of self but Woods wasn't interested in writing about the reflection she sees in the mirror. Instead, her songs memorialize the black leaders and thinkers who provided lenses through which to view, appreciate and love blackness as an identity.
I spoke with Woods last month when she visited Boston to perform at the Isabella Stewart Gardner Museum as part of its ongoing live concert series. The series, helmed by public programs manager Catherine Morris, has infused a fresh feel into the museum, continuing Isabella Stewart Gardner's legacy for culturally relevant programming while simultaneously pivoting the museum's musical programming in a more diverse direction.
For Woods, "LEGACY! LEGACY!" is a counter-history. The Chicago native mentions that she was often the only or one of a few black children in her school. The education she received reflected that racial disparity. "A lot of times, at least in my schooling, I wasn't always given black history," Woods says. "People like Zora Neale Hurston and Jean-Michel Basquiat, I didn't learn about until I went to college. That history was something that I always had to seek out and teach to myself."
Both Hurston and Basquiat's names serve as titles for tracks on "LEGACY! LEGACY!" The song list also includes "EARTHA," "MUDDY," "BALDWIN" and "SONIA," named for Eartha Kitt, Muddy Waters, James Baldwin and Sonia Sanchez. The songs aren't necessarily about the individuals they're named for. "The work of these people are entry points for self discovery," Woods explained. "I'm writing through them, not just about them."
"BETTY" is a musical interpretation of Betty Davis' timeless and defiant elegance while "SONIA" is cheeky, flouncy and sharp tongued, drawing from Sonia Sanchez's direct, to-the-point mode of speaking. The metaphysical, soft-lipped feel of "SUN RA" is a contrast to the guitar driven, drum heavy "MUDDY."
For the track "GIOVANNI," Woods turns Nikki Giovanni's poem "Ego Trip" into a backdrop for her tongue tripping, powerful lyrics. "How would I rewrite that poem?" Woods said. "It's about always rooting it in the self or at least having some reference point for how can you make this yours in an authentic way."
You can hear this most clearly in "BASQUIAT," a song that is framed by an interview Jean-Michel Basquiat did in 1985. Basquiat is asked if he has "any anger," to which he responds, "Of course there is." He then adds that he can't remember why he's angry. "I was thinking about the way that Basquiat kind of presented as like a quieter ... kind of like genius child ... very approachable black man," Woods said. "Just the idea, you know, that he wouldn't be angry, like of course, everyone possesses the full range of emotions. People assume that because you don't show your anger in a certain way, it doesn't exist."
Black anger, in particular, has been maligned by white supremacy as threatening or dangerous. Woods sings about this emotional policing on the lilting, ethereal "SUN RA" and asserts that she will "Never let them shame me/ Out of my anger." While anger isn't an emotion Woods likes to sit in often, she recognizes that the power of black rage lies in its ability to mobilize communities. "I think of people like Mamie Till who used that anger to make a statement, to say something," Woods said. "The world asks you, 'Can't you just fit into this nice little mold?' and 'Speak softly, don't have crazy hair and just calm it down,' which is not right."
On "LEGACY! LEGACY!" Woods conjures this anger and the joy of her artistic predecessors while highlighting their emotional nuances. She doesn't craft them into gilded idols or saints of rage or peace. "I like to think of my work as allowing space for the multiplicity of ... blackness," she said. Each song adds something unique to a musical vocabulary Woods utilizes to describe and memorialize blackness.
"LEGACY! LEGACY!" is an archive as much as it is a counter-history. Woods turns the past into a magnifying glass through which we can examine our present and future. "I feel like I needed to acknowledge the Sankofa spirit of looking back before you can move forward," Woods explained.
The ideas and work created in the past aren't ghosts. They're living, breathing things that walk beside us right now, in the moment. For the youth of color listening to Woods' music, she says that "LEGACY! LEGACY!" is a guide for them to not only discover the richness of their past but to see the vibrancy of their future. "I think one of my hopes with the album was to kind of spark a curiosity, particularly in black young people," Woods said. "I hope that in learning about our history ... it's so empowering to know their ancestors have survived and that they're not alone."