4 Arrested As Activists 'Escalate' Fight Against Weymouth Compressor Station
Four South Shore residents affiliated with the activist group Fore River Residents Against the Compressor Station (FRRACS) were arrested Thursday outside of the site of a future natural gas compressor station in Weymouth.
At least 35 people showed up to the early morning demonstration to protest construction at the site, which began earlier this week. The activists blocked a road leading to the property for more than an hour, preventing a construction vehicle from passing through. Police repeatedly warned the group that anyone who didn't move would be arrested, and all but four people complied.
"We are escalating [the fight] because we've been left no choice," Alice Arena, Executive Director of FRRACS, said after the protest.
Joe Herosy of Quincy, Lisa Jennings of Weymouth, Laura Burns of Hingham and Jerry Grenier of Weymouth were arrested and charged with trespassing and disorderly conduct, according to Norfolk County District Attorney's office. The charges were converted to civil infractions, of which all four were found responsible. The infractions will be placed on file for the next 30 days, according to the DA's office.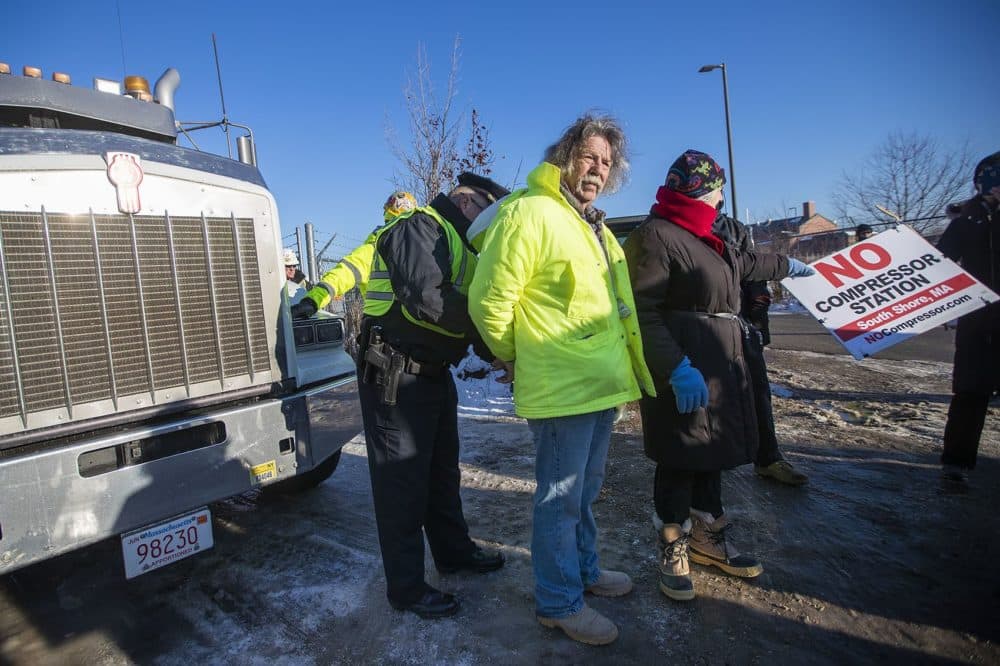 A spokesperson for  Enbridge, the Canadian company behind the project, said they hoped to resolve differences with the project's opponents"through dialogue."
"We don't tolerate unsafe or illegal activities at our work sites or facilities, and Enbridge will support the prosecution of criminal activity, in the interest of safety and respect for those potentially impacted," a spokesman for Enbridge, the Canadian company behind the project, said in an email after the protest.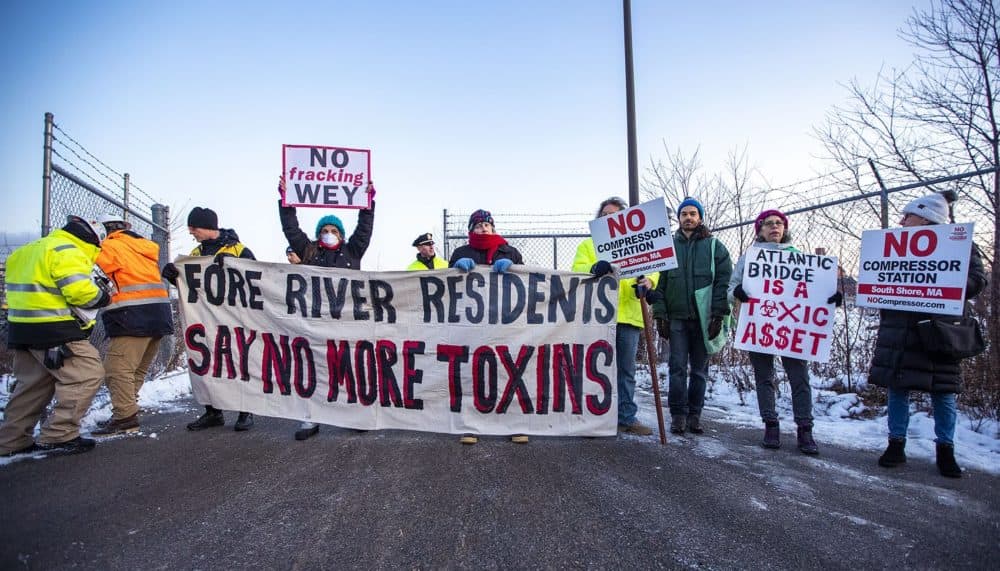 The Weymouth natural gas compressor station is one component of Enbridge's Atlantic Bridge Project. The project, when completed, will connect two large interstate pipelines and allow natural gas to be piped from New Jersey into New England and Canada.
Enbridge chose to build the compressor in an industrial-residential area with a long history or pollution and contamination, and those opposed to the facility say it poses a public health and safety risk. Critics also worry that building it will prolong the country's dependence on fossil fuels.
"Nothing good can come out of this [compressor station]," said protester and life-long Weymouth resident, Kelly Cassier. "We don't want it here."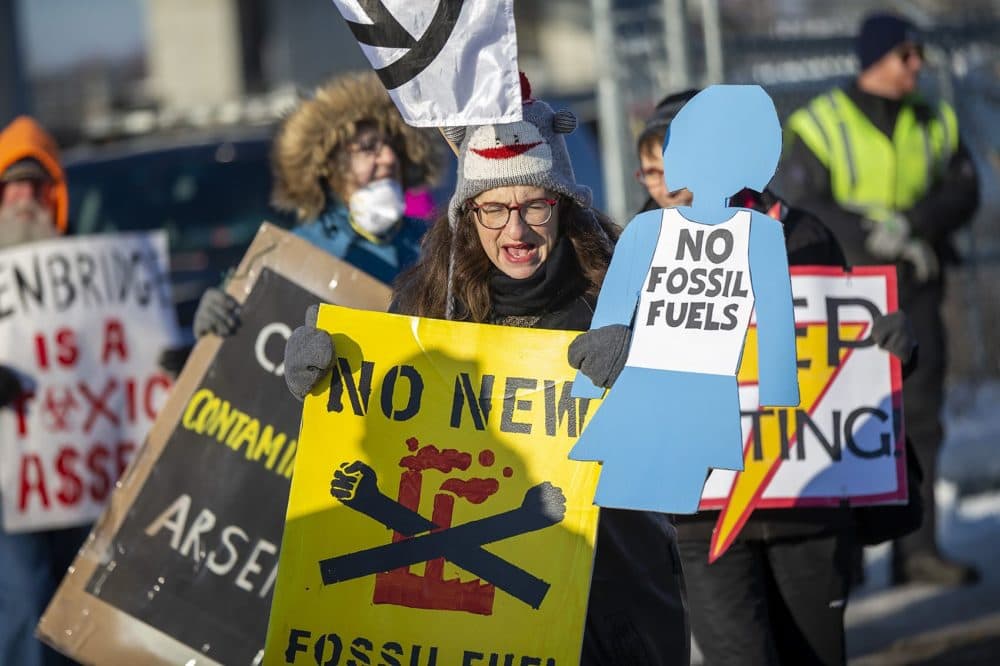 Thursday's protest comes after years of public opposition to the project and multiple administrative challenges to various state environmental permits.
"We will defend our land, we will defend our neighborhood," said Alice Arena, Excutive Director of FRRACS. "The state has left us with no choice by abdicating their authority to stop this."
Late last month, Enbridge received the final state and federal permits for the project, and announced that construction — and soil remediation — would begin in early December.
Arena said Enbridge should expect more protests in the near future.
This article was originally published on December 05, 2019.