At MIT's List, Artist Becca Albee Interweaves Friendship And Horseshoe Crabs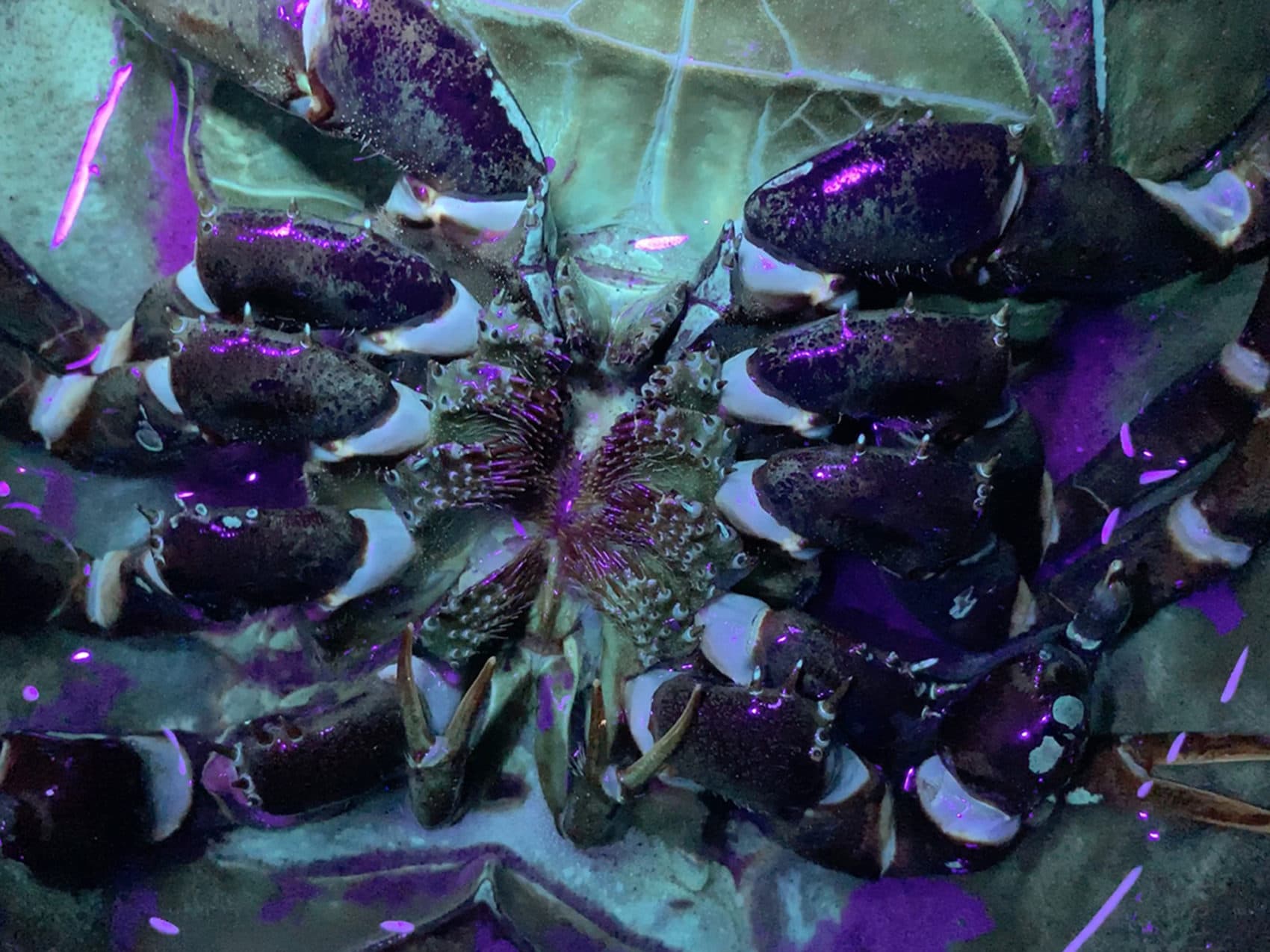 This article is more than 3 years old.
In Becca Albee's installation, on view at the MIT List Visual Arts Center beginning Dec. 12, we are confronted with unlikely bits of ephemera that seem to hold no obvious connection.
There is an image of a postcard that the artist once sent to her friend and mentor Robert Blanchon prior to his death from AIDS-related complications at 33. There is a contact sheet of photos that Blanchon once took, and a photograph of a photo of a shirt pocket. We also see a three-channel video documenting horseshoe crabs as they scuttle across Brooklyn's Plumb Beach at night.
What can we decipher from these random bits of personal memorabilia paired, inexplicably, with the nighttime spawning of the Atlantic horseshoe crab?
The connection according to Yuri Stone, curator of the exhibit, is time — time that encompasses both the fleeting actions of our day-to-day existence, as well as actions that happen in the span of millions of years.

"It's thinking about singular, intimate moments, somebody reflecting on a friendship or a relationship that was in the near past and then stepping back and thinking about time on a geologic scale," says Stone.
"List Projects 20: Becca Albee" presents a dozen or so works that combine video that Albee shot in the spring of 2019 while working as a volunteer monitoring horseshoe crabs along with remnants from the personal archive of Blanchon, a Massachusetts-born conceptual artist and artist-in-residence at the University of North Carolina, Chapel Hill at the time that Albee met him in 1998. No profound idea holds these threads together, other than it just so happened that Albee was sifting through Blanchon's papers at New York University's Fales Library & Special Collections in the same period that she had happened to volunteer to count crabs.
"When I was invited to do this commission about the impact that Robert Blanchon had on me and my ways of making work, I took this as an opportunity to thoughtfully consider Robert's influence on me," says Albee. "To clarify, this is not two ideas coming together in one exhibition but rather using process as a guiding principle."
For her, the process involved sifting through Blanchon's archives, photographing some of his papers and artwork, not intending her photos to be "art" but as a way of documenting what she had uncovered to revisit later on.
But as she went about her daytime and nighttime activities, a theme did emerge.
"So I was with Robert's papers during the day, and I spent nights on Plumb Beach in Brooklyn — waiting for, watching, and photographing crabs," Albee told Mousse Magazine earlier this year. "There was a fragile choreography to the rituals of these prehistoric creatures that started to weave connections between my work and Robert's."

And so, we see a printed replica of a postcard Albee sent Blanchon announcing her 1999 show "Photographs on Ice," held at a North Carolina gallery. The image shows marks left on the ice by skaters' blades (including Albee's own) as well as the reflection of blue sky. We see a framed contact sheet of a series of photos of the beach that Blanchon took, as well as series of silver gelatin prints of etchings on the sand after horseshoe crabs return to the water after spawning.
Out of these random bits and pieces of daily life, past and present, Albee has created compositions that create a tangle of interconnected narratives that seem only tangentially connected. Those incidental threads, daily delights, momentary worries and temporary landscapes fold together into a historical suggestion of a fleeting friendship that sits in sharp contrast with the plight of horseshoe crabs, arthropods which originated 450 million years ago but are threatened today thanks to climate change and over-farming.
Albee is an associate professor of photography at The City College of New York. Born in Portland, Maine, she was a member of Excuse 17, a punk band that was part of the Pacific Northwest riot grrrl scene of the early 1990s. Blanchon, she says, had a defining influence on her work and life. From Blanchon, Albee learned to blend the political with the conceptual. Her research-based work incorporates photography but resists the notion that photographs somehow present an objective "truth." Political subjects are often a point of departure, particularly around feminism. Albee's ongoing "prismataria" series, begun in 2015, combines elements of work by artist and psychologist Hilaire Hiler with Albee's photographs of second-wave feminist texts about women's health. In her "newspapers & flowers" series, Albee replaced photographs accompanying articles on war and conflict in The New York Times with photographs of flowers taken by her grandfather during the late '60s and early '70s.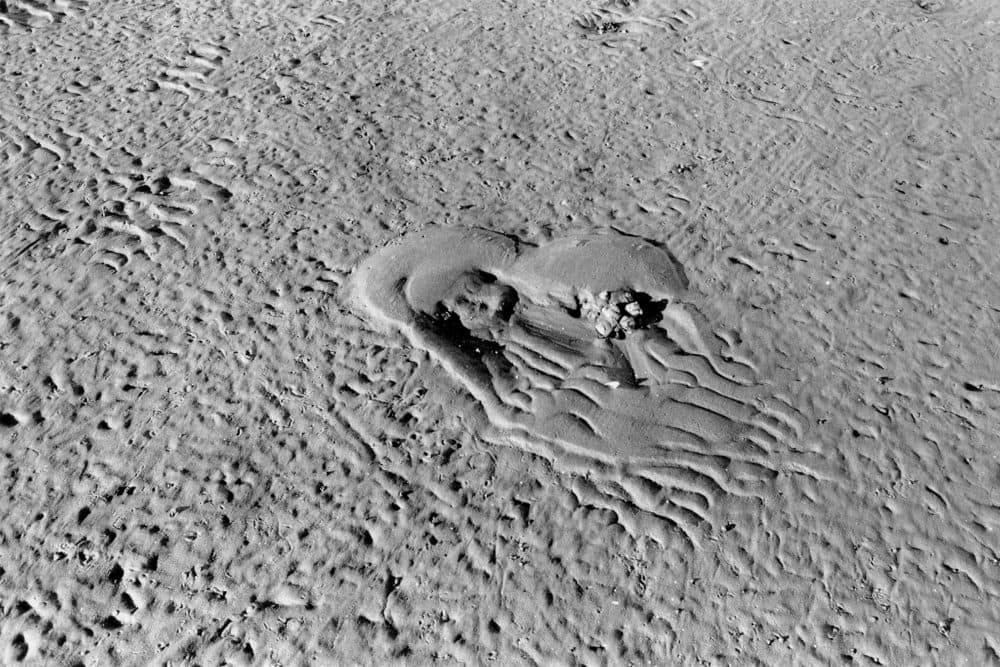 In this exhibit, the frame is a shade less political and more personal. But there could be a political angle as well. Albee lives with a clotting disorder. It turns out that the vulnerable Atlantic horseshoe crab is highly sought after in the medical industry for its unique ability to detect bacterial endotoxins and form protective clots around them. In some ways, one might surmise that for Albee, the fate of the horseshoe crab is somehow linked to her own personal fate. The fact that the beach was a subject her mentor also photographed and is also the place where a creature so intertwined with Albee's life spawns highlights how history and facts are interlaced, circling around and falling back on themselves.
"I do not set out to bring two disparate elements together, but it is important to be open to the possibilities and chance," Albee says of her work.
This time around, chance brought together a story of friendship and the Atlantic horseshoe crab.
---
"List Projects 20: Becca Albee" is on view at the MIT List Bakalar Gallery from Dec. 12 to Feb. 9. There will be a video showing of Blanchon's work and discussion with Becca Albee and Mary Ellen Carroll on Jan. 24.