U.S. Rep. Cicilline: Trump's Abuse Of Power A Clear Case For Impeachment
This article is more than 3 years old.
House Democrats are officially moving forward with articles of impeachment for, as House Speaker Nancy Pelosi told the nation this morning, "the president's failure to faithfully execute the law." And Democrats are stepping up their messaging machine:
Cicilline: Impeachment Articles Should Reflect A 'Pattern' of Trump's Behavior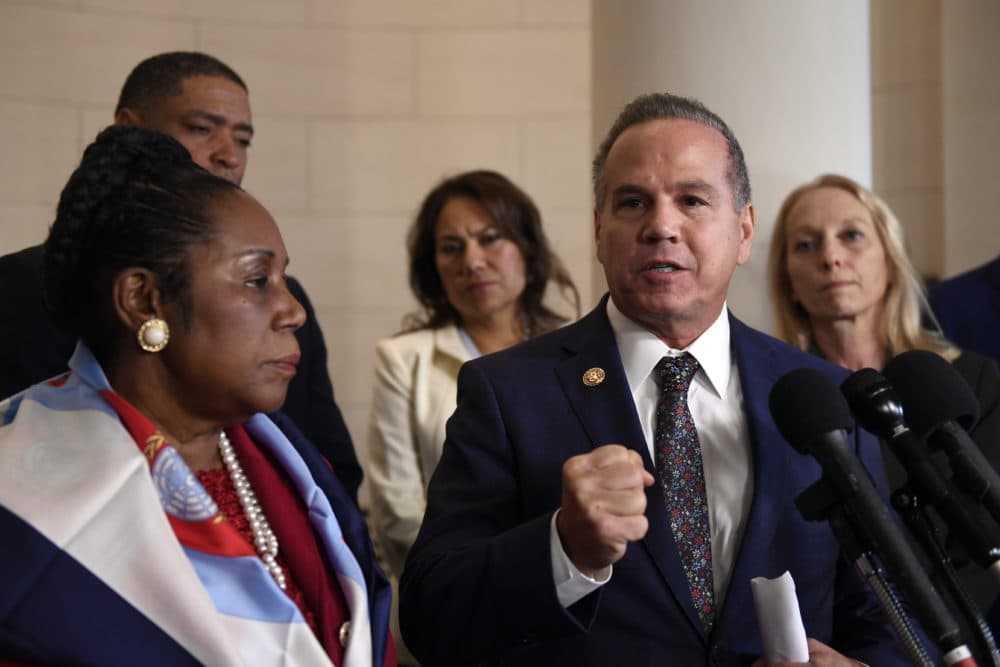 Rep. David Cicilline, the Rhode Island Democrat who sits on the House Judiciary Committee that will draft the articles of impeachment, declined to say whether he thought the impeachment articles should go beyond the alleged Ukraine pressure campaign and include other actions, like those outlined in special counsel Robert Mueller's report or allegations of Emoluments Clause violations.
But, he said, he believes they should reflect a "pattern of behavior" by Trump.
"I think the articles of impeachment have to really focus on what our founders saw as the most danger, that is abuse of power, the idea of the president using the unique powers of this office — which are enormous — for his own political, personal or financial gain," Cicilline told me.
He also dismissed criticisms that the process is moving too fast.
"This is a process we have been engaged in for a very long time," Cicilline said. "When the whistleblower report was filed, that sort of changed the speed at which we were moving because it was such a dangerous set of facts, the president of the United States really compromising the national security of the United States."
Cicilline could be named as an impeachment manager, a high-profile role where he'd help make the case for impeachment to the Senate.
"Obviously, if [Pelosi] decides to appoint me as one of them," he said, "it would be an honor to serve, and I will do my best to fulfill that responsibility as best as I can."
Lynch: Focus On Ukraine, Not Mueller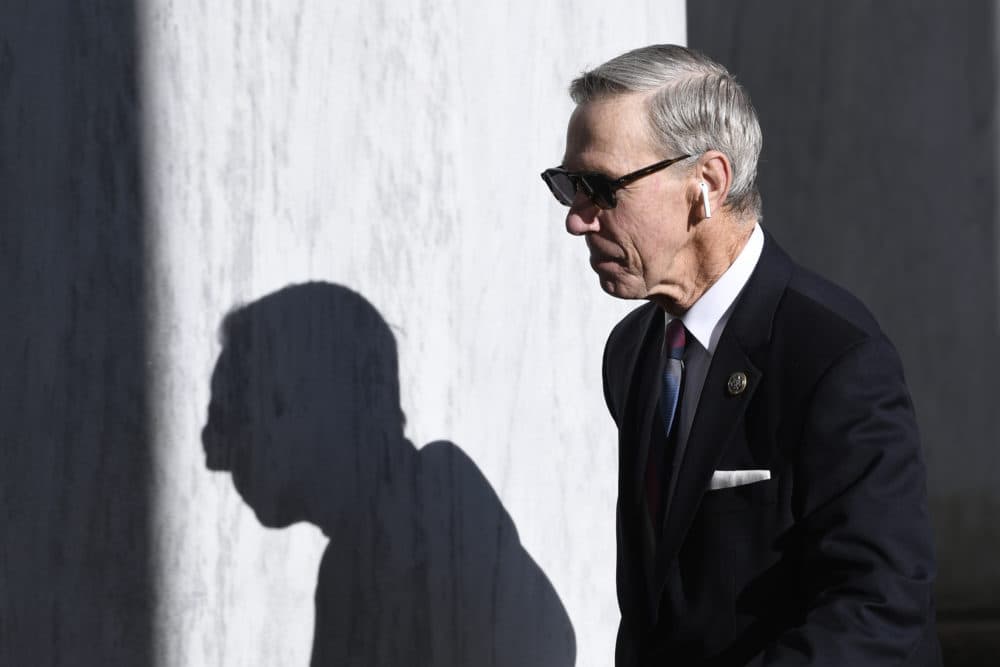 Rep. Stephen Lynch, who sits on two House impeachment committees — oversight and financial services — said he hopes the articles focus solely on Ukraine, not Mueller.
"The Mueller report sort of landed with a thud, and with very divided and ill-defined conclusions," Lynch told me.
Ukraine is a much clearer case, he said.
"The facts are very clear that the president attempted to undermine the upcoming election, and that he went to foreign powers to try to accomplish that, and that is a violation of law," Lynch said. "That is conduct that undermines our democracy. If we allow that conduct, then we might as well eliminate the entire section the Constitution regarding impeachment."
But he's not sure Democrats have made that clear to the American people.
"I think it's mixed. I do," Lynch told me. "I'm not sure that the American people have followed this with the level of attention that is required to understand it. Even though I think the facts are rather simple here, and I think that's part of our goal is to keep it simple enough so that people understand what we are talking about."
This all comes as Trump's reelection campaign has paid Facebook more than $5.4 million for ad placements on impeachment messaging against Democrats.
Sens. Whitehouse, Warren Press HHS On Pharma 'Kickback Schemes'
Sens. Sheldon Whitehouse (D-R.I.) and Elizabeth Warren (D-Mass.) want the Trump administration to toughen oversight and public disclosure rules to stifle what they call abuse of charitable patient assistance programs (PAPs).
The lawmakers say that PAPs — independent charitable foundations set up by pharmaceutical companies to help patients pay for prescription drugs — have been used to steer profits back to drugmakers.
In a letter to HHS Acting Inspector General Joanne Chiedi, they point to a recent $800 million settlement the Justice Department reached with a number of drug companies for receiving kickbacks through their nonprofit PAPs.
"Currently, the perverse structure of these programs allows pharmaceutical companies to reap profits from their tax-deductible 'charitable donations' while doing nothing to lower the high drug prices that force patients to rely on such programs in the first place," Warren and Whitehouse wrote in the letter.
They call for updated guidance that bars pharmaceutical companies earmarking donations to certain funds, strengthening public disclosure rules and requiring PAPs to also cover generic drugs.
3 More Things:
1. Weld blocked from Georgia ballot: Former Massachusetts Gov. Bill Weld's bid to oust Trump in the Republican presidential primary has hit a roadblock in the Peach State. The Georgia Republican Party's executive committee voted to approve only Trump's name on the state's primary ballot, after considering five potential GOP candidates, including Weld. "Apparently @realDonaldTrump's bromance with Putin extends to emulating the Russian's approach to elections," Weld tweeted after the vote. "The #GAGOP just decided the Georgia Republican Presidential Primary ballot will have only one candidate on it: Donald Trump. What is DJT afraid of?"
2. Patrick grows staff: Former Bay State Gov. Deval Patrick is staffing up in the Granite State as he mounts his own self-described long-shot Democratic White House bid. He has tapped Wyatt Ronan as his New Hampshire state director. Ronan previously served as communications director for former Texas U.S. Rep. Beto O'Rourke's New Hampshire presidential campaign, WMUR reports.
3. Trahan plays ball: Rep. Lori Trahan launched the House's Save Minor League Baseball Task Force, a bipartisan effort with Rep. David McKinley (R-W.Va.), in response to a Major League Baseball plan that would sever ties with dozens of minor league teams, including the Lowell Spinners. At the task force's first meeting Tuesday, members met with Minor League Baseball President Pat O'Conner and several minor league team owners.
---
ON MY RADAR
— The Battle for the Senate: Winning back the chamber is just as important as retaking the White House. But can Democrats wrest control from the GOP? (Rolling Stone)
— The Democrats are moving left. Will America follow? 32 perspectives on the party's dramatic turn.  (The Washington Post Magazine)
— The Betrayal of Volodymyr Zelensky: The surreal story of how a comedian who played the Ukrainian president on TV became the president in real life — then found himself at the center of an American political scandal. (The Atlantic)
---
WHERE'S WARREN?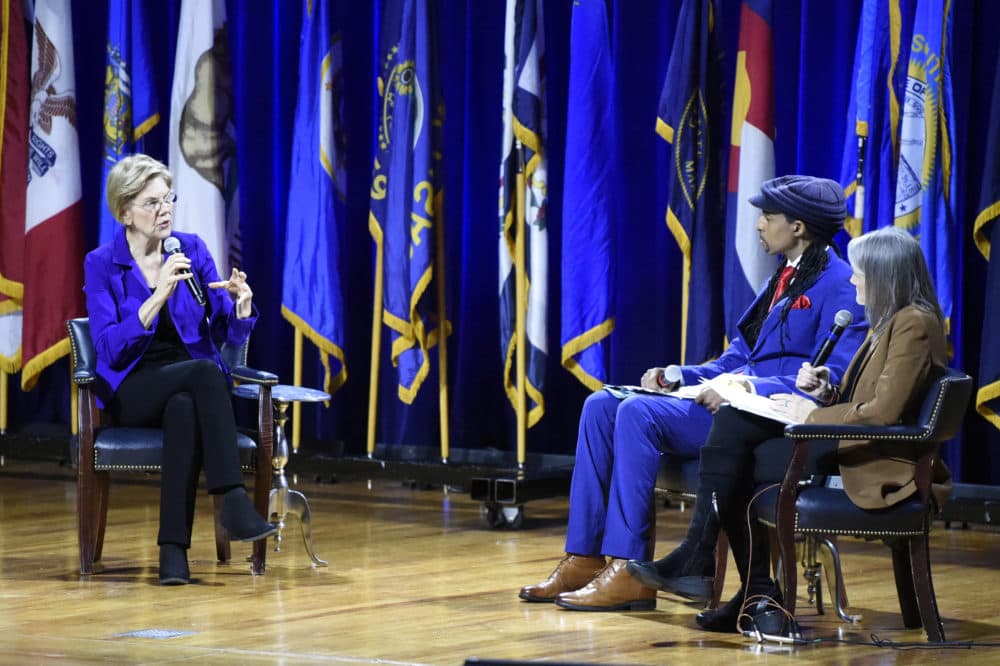 Warren's presidential campaign will take her to South Carolina and Nevada into next week.
Sunday she will hold a town hall in Charleston, S.C. On Monday and Tuesday she will hold town halls in Las Vegas and Reno.
Next week the U.S. Senate is scheduled to be in session for the final week of 2019.
---
TWEET OF THE WEEK
Warren taking aim at Mike Bloomberg by buying an ad on his television network.
---
NUMBER OF THE WEEK
12.4
The percentage drop Elizabeth Warren has seen since she led Real Clear Politics' polling average back on Oct. 8 with 26.6%. As of Dec. 4, she as at 14.2%, trailing behind Bernie Sanders (15.6%) and far behind Joe Biden (27.8%). Politico recently reported on her apparent loss of mojo in Iowa.