27 Young Climate Activists Arrested On Trespassing Charges At State House Protest
After a climate protest that drew at least 300 young people to the State House, 27 people were arrested and charged with trespassing.
State police say the arrests were peaceful, and that everyone taken into custody is an adult. (Many of the protest's participants were minors.) Those arrested are expected appear in Boston Municipal Court sometime next week.
The day-long protest began at 10:30 a.m. with a rally in Copley Square, and then moved to the State House. For more than six hours, hundreds of young people occupied the hallway outside of Gov. Charlie Baker's office. They alternated between singing and dancing, and telling stories about what inspires them to be a climate activist.
"I'm here because nothing has been done for way too long now, and the more we put pressure on our politicians and those in power, the more stuff will start to get done," said 21-year-old Jamie Gareh.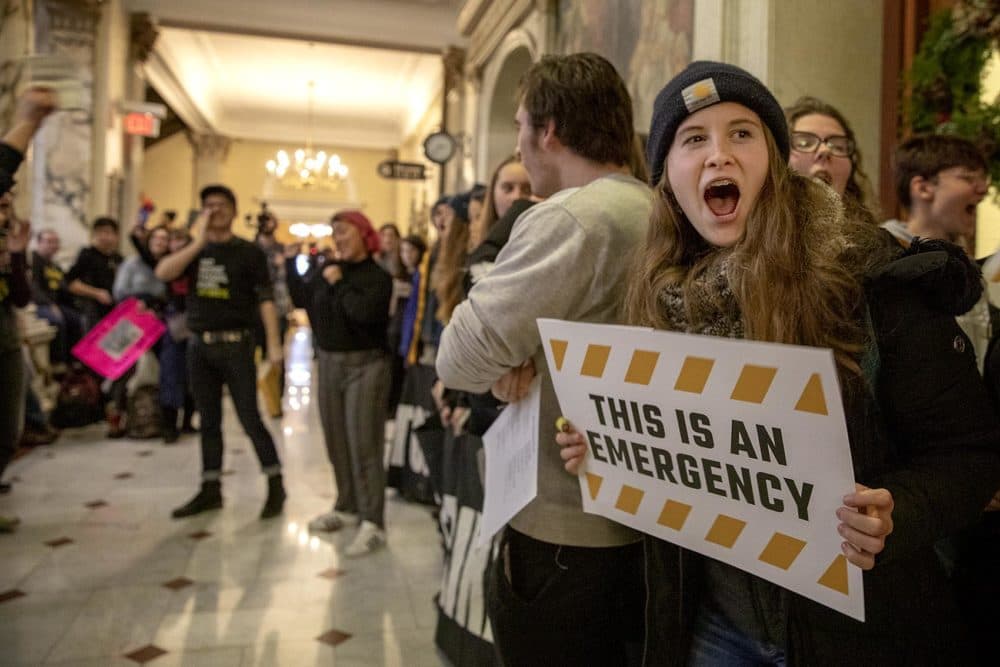 At 5 p.m., police warned the protesters that if they didn't leave the building, they'd be arrested. Some sitting in front of the governor's office linked arms, and said the threat of climate change was far worse than the threat of arrest.
"We're staying. We're not going to leave until [Gov.] Baker gets here," 18-year-old Amalia Hochman, of Somerville, said. "We want him to pass the Mass Power Forward agenda and support a Massachusetts Green New Deal."
Others at the rally said they wanted the state to pass a carbon tax, place more emphasis on environmental justice issues and declare a "climate emergency." Some also called on Baker to stop the Weymouth Natural Gas Compressor Station and a proposed electrical substation in East Boston.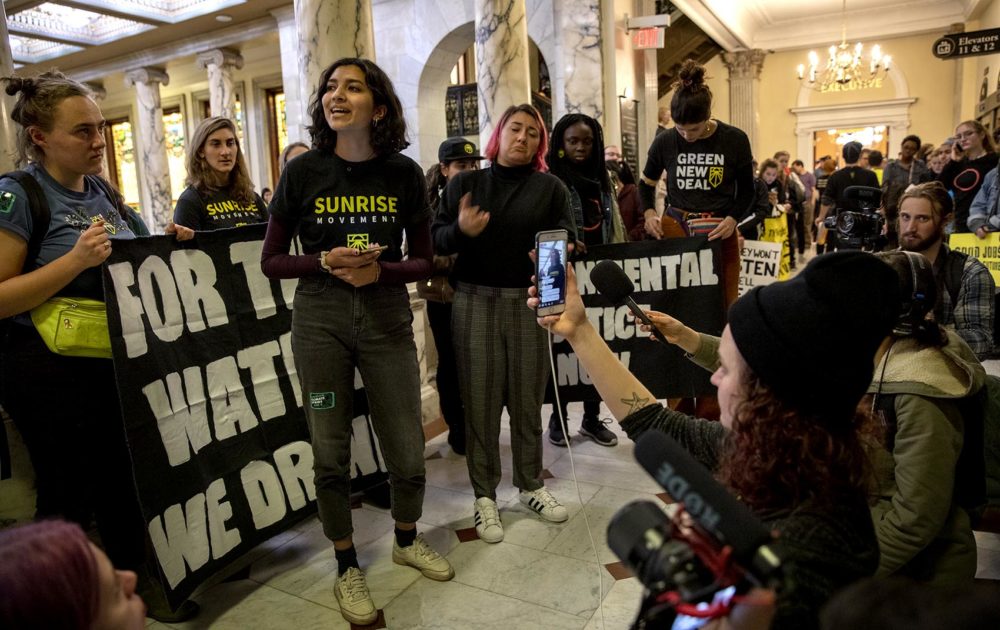 The activists were with the Boston chapter of the Sunrise Movement, the national grassroots organization of young people pushing for bold climate action and a Green New Deal.
A spokesman for the group said Friday's demonstration and arrests mark their biggest action yet.