Cambridge's 'Passive House' Is Built With Focus On Affordable Housing, Climate Change
Resume
The construction site across the street from Fresh Pond Reservoir in Cambridge looks like your typical scene from today's building boom in Massachusetts — but it's not. The wood, six-story Finch Cambridge is different than every other building going up in the state.
It's designed to simultaneously address two of today's toughest problems: the climate crisis and the urgent need for affordable housing. When construction is finished next spring, Finch Cambridge will become the city's largest affordable housing project built in the last 40 years.
The need is there. A quarter of the city's tenants are "rent overburdened," which means they spend at least 30% of their gross income on shelter. Finch Cambridge will add 98 one-, two- and three-bedroom affordable units to the city's housing stock.
But the building's significance goes far beyond size. Cambridge has a lot of old, drafty homes and businesses. In all, 80% of the city's greenhouse gas emissions come from buildings, according to Assistant City Manager for Community Development Iram Farooq.
The Massachusetts Clean Energy Center provided $147,000 in financial incentives to Finch Cambridge's developer, the nonprofit Homebuyers Rehab Inc. (HRI), to make the building energy efficient.
"This building is a thermos; it's airtight."

Michelle Apigian
"To meet our greenhouse gas goals in Massachusetts we need all housing — especially new construction where incremental costs are much lower — to be much more energy efficient," said Beverly Craig, senior program manager at the center.
To meet that aggressive goal, HRI is taking a passive approach with Finch Cambridge.
Architect Michelle Apigian, who designed and is project manager for Finch Cambridge, has a special certification in "passive house" design, which uses special construction technologies and techniques to radically improve energy efficiency.
"Passive house is a building performance standard, it's the most energy-efficient building standard in the world, so it targets specifically energy to reduce our carbon foot print because we have to," she said. "We're in a climatic crisis."
Apigian believes Finch Cambridge will be 40% more energy efficient than even the toughest building codes; beating LEED Platinum and Energy Star standards.
"This building is a thermos; it's airtight," Apigian said. "It holds temperature no matter what is happening inside the building."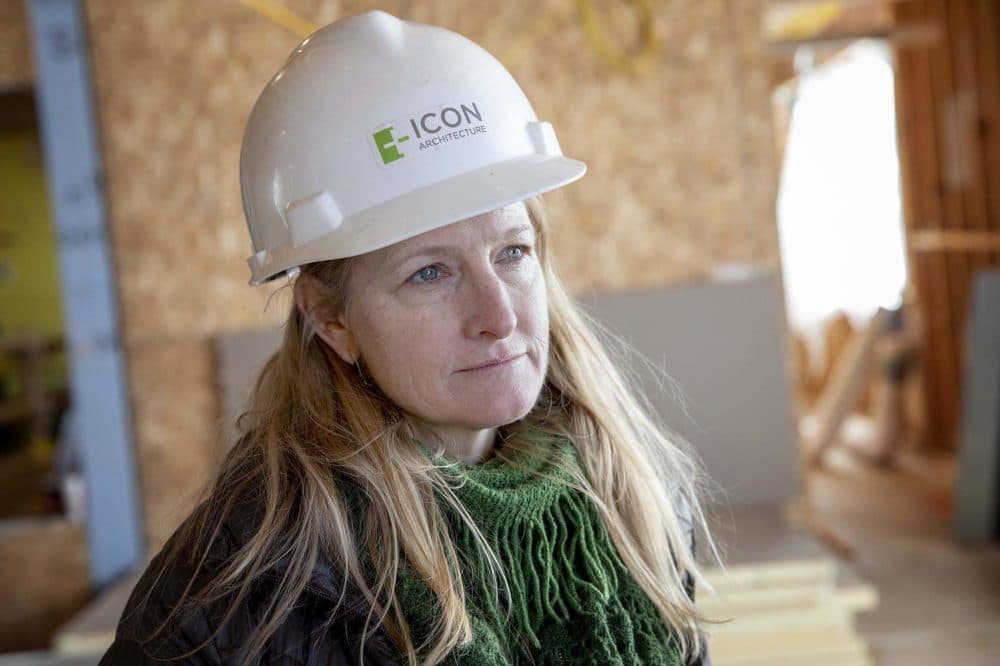 Translating Apigian's architectural plans into a real building took special training.
Senior Project Manager Matt Smyka and two co-workers attended a special course in passive house construction before the company bid on the project.
"This is our first passive house building, and the biggest challenge for us was understanding what [a] passive house is. It's different, you know?" he said. "There's integration of products you need to get ahead of [that] you wouldn't normally do on a typical construction project."
For instance, he explained, the workers need to construct an air barrier, something Apigian calls the building's "envelope." It's a blue adhesive material that runs from the outside of the building into the inside.
"The [building's] envelope has to be airtight, and it has to be thermally continuous," Apigian said. "So you want a blanket outside, just like we have a jacket outside, and that's insulation."
Before the insulation is installed, certified passive house inspectors use smoke to test the house's joints for leaks. When construction is complete, the entire building will be pressure tested to make sure it meets certification standards.
"We know how much air is coming in and how much is going out," Apigian said. "It's not accidentally leaking through the walls or the duct work ... or penetrating our envelope."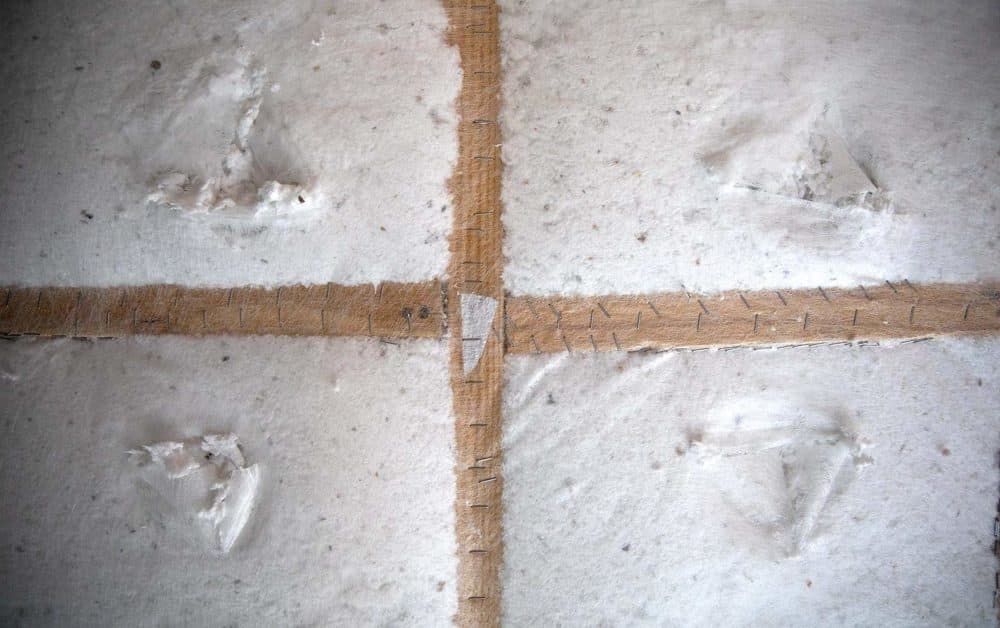 Workers on a tight schedule are transforming the one-acre site, once home to a gas station and landscaping company. It's a few blocks from a shopping center and the Alewife MBTA station.
The building's rooftop has solar panels mounted on what look like wings from the ground. It's more than a design metaphor meant to reflect the birds of Fresh Pond. In a super-sealed structure like Finch Cambridge, those wings provide shade to prevent the building from overheating.
"Because the envelope is so tight, you want to make sure that there's positive ventilation in the building," said Jane Carbone, director of development with HRI.
To give residents control of the temperature inside their apartments, Carbone said each unit will have an Energy Recovery Ventilator (ERV). It's a heat exchange system, drawing fresh air from outside and stale air from inside continuously pass thru the ERV.
Apigian called the heat exchanger "a magic box," with benefits far beyond saving energy.
"These buildings will be so much more comfortable, so much more healthy. Asthma rates go down, and they're far more resilient," she said.
Standing inside a passive unit, you can hear the difference.
"See how quiet it is?" Carbone asked during a tour. "There is construction all around us, but you can't hear it because there are triple-glazed windows and there [are] no thermal breaks."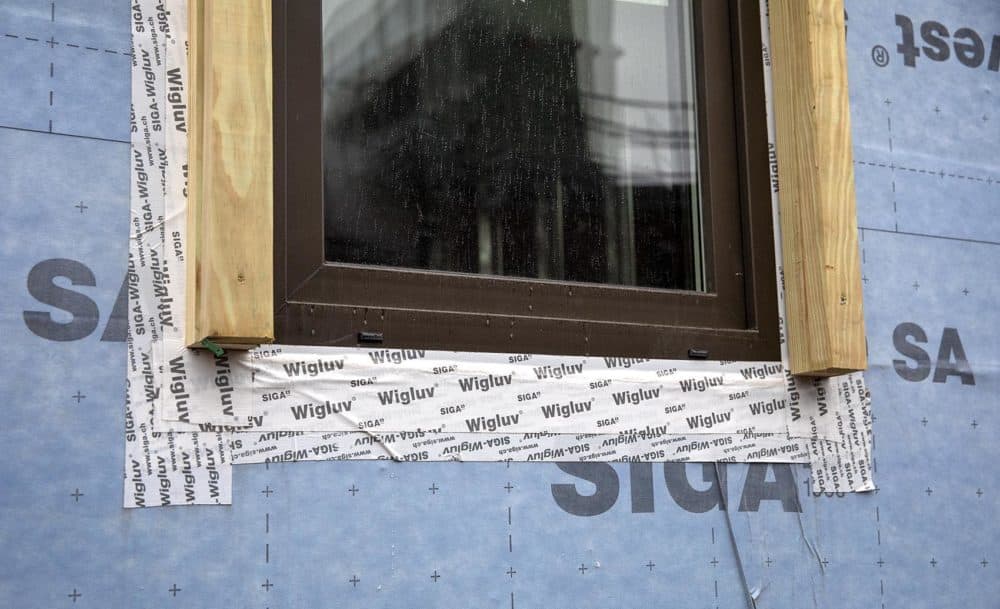 Once finished, Finch Cambridge will become the second passive house building in Massachusetts. Apigian also designed the first; The Distillery North was built three years ago in South Boston. It's a luxury apartment building. The landlord there said it costs about $35 per month to heat and cool a two-bedroom unit.
Building to the passive house standard will add about 2% to the total construction cost of Finch Cambridge, according to Craig. It's one of eight projects being subsidized by a pilot program that adds a few pennies a month to your electric bill.
That program, administered by the Massachusetts Clean Energy Center, allocated $1.7 million for passive home construction.
"The idea is we kick start the market, and that over time as builders, architects and developers become more familiar with the building technologies and techniques that go into building these,the market will take over and the incentives won't be needed much longer at all," said center CEO Steve Pike.
Super energy efficient construction won't solve the state's climate and housing crises, but Apigian sees passive house certification as a way forward.
"Climate change is a social justice crisis," she said. "It is hitting our most vulnerable populations at the most extreme levels, and at the same time, it's an unbelievable opportunity to rethink our society and bring everybody on board. And everybody can be part of the solution instead of everybody being dragged down by the problem."
Finch Cambridge is taking applications for the 98 affordable, mixed income apartments, through this weekend. The developer residents will be able to move in next spring.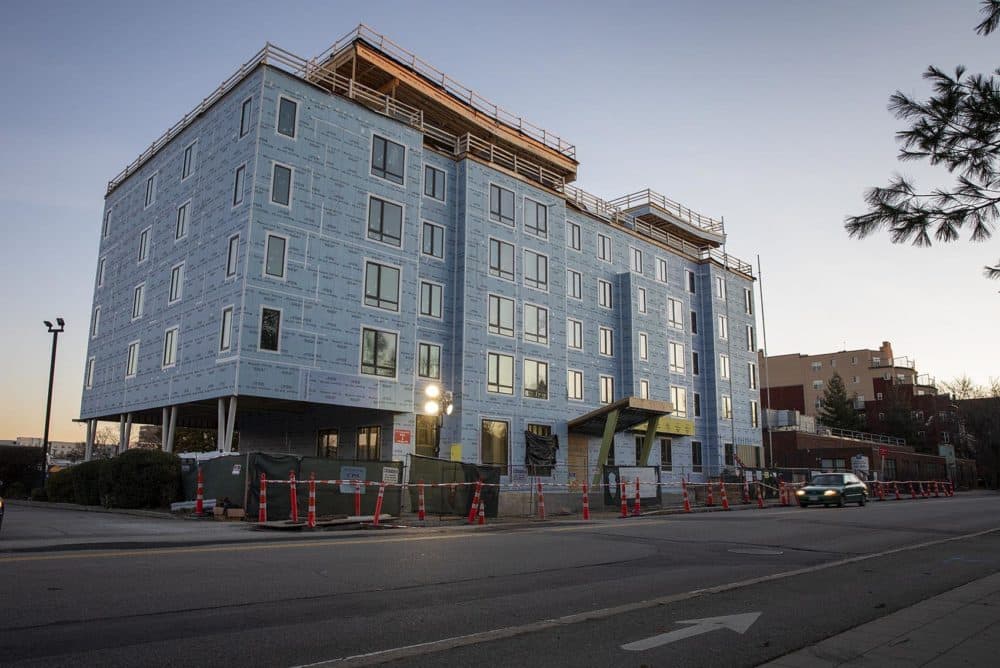 This segment aired on December 13, 2019.