Page Through The Diaries Of Louisa May Alcott At Harvard's Houghton Library Archives
This article is more than 3 years old.
When Louisa May Alcott sent the first few chapters of her novel about the lives of four girls and their mother to her publisher, he thought they were dull. But his 13-year-old niece said they were delightful, and he took her word for it that the book would be a hit. He suggested the title "Little Women," which we know because Alcott kept her correspondence with him. It's now one of the many treasures in the Alcott family archives at Harvard's Houghton Library.
Christine Jacobson, the library's assistant curator of modern books and manuscripts, showed me some of her favorite pieces from their vast Alcott collection. I looked through Louisa's diary from the years before she published "Little Women." In it, she writes about a man she met in Europe who inspired the character Laurie. She also notes that she's already gone through this diary to burn the pages she didn't want seen — duly noted.
This was a pretty special library trip for me. My first memories of wanting to be a writer and my introduction to "Little Women" are inextricable. In second grade, I was a voracious reader with an overactive and chronically escapist imagination that my parents encouraged me to channel productively into writing my own stories. I received a Great Illustrated Classics copy of her famous novel in my stocking that year and devoured it before going to see the Winona Ryder version of the film that had just come out. By the time I returned to school from Christmas break, I felt like I was a March sister. I spent my snack time and lunch writing Jo March fan fiction. When we were assigned a school project to write a biography of our hero, I chose Alcott. I even addressed my diary as Louisa.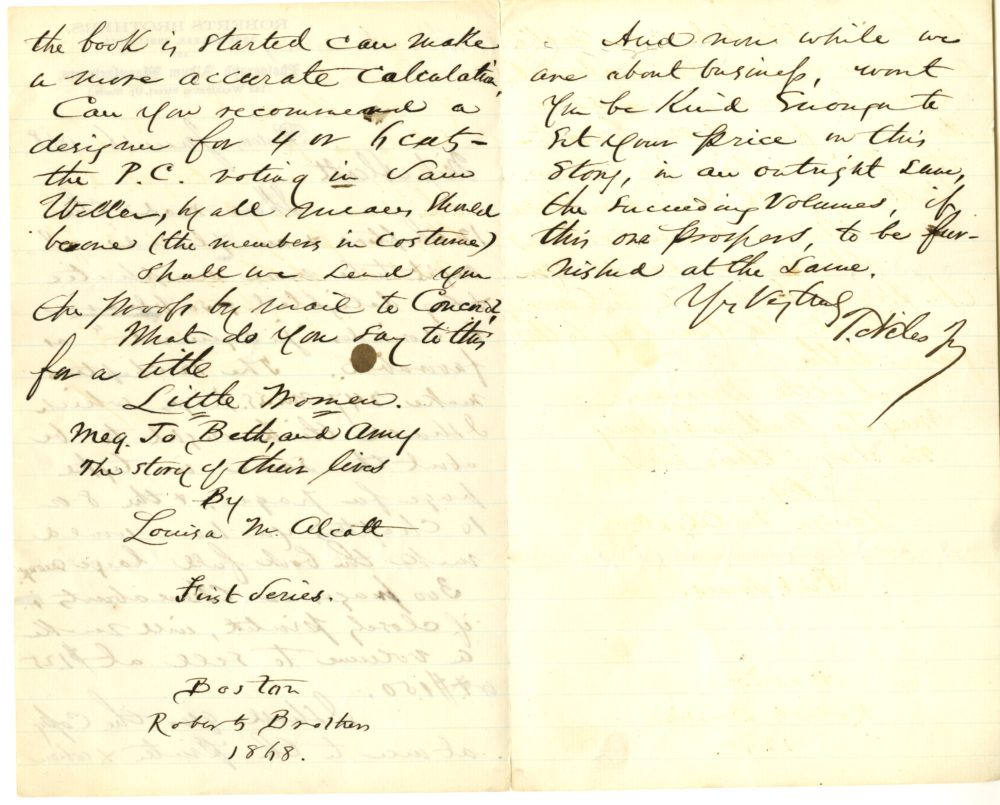 I'm not alone. Patti Smith, Elena Ferrante, Margaret Atwood and Nora Ephron are just a few who've credited "Little Women" as their inspiration to write. Men have cited her influence as well, including Teddy Roosevelt and Rudyard Kipling. Since it was published in 1868, it's been translated into 50 languages and adapted for film eight times. The most recent film adaptation by Greta Gerwig comes out this Christmas, 25 years after the March sisters transformed my childhood.
In a recent interview at The Wing in Boston, Gerwig said she's angry that despite the book's continued relevance and importance, it hasn't been given its proper place in the literary canon. It's not typically taught in schools, and when it is recommended, it seems to be to girls, not boys. Anecdotally, it's rare that I come across a man my age who has read the book or even seen a film adaptation (I'm side-eyeing my own partner so hard right now).
My trip to the archives at Houghton Library taught me that it hasn't always been this way. "These early editions are pretty gender-neutral," said Jacobson, comparing a first edition of the book to later releases. The first edition has brown and red cloth binding, and in the illustrations the girls wear simple dresses. "As time goes by, they become really feminized."
She said that the change in marketing seemed to coincide with the demographic popularity of the book. When the novel was published, everyone read it: young and old, men, women. It was a smash hit, and one of the most popular novels in the world. Over time, its readership became much more gendered.
The Harvard archive at Houghton Library is open to all adult researchers. Anyone can apply for a special collections card to look at any of these materials, which include the Alcotts' diaries and correspondence. It's also home to the personal library of transcendentalist Amos Bronson Alcott, Louisa's father — they even have his copy of "Little Women." The archive shows a proud and supportive parent who encouraged all of his daughters to write — in fact, he encouraged his daughter to write about her life with her sisters.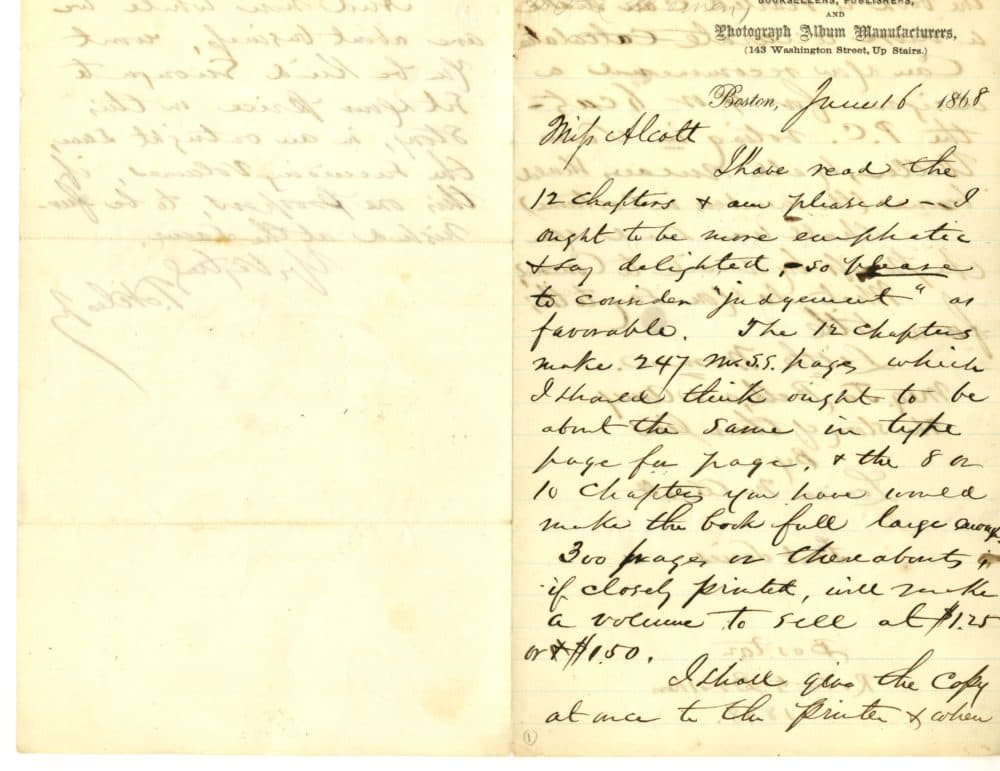 The Alcotts all kept detailed diaries, which visitors to the library can (gently) flip through (while the library is under construction, visitors must make their requests online 48 hours in advance). In the back of Louisa's diary from 1863-1867, she keeps a record of all the payments she was getting for her writing: $155 from Elliott for "two tales and two poems," $25 from Routledge for "Moods," $60 for "Hospital Sketches," her essays from her work as a nurse during the Civil War. She was able to support herself and her family without many other women in the workforce to serve as her role models. Over 130 years after her death, she is still a role model for countless women trying to support themselves and their families in a country with massive wage inequality.
"She was a trailblazer," said Jacobson. "This was a woman who jogged [in the mid-19th century]. She was the first woman to register to vote in Concord."
Trailblazers have a lot to teach all of us, regardless of our gender. Alcott wasn't a great writer for a woman, she was a great writer. What a loss for all the boys who grow up not reading books by women. Spending time in the archive made me wonder, if I had been a boy would my parents have given me "Little Women?" Probably not. And how much dimmer my path would be without Jo March guiding the way.