This Evening Of Stories At The Gardner Explore What It Means To Be A Woman
When the world grows quiet and still, there's something else we get to hear, "the moans and groans of poems and stories longing to be told," storyteller Nokugcina Elsie Mhlophe told an audience at the Goethe-Institut South Africa over a decade ago. Today, Mhlophe — a well-known South African freedom fighter, poet and author — still begins her creative process the same way. "I think it has to do with stillness. Then hearing voices. Hearing the voices of the ancestors [or others] who need to be heard," she explains.
That willingness to look deep within anchors the Isabella Stewart Gardner Museum's upcoming event, "Braveheart: Storytelling from a Soulful Place," on Thursday, Jan. 9. At "Braveheart," Mhlophe (who first came to the Gardner as an artist-in-residence in 2003), Boston's Poet Laureate Porsha Olayiwola, multidisciplinary artist Amanda Shea and singer and storyteller Valerie Stephens will tell stories exploring each of their journeys as women. The evening will make space for the multi-generational black creatives to share as much about their lives — motherhood, heritage, sexuality, love, racism — as they're willing to.
And Mhlophe has plenty to pull from. The busy mom travels the world telling stories, acting in theater productions and narrating for TV and film. But what's most important to Mhlophe, it seems, is the preservation of history through storytelling and promoting a culture of reading.
During the event, Mhlophe plans to tell a story about her late grandmother, who was a great book lover. Even though she died without learning to read or write, she still understood the power of storytelling, of knowledge. To honor her, Mhlophe donates books to schools through her organization's "Nozincwadi: Mother of Books" program. Mhlophe also plans to sing "Hope Shines in Our Eyes," written by a South African woman she admires who plays the makhweyana (a bow-shaped string instrument). Where she comes from, "singing is the glue that keeps us together," Mhlophe says.
When I spoke with Olayiwola, Stephens and Shea, they were still fine-tuning their pieces. Olayiwola says she hopes to create something inspired by lesbian poet and essayist Cheryl Clarke's quote, "Before any kind of feminist movement existed, or could exist, lesbians existed: women who loved women, who refused to comply with behavior demanded of women, who refused to define themselves in relation to men," from "Lesbianism: an Act of Resistance." The quote is fitting since Olayiwola's biting performative and written work tackles the stuff of life, things like painful encounters, the exploration of queer love and racism. Olayiwola is an Individual World Poetry Slam Champion, the artistic director at MassLEAP and an MFA candidate at Emerson College. The ethos behind her body of work, which includes her recently released book of poetry, "i shimmer sometimes, too," is "a deep interrogation of love and identity," she tells me.
To prepare for "Braveheart," these artists had to do a certain amount of self-interrogation. "I'm still doing the deep diving," Shea says. "I think that as human beings we're always going to be deep diving, doing the work … ever evolving." Sometimes introspection is painful and "sometimes I retreat. … As long as I don't forget to go back and do the work, it's OK."
She won't share exactly what audiences will see and hear at "Braveheart," but she is developing an original piece that explores her identities: single mother, black mother, queer.
Shea is no stranger to struggle, but she doesn't spend much time lamenting over her difficulties. When talking about the racism she faced (which she tackles in her poem "Origin,") or the challenges she confronted when she quit her job as an accountant to be an artist, Shea's warmth and honesty is refreshing. Pushing against societal conformity and standing in her truth is Shea's brand of bravery. With her work, she aims to help people tap into their passions. "You are the artist of your own life," Shea says. "You create what you want to see in your own life. Period. Unapologetically."
The poet has performed her spoken word poetry at the Gardner, Museum of Fine Arts and the Institute of Contemporary Art. She hosted the 2018 and 2019 Boston Art & Music Soul Festival and the Arts Equity Summit and has been featured on podcasts and television broadcasts such as ItsLitBoston, Boston Come Through and Fahrenheit TV.
Stephens' list of accomplishments, like all of the women on the "Braveheart" roster, is long and varied. Boston born and bred, she is an award-winning, multifaceted performing artist with a passion for history. Stephens is a 2019 Brother Thomas Fellow, a recipient of the 2018 Boston City Council Resolution for her creative programming for little girls of color and her commitment to Nina Simone's legacy, and a recipient of the 2017 New England Foundation for the Arts Creative City Grant for creating the Elder Storytelling Performance Project.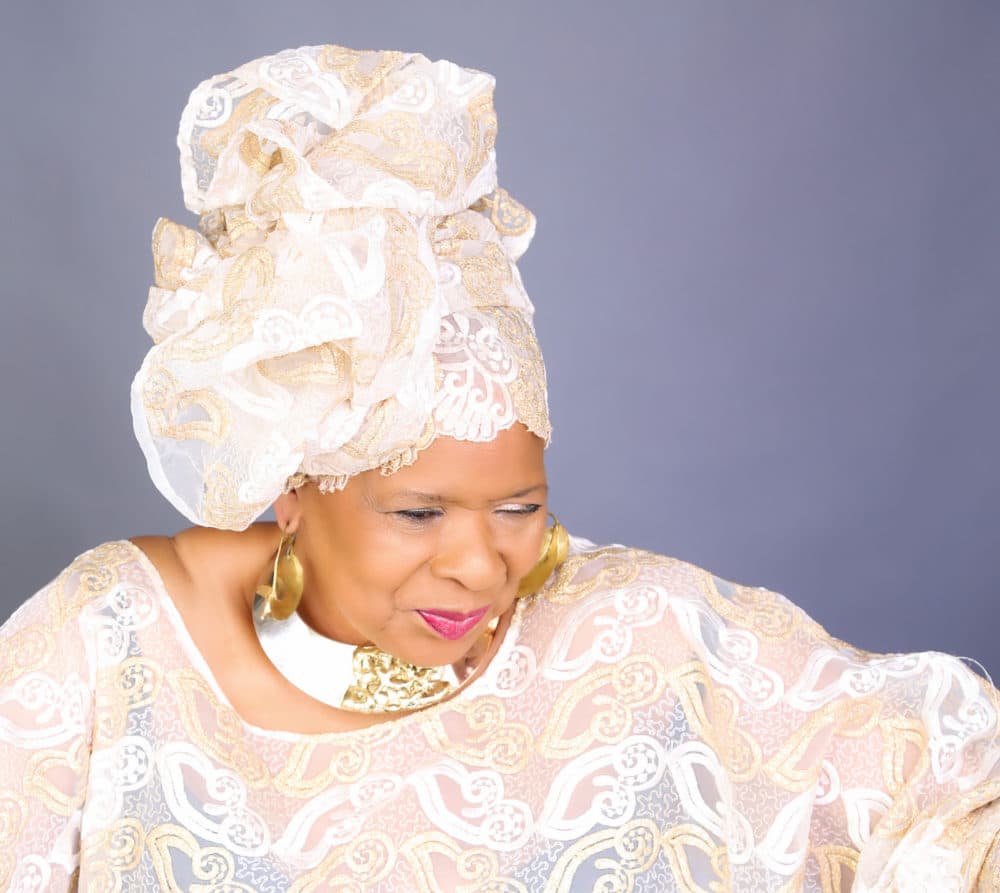 Stephens has been performing for decades. She is "her most fearless onstage," she says, but this will be the first time in her career that she's centering herself.
Before the night is over, Mhlophe wants audiences to see that we're more alike than different. "Every person has a story to tell," she says, and through her work, Mhlophe aims to "wake up the stories in other people. If that happens then I'm done."
---
"Braveheart: Storytelling from a Soulful Place" takes place on Thursday, Jan. 9 at the Isabella Stewart Gardner Museum at 7 p.m. in Calderwood Hall.