Carrying On Isabella's Legacy, Gardner Museum Celebrates Its Artists-In-Residence
When Rachel Perry was artist-in-residence at the Isabella Stewart Gardner Museum in 2014, she spent a lot of time just looking. Each of the 31 days of her residency, she would pick one piece to pore over for an hour. Sometimes visitors would join her or step into her line of vision, but she stayed there quietly studying each chosen work.
"I would see something in the painting that I couldn't believe I wouldn't see that detail even after 40 minutes," says Perry. "I now have 31 works in my own private collection that were Isabella Stewart Gardner's choices that are now mine." She says that space to think is fundamental to being an artist, and the Gardner gave her that gift.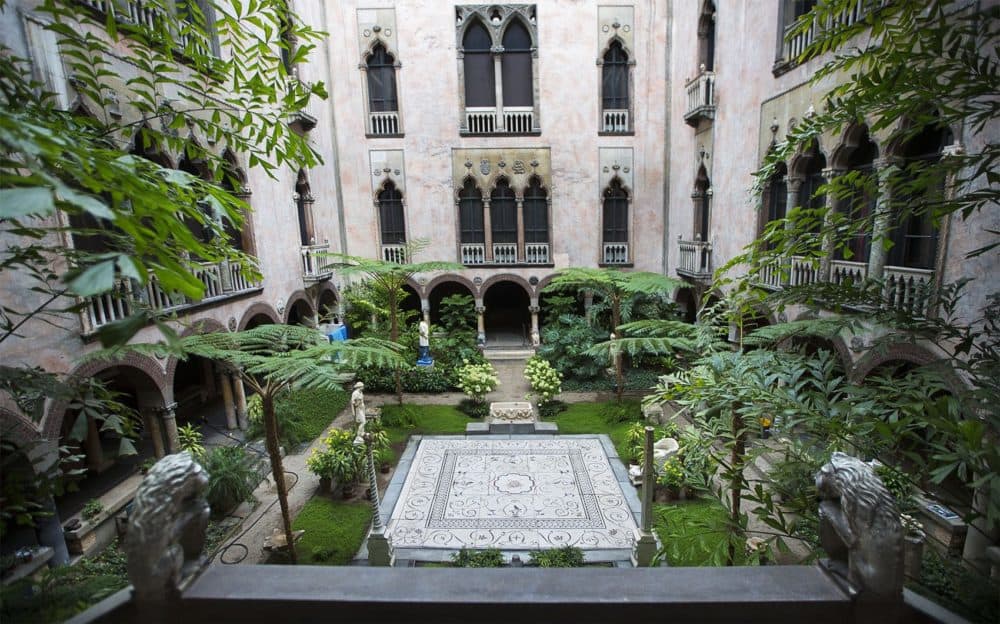 Perry is one of the artists showcased in the Gardner's upcoming exhibition, "In the Company of Artists: 25 Years of Artists-in-Residence." She is joined by six other former artists-in-residence: Sophie Calle, Bharti Kher, Luisa Lambri, Laura Owens, Dayanita Singh and Su-Mei Tse. Many of them drew inspiration from the museum itself, like Sophie Calle, whose piece "What do you see?" revisits the 1990 Gardner theft. Others felt re-energized by their residency, like Bharti Kher who returned to the museum in 2017 for an exhibition of the deeply personal works she created while living at the museum five years earlier. In those drawings, diary entries, photographs and other works, she explores the body, gender, motherhood, and the ambiguities of human life and emotion. For this exhibition, she'll be displaying her work "Six Women," which comprises full-sized plaster casts of six sex workers' bodies.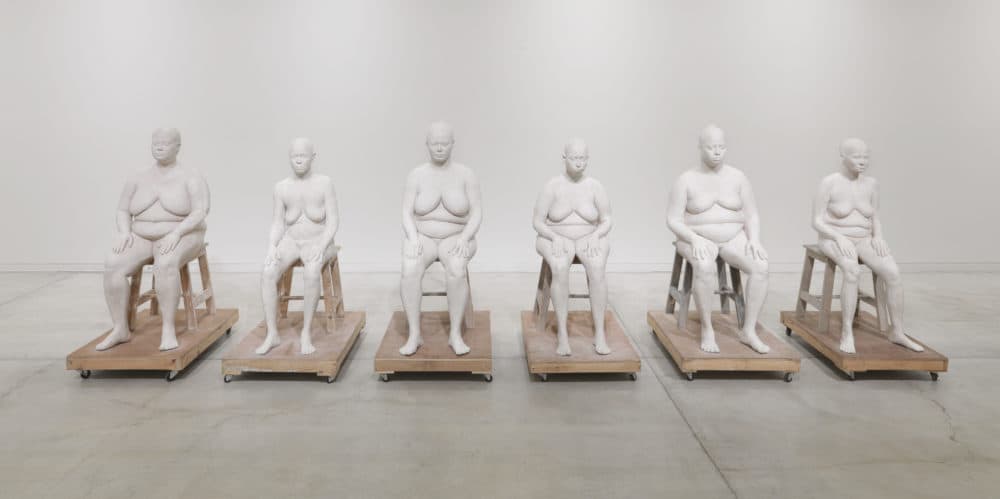 During their stay, artists aren't required to produce anything or give something back to the museum. Instead, it's their home and playground. For about a month they have the opportunity to experience the collection in personal, intimate ways. The residency was created in 1992 by then-director Anne Hawley as a way of continuing Isabella Stewart Gardner's tradition of supporting contemporary artists, like her friend and the museum's first artist-in-residence, John Singer Sargent. Curator of contemporary art Pieranna Cavalchini believes the program provides a legacy that Gardner would be proud of.
"Allowing living artists to connect with the museum, that was her way," says Cavalchini, who is curating the exhibition. "She surrounded herself with artists because she could learn from them and share the art with them."
In some sense, Gardner is still communicating with the museum's resident artists. When Perry started her residency, she was going through a time of personal transformation, and the residency offered a safe respite. She planned to work — transforming the apartment on the fourth floor of the museum into her studio — but she relished in the fact that she didn't have to. In all of her observing, the ubiquity of religious iconography stood out to her, in particular, the use of halos. "I didn't see them as religious so much as like an aura, a light," says Perry.
On one of the last days of her residency, she counted 445 of them, including one around Isabella Stewart Gardner herself in a portrait by Sargent. In it, she stands tall in a long, form fitting black dress, pearls draped around her waist to accentuate her figure. She's positioned in front of a decorative fabric in such a way that it creates a halo around her head.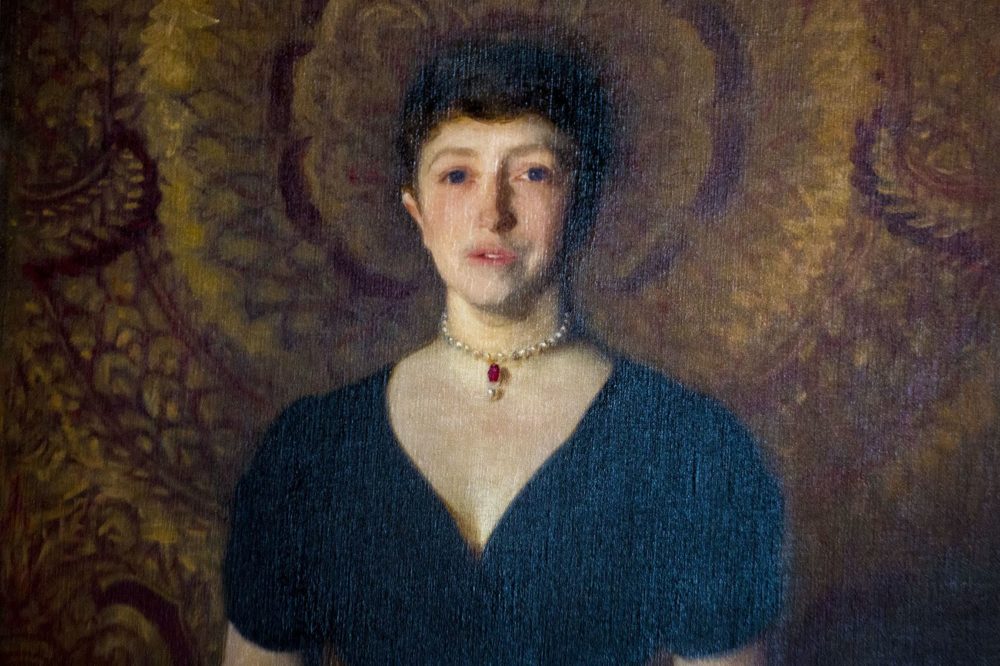 Cavalchini tells Perry that Sargent had wanted to use a different background, but Gardner chose that fabric herself and was very particular about it. As if still in conversation with her resident artists, she made a choice that nearly 130 years later became an important part of one of her museum's resident artist's work. Perry is making 445 of these pieces, one for each halo she counted. She uses a Braille punch to create small circles, 445 on each piece, then each punch is painted with gold leaf, and numbered in pencil. She's completed about 120 of them, and the Gardner is showing 14 in the upcoming exhibition. Each will be framed without glass and require special lighting because they are so delicate that they can be difficult to see. Cavalchini describes them as mysterious.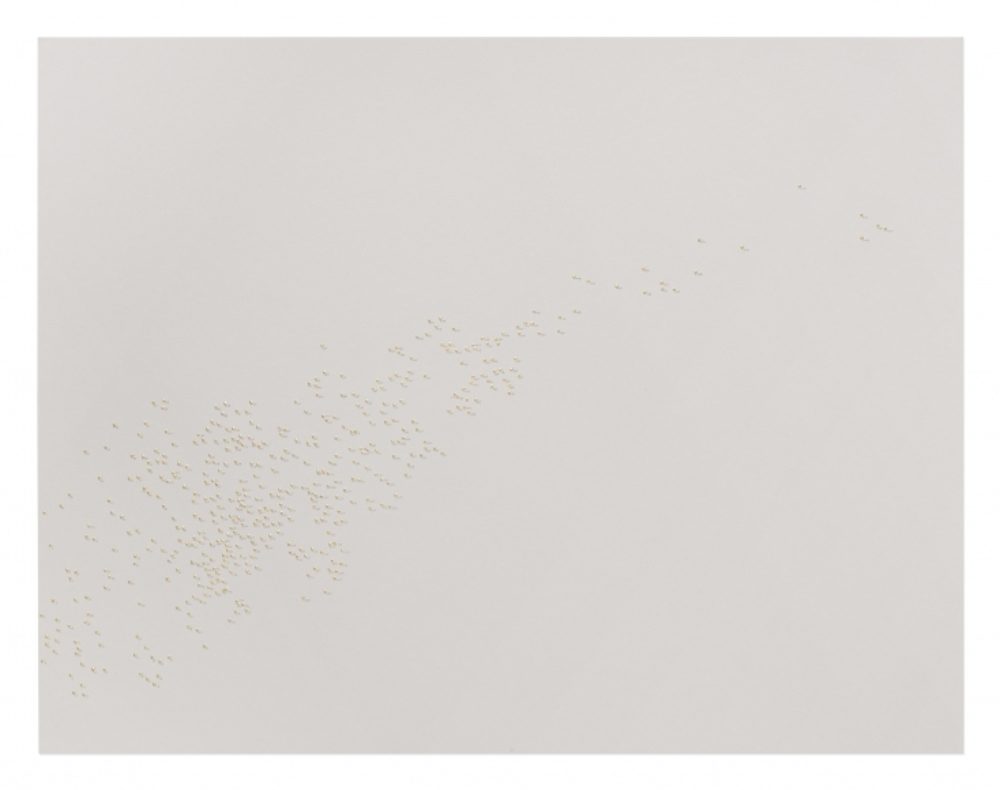 Artists may only live at the museum for a month at a time, but Cavalchini says she thinks of them as residents for life. The residency is meant to foster long-term relationships, and artists have returned to create installations for the museum's facade and to participate in exhibitions like this one. Cavalchini says that while most of the collection on display at the Gardner is static, the people coming back to see it year after year are changing, and so their experience of the art changes.
Perry agrees, adding that she felt this dance between her personal evolution and the consistency of the art just in the time she spent absorbing the collection during her residency.
"Looking at art can be such a private act. One very peaceful aspect of the residency is that you can look at the art and be in the rooms at any time," says Perry. "It was exciting to have the access anytime of day, to absorb what was around me, to think about this one woman's collection. It was her installation, and we are able to be here, anytime, inside the art and Gardner's vision."
---
"In the Company of Artists: 25 Years of Artists-in-Residence" is on view from Oct. 17 through Jan. 20, 2020 at the Isabella Stewart Gardner Museum.