At The ICA, 'Out Of Body' Explores Color And Texture Of Black Life In Harlem
A pregnant woman, smiling and joyful, struts down the street in tandem with her partner. Two hands rest on her swollen belly, protective and proud. A young man sits on a milk crate before a bodega display of laundry detergent. He's fashionable in bright red sneakers and a neon green NASCAR racing jacket emblazoned with the Tide logo. In another piece, two women stand in conversation on the street. We see black limbs, disassembled like doll parts, around them as they converse.
These are figures inspired by people in Tschabalala Self's native New York City neighborhood. Now they inhabit a series of large-scale works in the show "Out of Body," opening Jan. 20 at the ICA.
Combining collage, assemblage, sewing and painting, and incorporating fabric, painted canvas, colored pencil, flashe and acrylic, the works are boldly abstracted figures boasting vivid color, lively pattern and beguiling texture. Presenting dynamic depictions of daily life in Harlem as well as an introspective reflection on black identity, the works merrily maneuver beyond the traditional bounds of "oil-on-canvas" representation, allowing stitches and thread to do as much in the way of "mark-making" as the traditional paintbrush.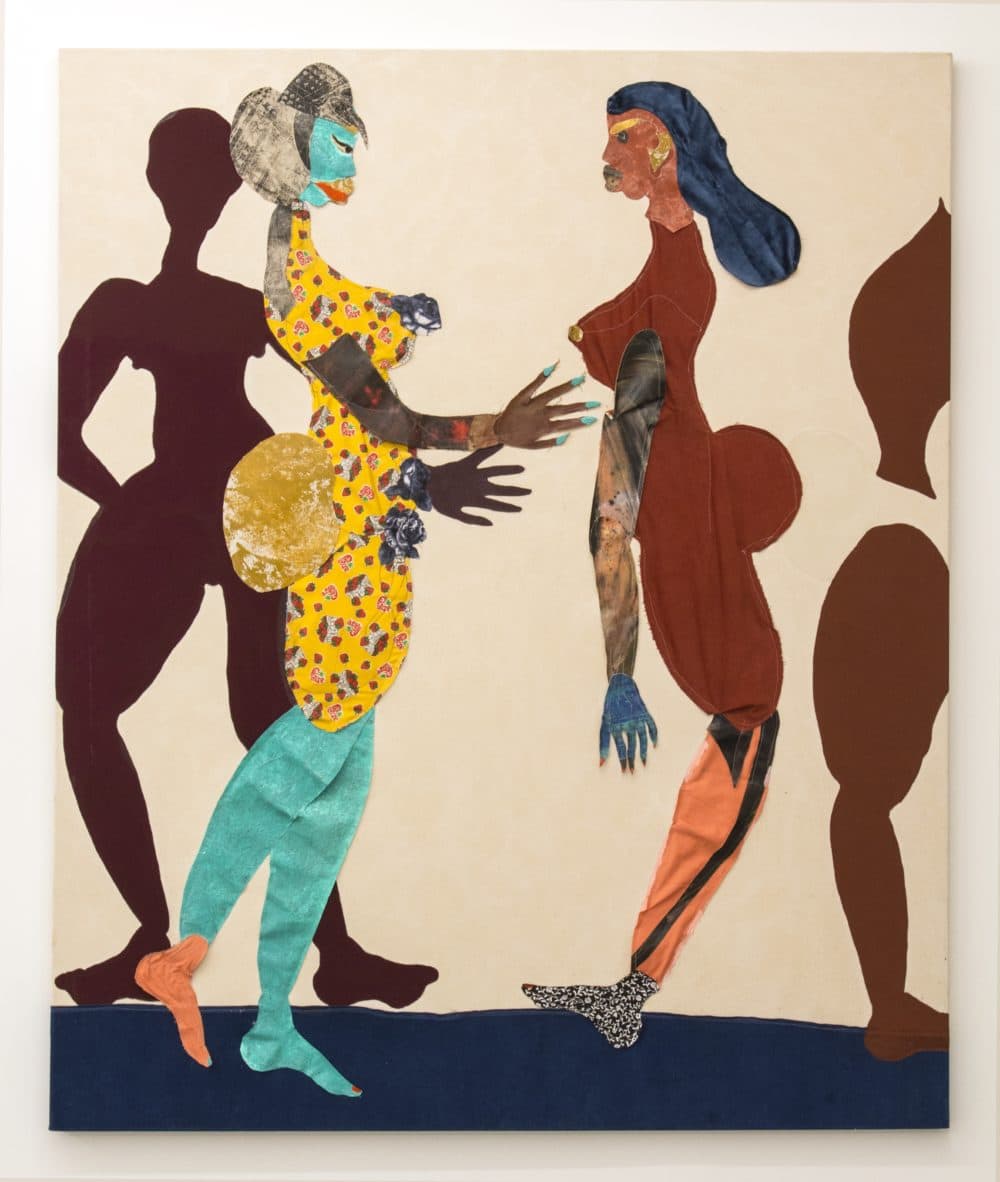 "I'm hoping that my work can transmit a truth and that truth can be appreciated and be for the edification of anyone who wants to really participate with it," Self says of her work.
Self's truth revolves around how she feels black people, and particularly black women, are regarded, both by themselves and by society at large. She has been particularly concerned with "the iconographic significance of the black female body in contemporary culture" and has said that her work examines "the intersectionality of race, gender and sexuality."
"I don't have the interest, and nor do I think I could earnestly speak about another lived experience outside my own," she says. "So that's the logic behind locating the black female figure as my primary protagonist."
Collective fantasies surround the black body, says Self. Part of her charge is to reclaim black womanhood from the "othering gaze" and correcting "misconceptions propagated within and projected upon the black body."
But it's not just images of black women (she has called them avatars in the past) that inspire Self. Men reside in her paintings too, which over time have broadened to embrace the domestic sphere and the entire urban neighborhood. Her series "Bodega Run" explores the sociopolitical role of the neighborhood convenience store, once ubiquitous in Harlem, that served as both a community gathering spot and as a window into a few harsh realities about life in communities of color.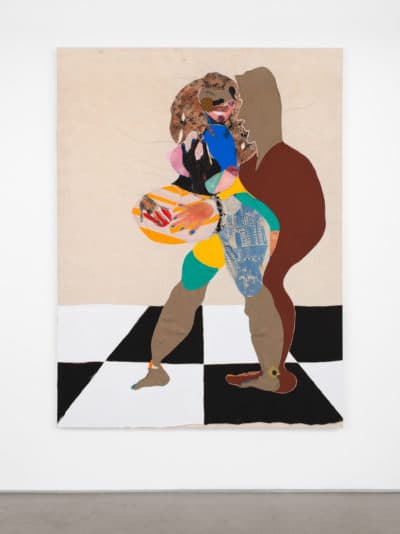 "There were so many different kinds of dynamics that played out that were related to class and difference in race to some degree," says Self of the bodega. "But it was all within the vacuum of the black community. That seemed like a fruitful place to have a conversation about blackness. That was a different conversation than the one that is generally had in which blackness is spoken about in relation to whiteness."
"Out of Body" is roughly divided into three groups of work created over the last five years in Self's New Haven studio. Some of those works are entirely focused on the black female body and utilize a myriad of techniques like assemblage, sewing, printmaking and collage. A different group of works — like the Bodega series — take on wider urban life, while a third body of work deals with greater existential questions like time, mortality and even the origin of the world. Each of the paintings and sculptures that are included in the show, Self says, has grown organically out of her own experiences.
"Bellyphat" (2016), the painting of the pregnant figure, was done at a time when one of Self's sisters was pregnant. Self had also been thinking of Louise Bourgeois' series of works "Femme Maison" and so she decided to include a print of a house on the pregnant figure's thigh in honor of "woman as house, woman as vessel," she says. In "Out of Body" (2015), the disassembled paper-doll figures in conversation with another female figure might refer to Self's own activities as an artist breathing life into inanimate two-dimensional forms. A painting entitled "Sock" (2018) of a man lying on a bed wearing only a shirt and a pair of socks was created after Self heard a comedy routine in which a black comedian stated that if a man had sex with a woman without having the courage to dispense with his socks, it meant he wasn't serious.
"Obviously he was referring to a relationship within the community," says Self. "So that sparked an idea to me for a painting about a man reclining with socks."
In the piece "Racer" (2018), a male figure sits in a bodega before a store display of Tide wearing a jacket with the Tide logo. This painting was part of her "Bodega Run" series and was created after she noticed how branded NASCAR jackets had become fashionable in her Harlem neighborhood. The piece is in part a commentary on the influence of corporate messaging in black communities, as well as a social critique. In many black communities, poverty exists within food deserts where residents are forced to shop at convenience stores for groceries. Those stores generally stock only processed and refined foods produced by corporate giants, even though the food offers very little nutritional value.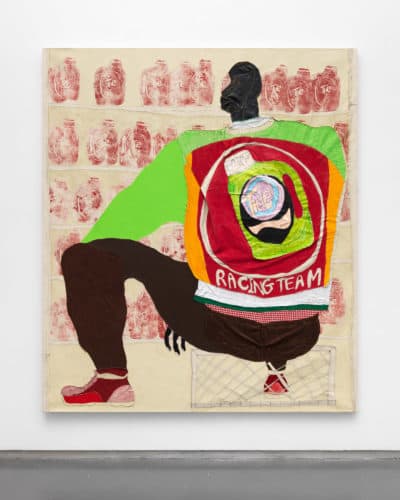 "I was thinking about how in particular in communities of color, people are susceptible to absorbing advertisements or things that are projected onto the American public."
While Self's work digs deep into themes around politics, identity and cultural attitudes, it can also be appreciated on purely a formal level.
"I was really interested in her unique approach to this re-invention of figurative painting that has been happening for about the last decade," says Ruth Erickson, the ICA's Mannion Family Curator who helped organize the event. "She's an artist who is making figurative paintings like a lot of artists are right now, but she's doing so using a really interesting kind of hybrid technique, one in which textiles and sewing are really at the front and center."
Self cuts and sews fabric scraps together, treating the canvas itself as a textile rather than a precious material. She began using fabric in her paintings after watching her mother sewing curtains and retooling clothes for new uses as a kid. Since she was raised in Harlem, artists who lived and worked in the neighborhood — including Jacob Lawrence, Romare Bearden and Faith Ringgold — have also deeply influenced her work.
Though Self is a relative newcomer on the artistic stage, her willingness to transgress the most traditional bounds of painting has pulled her into the spotlight. Recently, she has exhibited at the Yuz Museum in Shanghai, the Hammer Museum in Los Angeles, and has shown in galleries in London and at Art Basel Miami.
"I feel like if you tell an honest story, then honesty transcends any kind of difference," says Self. "So for me, I tell stories that I know because that's the only story I feel comfortable speaking about… I feel like truth is the most generous gift to give anyone."
---
"Tschabalala Self: Out of Body" runs from Jan. 20- July 5 at the ICA.