16 Art Exhibits Worth Leaving The House For This Winter
Each year after the festive holiday season winds down, we are left to tackle a series of dreary winter tasks that begin with taking down the mistletoe and end with sending off tax forms. We console ourselves with winter's brighter side — going skiing and not breaking a leg, finding an already-shoveled parking space, drinking way too much hot chocolate and binging on Netflix while feeling justified about it. And there's one more silver lining under those gray skies — this winter in Boston, there are a plethora of worthy art exhibits on tap that will give us something to look forward to beyond a 60-degree day.
From Tschabalala Self's colorful recreations of the black female form at the ICA to the opening of the MAAM, Boston's newest contemporary art museum, here are a few winter exhibits that have me looking on the bright side.
JANUARY
Tschabalala Self: 'Out of Body'
ICA Boston
Jan. 20 to July 5
The season kicks off with vibrant color, no matter how short or dark the days. Works by rising art star and Harlem native Tschabalala Self — who specializes in re-creating the black female form using textiles, drawing, printmaking, sewing and collage — will be on view for an entire six months giving us plenty of time to take in the show again and again. Self's large vibrant works were inspired, in part, by another African American artist, Romare Bearden, and tell stories of urban life, the body and humanity. The show, which will include both paintings and sculptures, will be Self's first in Boston and her largest to date.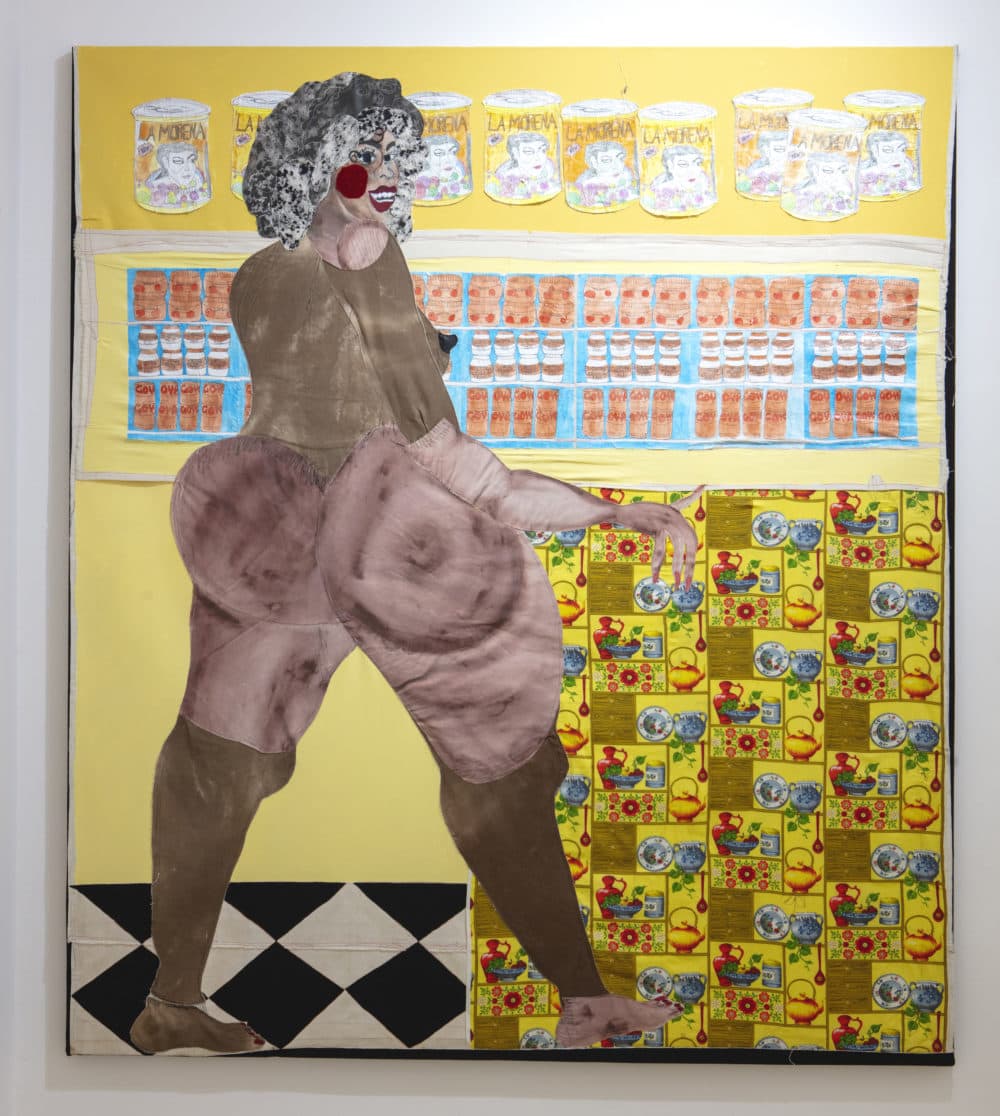 Jan. 20 to July 5
Also on view at the ICA is London-born Colombian artist Carolina Caycedo, who creates works around the themes of environmental justice, dispossession of land and extraction of natural resources. Since 2012, the Los Angeles-based artist has created an ongoing project entitled "Be Dammed," examining the impact of dams built along waterways, particularly those in Latin American countries such as Brazil or Colombia. Caycedo will present the culmination of her "Cosmotarrayas" series of hanging sculptures, composed of fishing nets and objects collected during field research in communities affected by the privatization of waterways. The objects are meant to highlight the dispossession of those communities living alongside waterways as well as their continued resistance to the corporations and governments seeking to control the flow of water.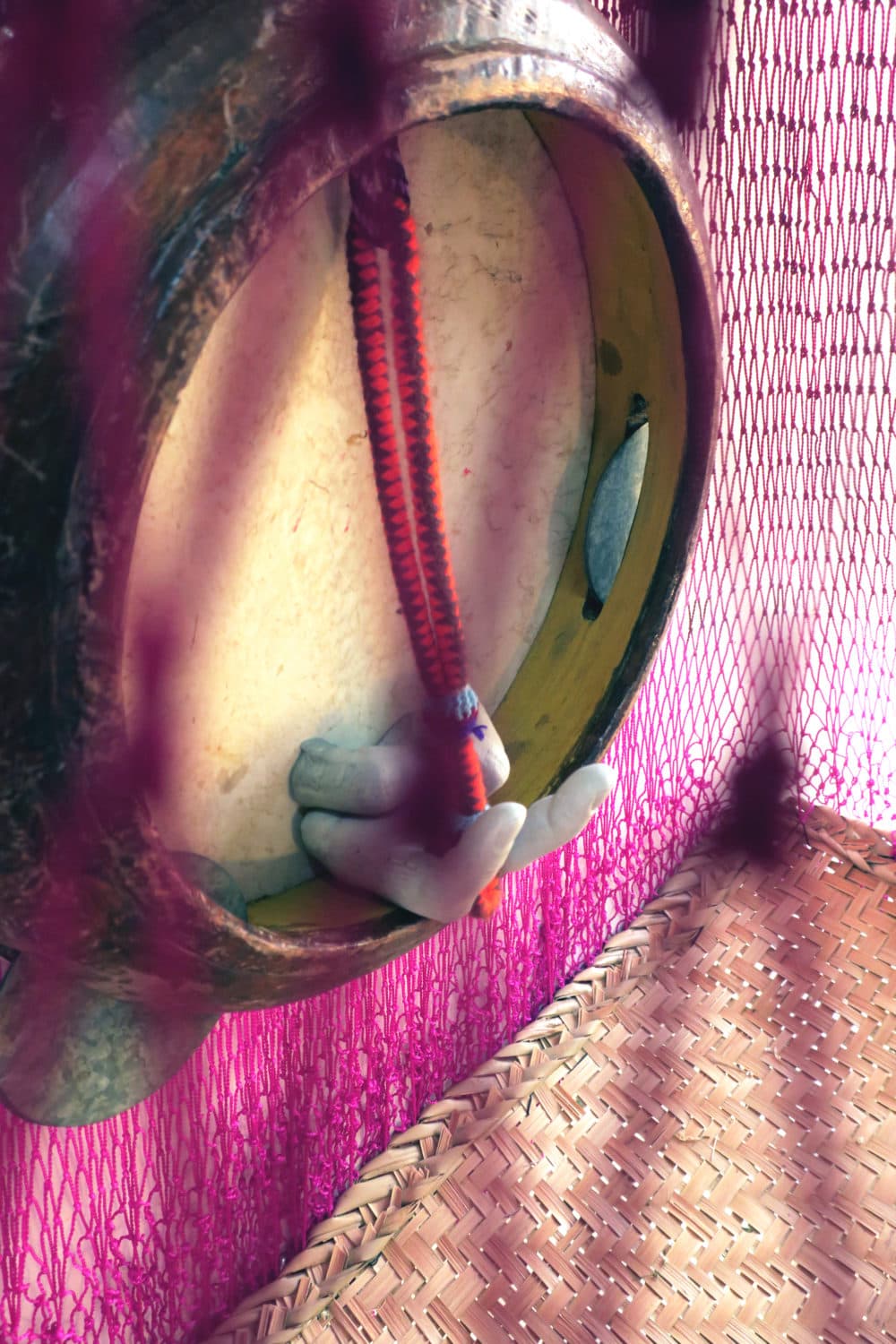 Jan. 20 to June 20, 2021
The year 2020 marks the MFA's 150th anniversary. In celebration, the museum has invited young scholars in local youth organizations to curate an exhibit of 20th-century paintings and works on paper by artists of color. The exhibit organizes about 50 paintings into four thematic sections exploring black histories, experiences and self-representations. Artists on view include Archibald Motley, Norman Lewis, James Van Der Zee and Dawoud Bey, in addition to artists with Boston connections, such as Loïs Mailou Jones and Allan Rohan Crite.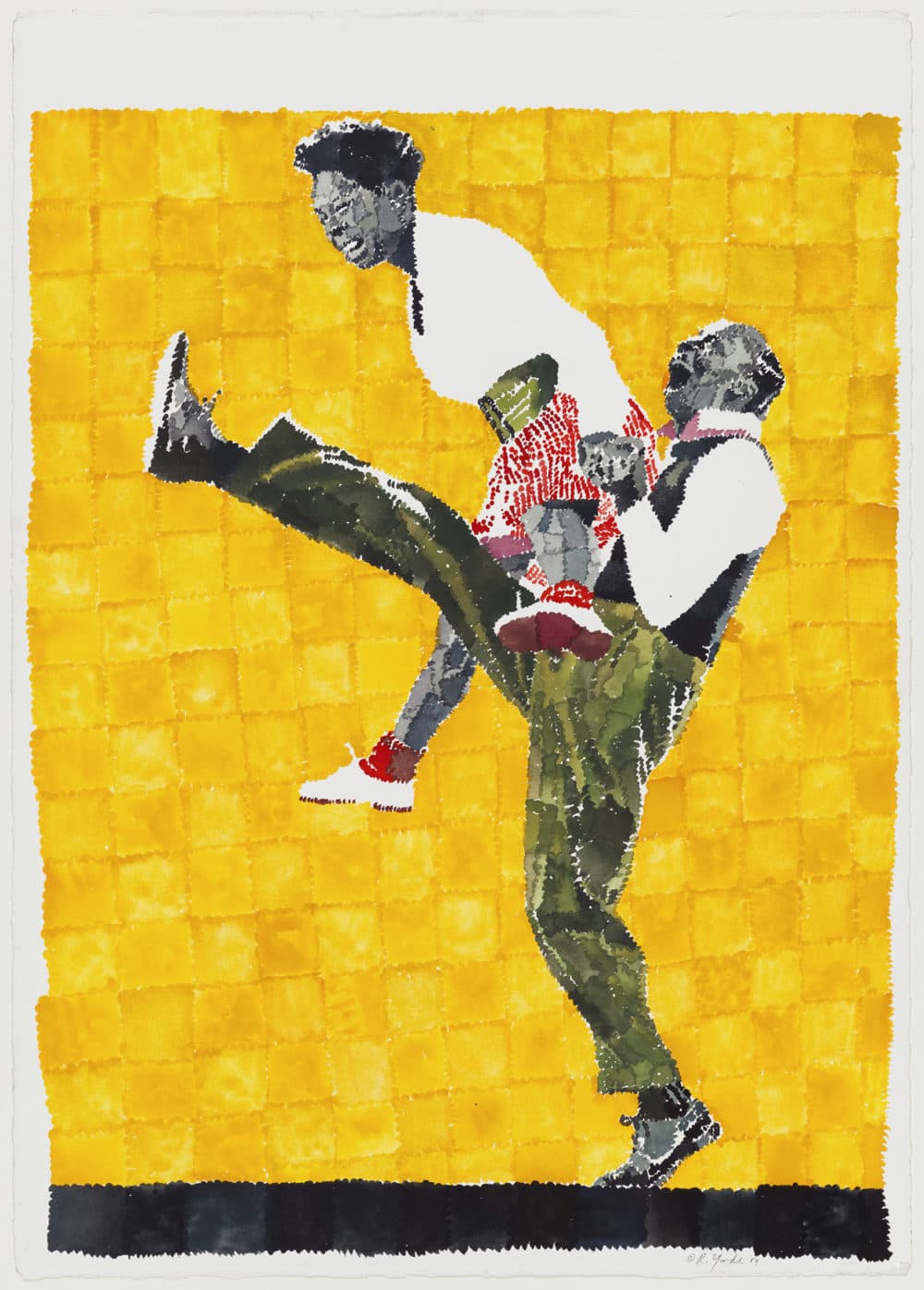 Jan. 23 to April 19
The failings of the nation's criminal justice system have been front and center in both the news and in political campaigns recently. Now, the Aidekman Arts Center examines the issue through an artistic lens, featuring artists who have created work related to the criminal justice system over the last 40 years. This comprehensive survey pointedly critiques our prison and court systems, leading viewers to ponder how "just" our justice system really is.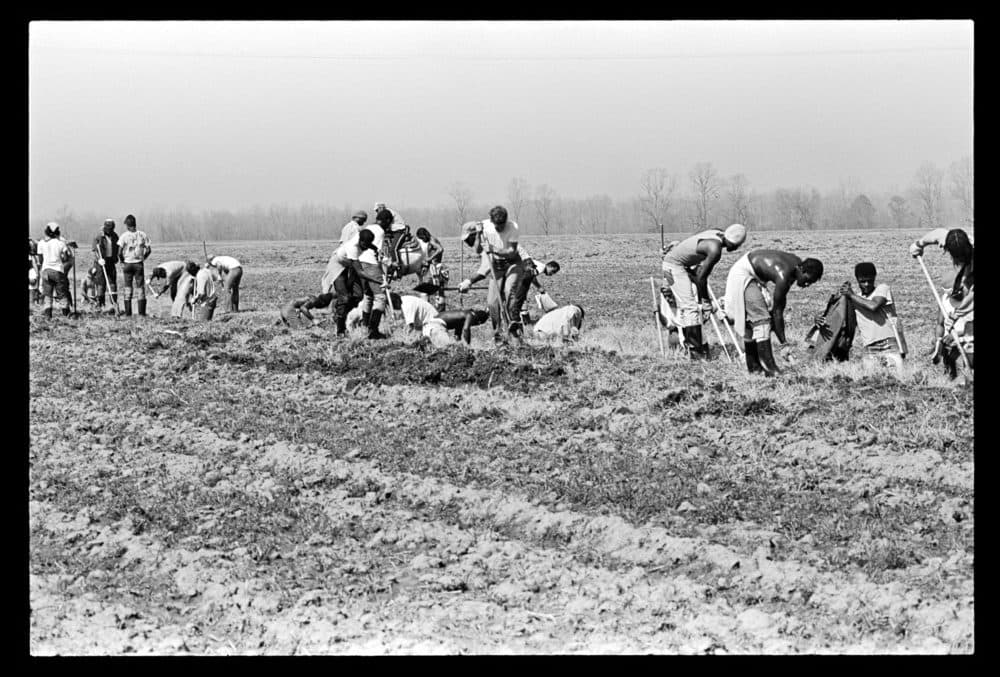 Stephanie Cole: 'Secular Cathedral'
Fuller Craft Museum, Brockton
Jan. 25 to Oct.25
Rockport artist Stephanie Cole creates wonderful sculptures out of such disparate objects as seashells, broken pottery, table legs or whatever else she happens to have on hand. Now we get a closer look in "Secular Cathedral," featuring Cole's work in a range of media, including mosaic, stained glass, wood and fiber. The works are autobiographical in nature, sometimes poignant, sometimes humorous, and include deeply personal items collected by the 75-year-old artist over seven decades. We witness the broad arc of Cole's life — her losses, loves, personal milestones and spiritual journeys. Cole says that painting alone was never enough for her. Instead, she writes on her website, "I now 'paint with stuff.'"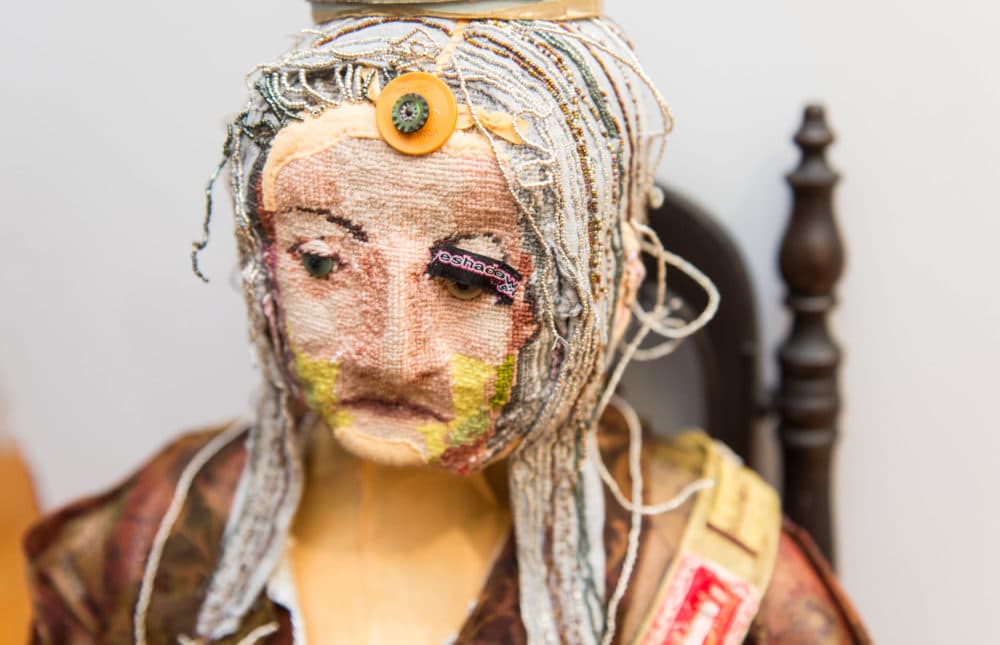 ---
FEBRUARY
Feb. 7 to April 12
"Colored People Time (CPT)" tackles a weighty subject — how the history of chattel slavery and colonialism in America continues to cast a shadow over both the present and future. Broken into three parts entitled "Mundane Futures," "Quotidian Pasts" and "Banal Futures," the exhibit builds new narratives around the everyday experiences of black people in the United States, drawing unexpected connections between contemporary art, historical objects and archival materials. Curated by Meg Onli, the show comes from the Institute of Contemporary Art in Philadelphia and creates an innovative dialogue between the Penn Museum's African Collection and new commissions created by both emerging and established artists.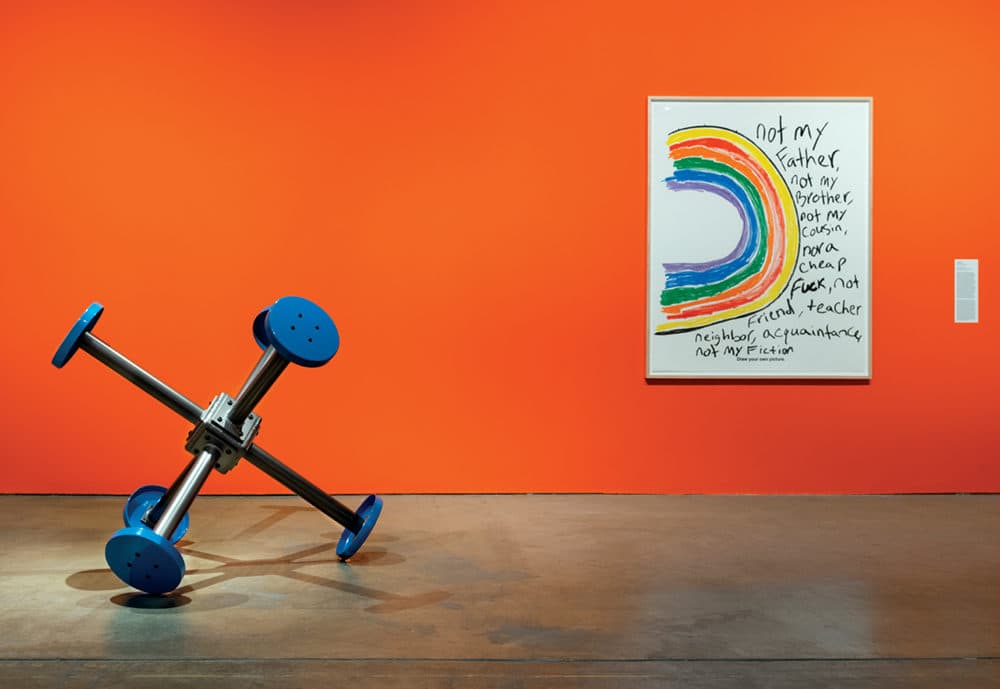 Christine Sun Kim: 'Off the Charts'
MIT List Center for the Visual Arts, Cambridge
Feb. 7 to April 12
Christine Sun Kim works in sound performance, drawing, installation and video. Her work is about the politics of voice, listening and language, and examines how sound is tied to hearing and how the spoken word implicitly holds authority over sign language. For this show, she presents a series of new drawings breaking down the factors in a number of personal decisions by relative importance in a pie chart, including "Why I Do Not Read Lips" and "Why I Work with Sign Language Interpreters." Her pie charts are simultaneously funny and profound, touching on the complex social, cultural and historical underpinnings of the choices we all make.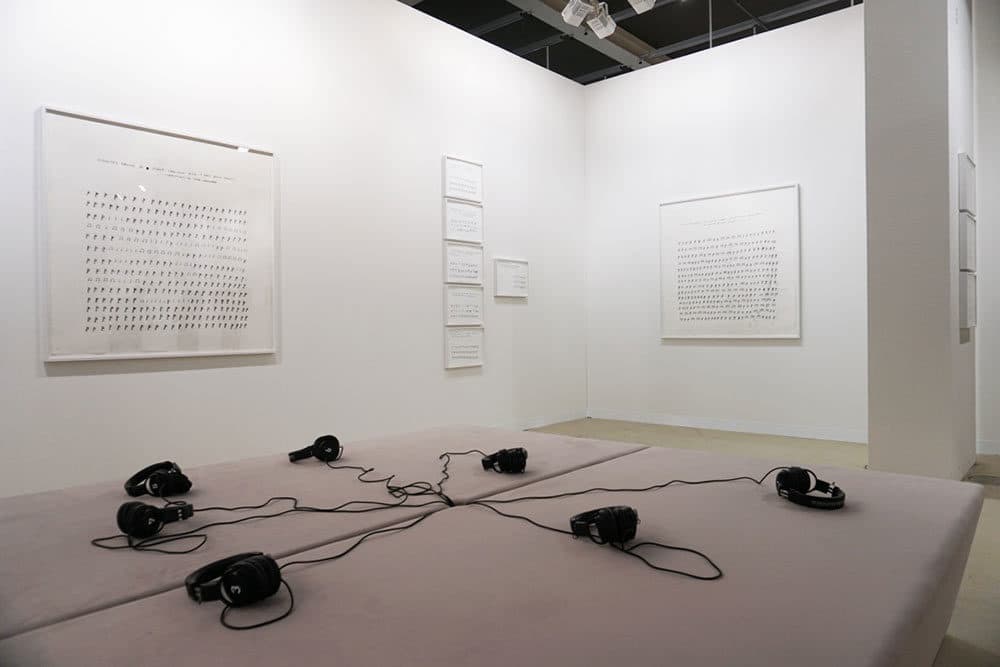 Feb. 8 to June 7
Spiritualism is a philosophy that aims to connect the living with the dead for comfort, guidance and enlightenment. It developed in the U.S. in the mid-19th century and grew in popularity throughout the 20th century. The movement advocated for women's rights and suffrage, abolition of slavery and democratic access to the spiritual realm. This group exhibition explores the history of spiritualism (especially strong in New England) through ephemera and art, reflecting on grief, trauma and mourning. While only a few participating artists are Spiritualists, they all explore similar themes including an exploration of history's impact on the present and the experience of loss.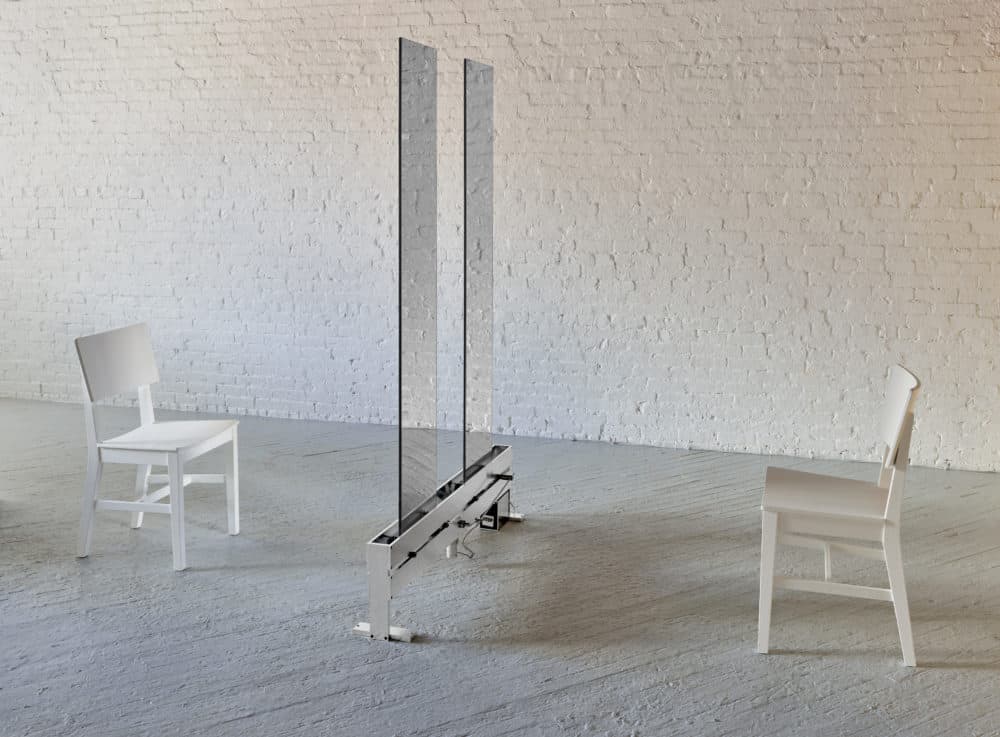 Elsa Dorfman: 'Me and My Camera'
Museum of Fine Arts, Boston
Feb. 8 to June 21, 2020
Cambridge photographer Elsa Dorfman makes large-format Polaroid portraits. This exhibition focuses its lens on her autobiographical work, specifically self-portraits made since 1980. The photos measure 20 by 24 inches, large for portraits, but retain a sense of intimacy and charming informality nonetheless. The photos of Dorfman's family and friends will be shown alongside a group of early black-and-white images from Dorfman's 1974 photobook "Elsa's Housebook: A Woman's Photojournal" celebrating the group of friends who visited Dorfman's home in the 1960s and '70s.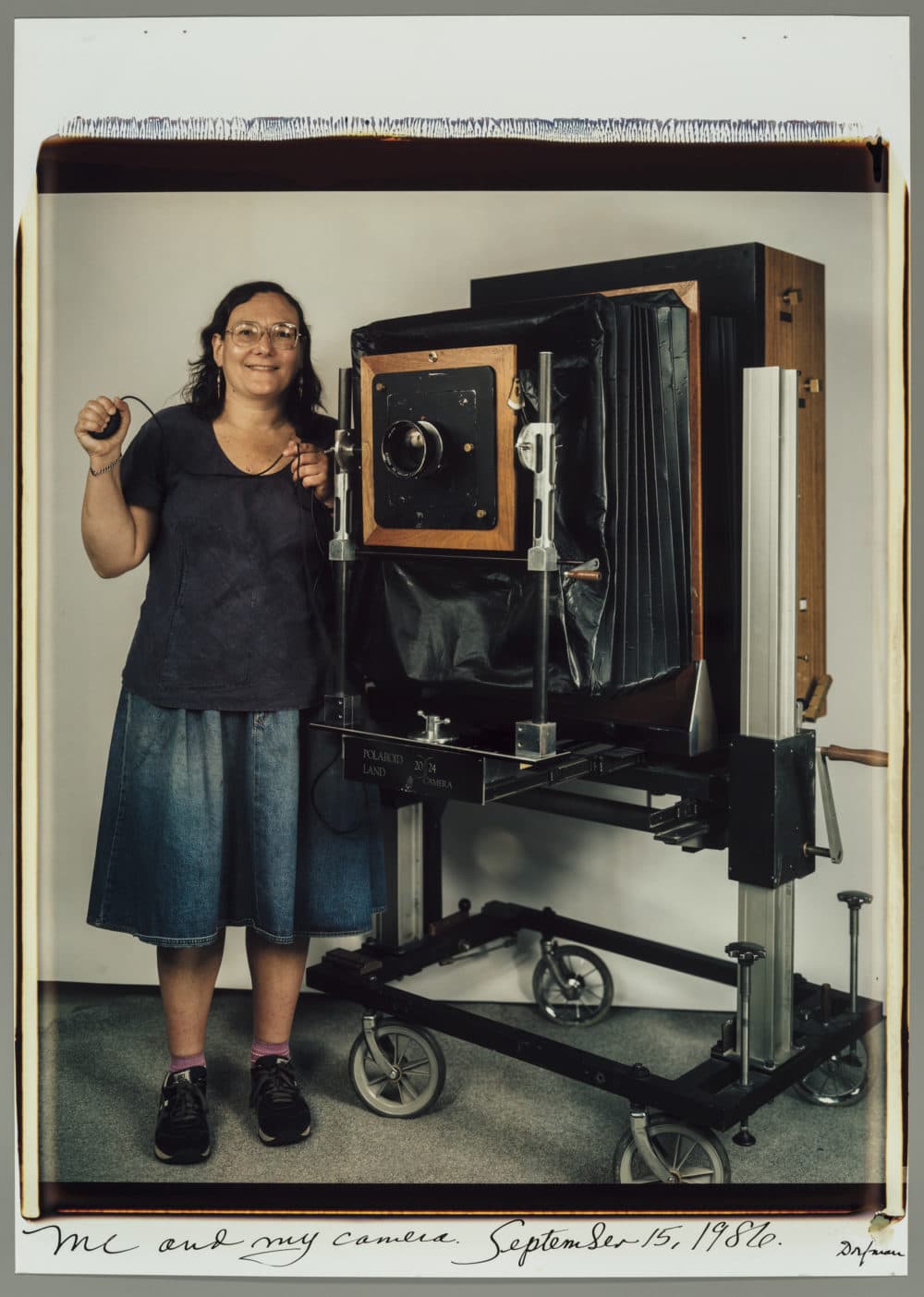 Feb. 14 to May 17
Spanish artist Dora Garcia transforms the Rose's Lois Foster Gallery into a stage for investigating the relationship between audience, architecture and art in "Love with Obstacles." Featuring drawings and films as well as documents and letters that serve as the basis of performances and readings, the exhibit articulates "a collective space where dialogue is central." The Rose premieres two newly-commissioned works — "Amor Rojo" (Red Love) focusing on Alexandra Kollontai, a Russian author, feminist, activist, political refugee and diplomat, and "The Labyrinth of Female Freedom," a performance analyzing various feminist tactics to claim space, visibility and freedom.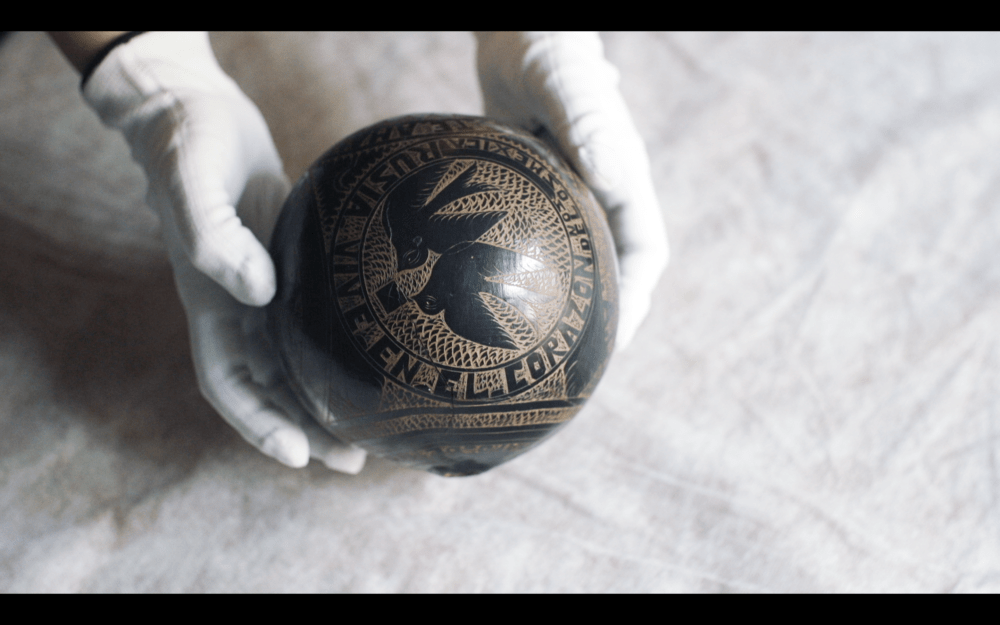 Joana Vasconcelos: 'Valkyrie Mumbet'
MassArt Art Museum (MAAM), Boston
Feb. 22 to Aug. 2
The big news of 2020 is the opening of MassArt's Art Museum or MAAM, the city's newest free contemporary art museum, which will hold no permanent collection but will rotate a variety of contemporary exhibits in an array of mediums. The grand opening of MAAM includes three separate exhibits beginning with that of Portuguese artist Joana Vasconcelos, who will premiere a new monumental site-specific installation. In her first U.S. solo show, Vasconcelos honors Elizabeth "Mumbet" Freeman, an enslaved woman whose Massachusetts court fight for freedom in 1781 made slavery illegal in the state. The work will be the latest in the artist's "Valkyries" series paying homage to inspiring women.
Feb. 22 to April 19
Also at MAAM is a group exhibition looking at artists working at the confluence of contemporary art and video games. The artists on view push technological boundaries and imagine alternative worlds through game aesthetics. It's a whole new game in game-related art.
Feb. 26 to May 26
Sterling Ruby is consumed with the role of the artist as outsider. Born in Germany to a Dutch mother and American father, he has spent his career critiquing American culture, power and violence employing a range of imagery from the American flag to prison architecture and graffiti. Though inspired by everything from punk to hip-hop culture, central to his work is his upbringing in Pennsylvania Dutch country and his life now in Los Angeles, where he explores hand-based processes from Amish quilt-making to California's radical ceramics tradition. The exhibit, which includes ceramics, paintings, drawings and installations, is the first comprehensive museum survey of Ruby's work, and includes more than 50 pieces made over the course of more than two decades of the artist's career.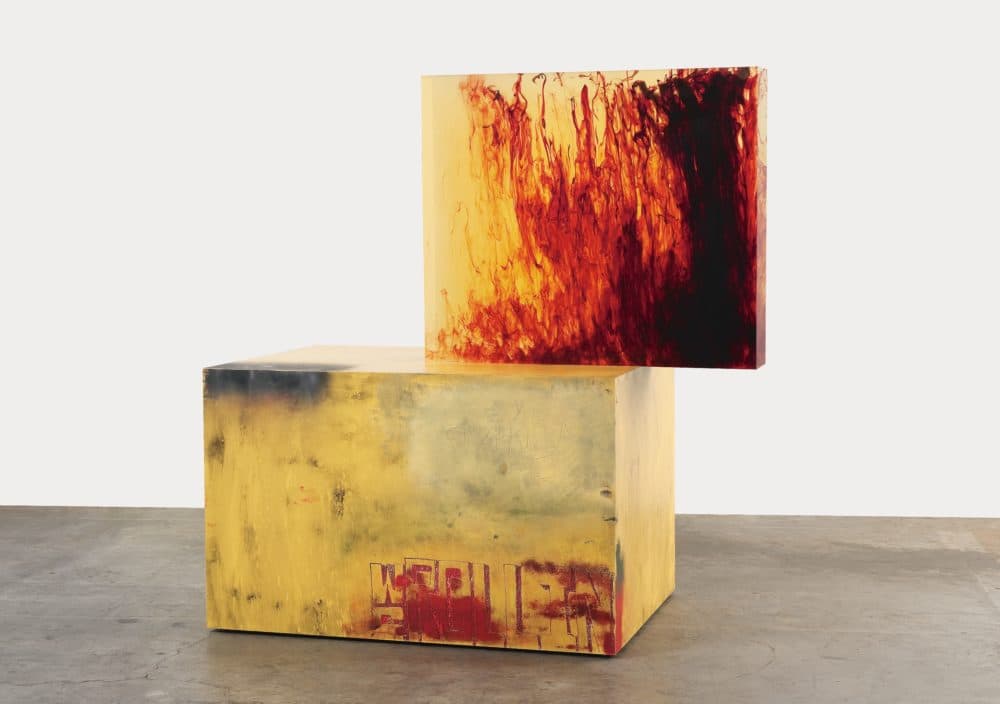 ---
MARCH
Lucian Freud: 'The Self-Portraits'
Museum of Fine Arts, Boston
March 1 to May 25
British painter Lucian Freud (1922-2011) was known for his intimately virtuoso portraits of the people in his life, including friends, family, fellow painters, lovers and children. In this exhibit of more than 40 works on canvas, paper and etching plates, the artist paints himself, applying the same skill and compositional ingenuity he is known for. The show, the first dedicated to Freud in Boston, traces the evolution of the artist's technique over almost seven decades, from his linear and graphic early works to the sumptuously sensual painting style of his later years.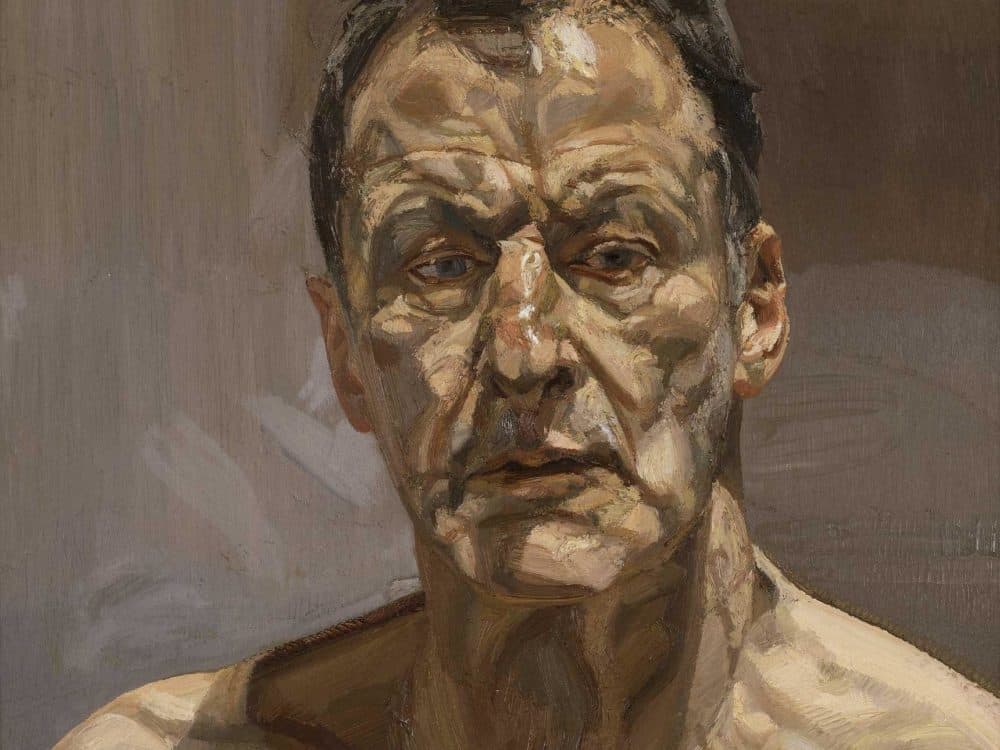 March 17 to May 17
Rami George uses personal experiences as a point of departure to re-appraise civic and social issues, ranging from the legacies of the civil war in Lebanon to familial and queer histories. In this show, George uses videos and installation to consider cultural inheritances and events and relationships that link past to present. In two related video essays, "Untitled (Saturday, October 16, 1993)" (2015) and "Untitled (Samaritan Foundation)" (2014) the artist looks at family entanglements with a New Age spiritual cult called the Samaritan Foundation and how that involvement had a ripple effect, consuming the family but also the community.
March 28 to March 14, 2021
There may be no better way to welcome spring than with Eva LeWitt's installation at the ICA. The New York-based artist will premiere a new site-responsive installation for the museum's Sandra and Gerald Fineberg Art Wall. LeWitt specializes in transforming industrial materials like coated mesh and polyurethane foam into colorful geometric forms that catch the eye while enlivening the spirit.