Arc Iris Delivers Existential Questions With Ambitious 'iTMRW'
What will our world look like sixty years from now, in the year 2080? Will rampant capitalism, sinking cities, runaway misogyny, and under regulated AI get the better of our species, and planet? And if so, will the human spirit persist?
Providence art-rock trio Arc Iris tackles these existential questions with their ambitious, sweeping sci-fi rock ballet, "iTMRW." The show — a collaboration between the band and fellow Rhode Islanders HDC Dance Ensemble — premieres as part of the A.R.T.'s Live At Oberon series on Jan 25th and 26th.
"It's a little bit of everything," says elfin-voiced front-woman Jocie Adams. She describes the piece — which takes its name from an imagined future mega-corporation, responsible for producing and selling all known products and services on Earth — as "a surreal explosion of ideas that are happening right now, left unchecked — both utopian and dystopian."
The inspiration for the project came out of Adams' writer's block while on a songwriting retreat. Donald Trump was, at that time, running for President. "There were a lot of topics going around in my head, that were making it really hard for me to write at the time," she says, "and so rather than trying to completely push them away, we were trying to figure out a way of making constructive use of them."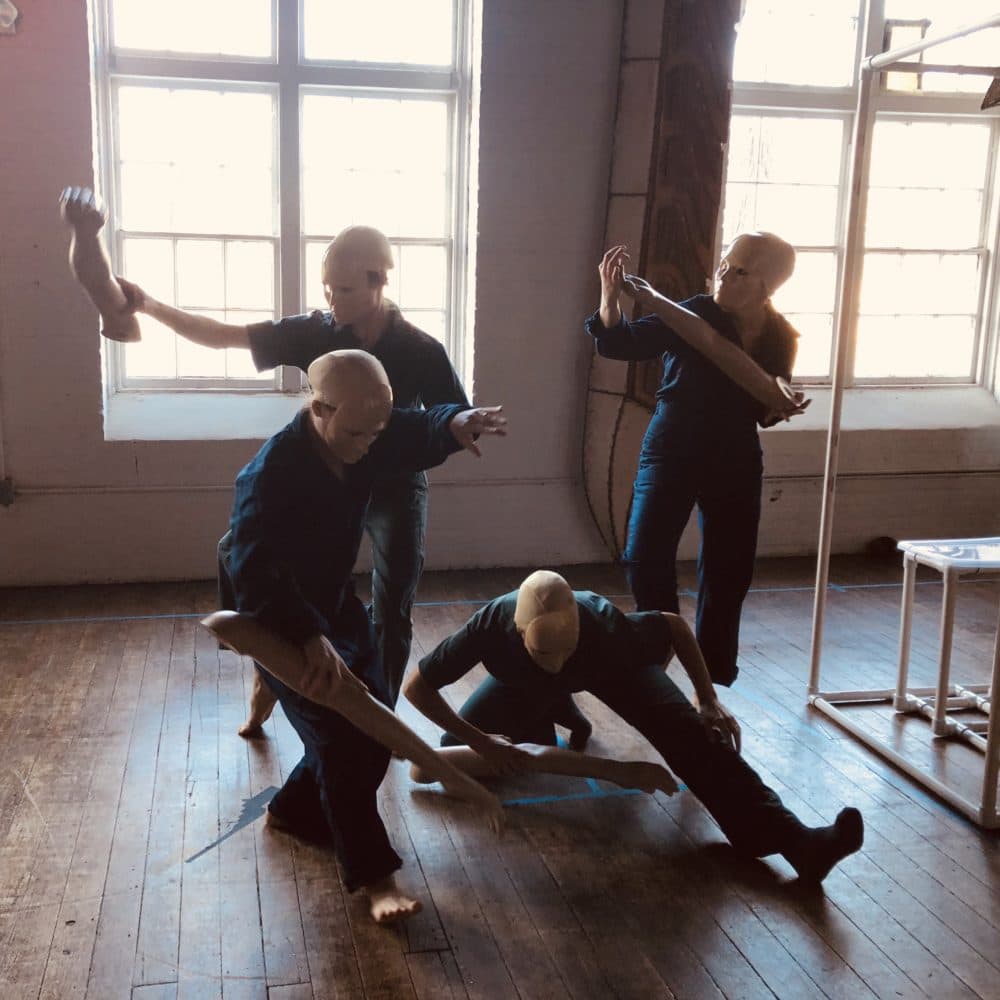 "I was playing around with the idea of what music would sound like in 2080, and maybe creating a record around that," says keyboardist Zach Tenorio-Miller.
The show of course features Arc Iris's music — a genre-leaping, kaleidoscopic, theatrical swirl of '70s rock, prog, and psychedelic, with jazz and folk underpinnings. Every member of Arc Iris is a master at their craft, and the trio is formidable live.
Jocie, often clad in a gold bodysuit and wielding multiple instruments, coos in a tone reminiscent of Joanna Newsom and Jane Siberry. Tenorio-Miller — slight of stature with a cascade of brunette curls — is a true keyboard slayer who, when onstage with the band, is flanked by so much gear, it looks, feels, and sometimes sounds like he's at the helm of a spaceship. And drummer Ray Belli's brilliant, precise rhythms fill out the Arc Iris sound to reach sublime and transcendent heights.
With this new set of songs, the band leans more heavily into modern pop and electronica, with whiffs of soul, R&B, and even rap. Lyrics follow a loose narrative around the show's protagonist and his android partner. The as-yet-unmixed album is chock full of keyboard and electronica-heavy numbers. The track "Wish You Didn't Have To Slip" serves as a lament to coastal cities falling below sea level, while the sexy "Don't Touch" could almost be a hit — if the masses are ready for a careening joyride between feels, styles, and genres. There's even what sounds like a Christmas carol ("JOYFUL JOYFUL"), complete with commercial breaks.
These commercial breaks — all delivered by a slick iTMRW spokesman — are peppered throughout the album, and will appear on-screen throughout the stage show. One such advertisement, touting a "face-manipulation mirror", purports, "[b]ecause life is about being bold, brave, and beautiful". In a more genuine sense, this could just as well be the impetus that drives this ambitious band, musically and otherwise.
"I'm kind of excited to see how audiences interpret it," says Belli, considering that "iTMRW" does not follow a traditional narrative structure. As Jocie says, it's "a lot of showing, not as much telling". There won't be actors on stage in dialogue. There's no actual ballet; HDC Dance Ensemble is a physical theater, tap, and contemporary company. But there will be actors, dancers, projections, and animations — with the action taking advantage of Oberon's capacity for audience immersion. The band will be spread out on the stage wings playing live throughout.
In regards to the show's heavy subject matter (misogyny being perhaps the main topic), Ray continues, "I think the audience's experience will be impressionistic, which I think is good because sometimes emotional impressions and reactions to art are more powerful than rationally reading an essay about any number of these things . . . so I think the abstract nature of what we're doing will have that power hopefully."
"iTMRW" the album follows an arc and climaxes with the understated acoustic "Am I A Dreamer Of Dreams" — an almost "devolving" from the complex sonic onslaughts of earlier tracks to the stripped-down simplicity of voice and guitar. It feels like a nod to the band's folk origins (Jocie was once a member of The Low Anthem), as well as to a simpler, pre-techno age when music was made not by machines but by human beings with their bare hands (and voices). It's a moving journey, ending with the expansive "Children Of Your History" which includes the nuanced line, "You are a product of the life you live." There's grief but also, palpable hope.
"My personal feeling is that nothing else works. The whole nihilistic cynicism — it just doesn't work, in the simplest terms…," says Belli. "And it's not a sort of blind optimism. I think the darker the world is, the darker the situation, the greater the call to action, to actually be the difference and make the change."