Unable To Make Her Case In Person, Warren Leans On Ayanna Pressley In Iowa
Telling Iowans to "dream big and fight hard," U.S. Rep. Ayanna Pressley is campaigning for presidential hopeful Sen. Elizabeth Warren in Iowa, three days before the state holds its presidential caucuses.
"Elizabeth knows the power of policy," Pressley said to a small group of campaign volunteers in Des Moines Friday. "And I appreciate that she organizes, leads and legislates in a way that is responsive to the people."
Pressley is one of several high-profile campaign surrogates for Warren, who has been unable to be in Iowa because of the Senate impeachment proceedings. Boston City Councilor Michelle Wu and former presidential candidate Julián Castro are among those campaigning in Iowa for Warren in recent days.
"She's doing her part to save democracy," Pressley said. "And we're doing our part to save democracy, and to make sure we can deliver her to the White House. And as much as we miss her, I know that when she gets here, she won't skip a beat. She's indefatigable."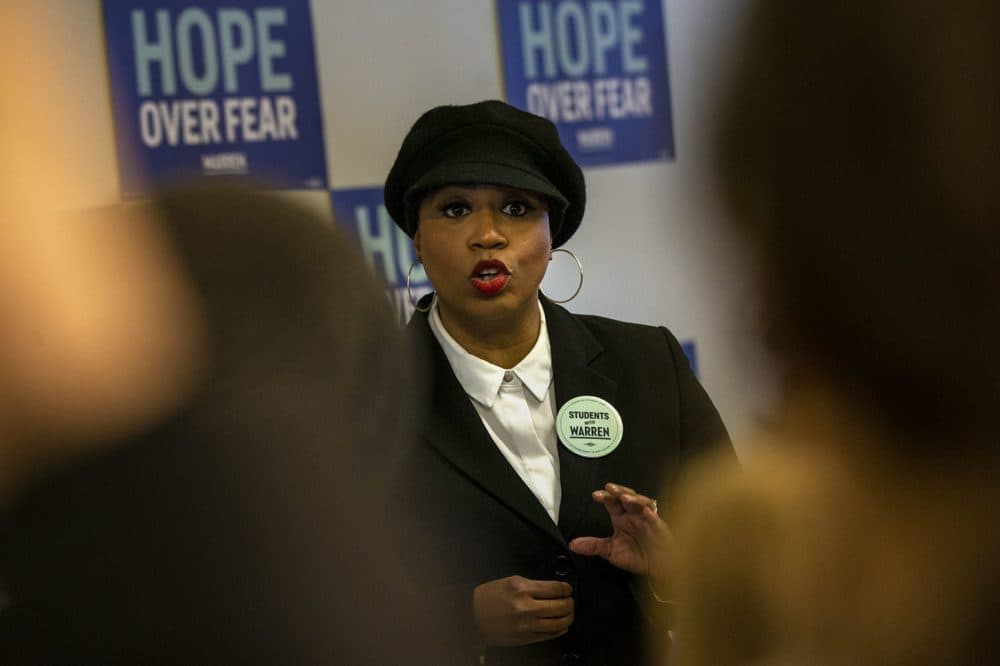 Pressley will campaign for Warren though the weekend and into Monday, the day of the caucus. On Friday she visited Cindy Conrad, a Warren supporter, whose home in suburban Des Moines was being used as a temporary staging area for door-to-door canvassing.
"Ayanna said it," Conrad said. "Warren is sincere. She really wants to help all populations."
Later in the morning Friday, Pressley attended another canvassing launch at Drake University.
"Everyone likes to talk about how [Warren] was an extraordinary professor," Pressley told a small gathering of college students. "But what I know about Elizabeth is that she is an extraordinary student. And that matters."
Pressley's first trip to Iowa comes as her national profile expands.
Elected to Congress in 2018, Pressley is one of four members of "The Squad" — a group of freshmen congresswomen that includes Alexandria Ocasio-Cortez of New York, Rashida Tlaib of Michigan and Ilhan Omar of Minnesota. But unlike the other Squad members, who all endorsed Bernie Sanders, Pressley chose Warren, and is now a national co-chair for her campaign.
Next Tuesday, Pressley will deliver a response to President Trump's State of the Union address on behalf of the Working Families Party, a progressive organization that has endorsed Warren for president. And in a recent video that went viral, Pressley revealed that she is bald as a result of alopecia.
Asked about her growing national notoriety, Pressley laughed, and said she was just focused on "the work."
"The only thing a bigger profile means to me is a bigger platform from which to illuminate the daily struggles and hardships of people," she said.