Prisoners Allege Beatings, Abuse At Mass. Max Security Prison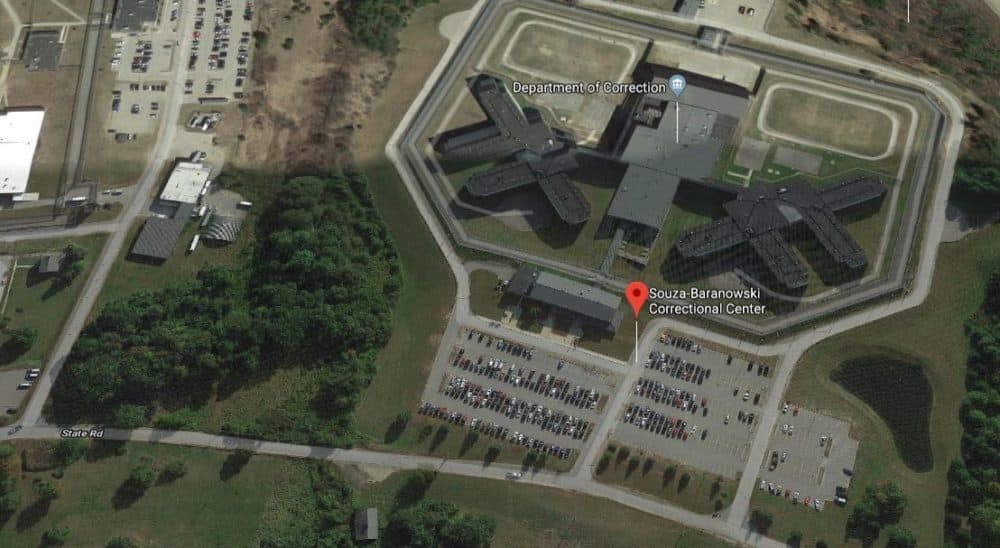 This article is more than 2 years old.
Inmates at a Massachusetts maximum security prison are alleging mistreatment after a violent incident involving correction officers earlier this month. The Souza-Baranowski Correctional Center in northern central Mass. was locked down after the Jan. 10 incident in which three correction officers were hurt.
Prisoners rights groups say they have been inundated with complaints. Prisoners Legal Services of Massachusetts says it has interviewed 40 inmates who allege that they've been beaten, verbally abused, moved from their cells, and/or had their personal belongings taken.
"Assaults have been widely reported," said Elizabeth Matos, executive director of Prisoners Legal Services of Massachusetts. "A number of people tried to ask why the officers were doing this. When this happened, they were beaten further. One person was told by the CO [correction officer] that when one of their officers is assaulted, the entire prison will pay."
One prisoner who contacted WBUR, and whose name is not being used out of concern for his safety, said he was shocked with a taser and hospitalized for two days after he was beaten.
"Officers just started tasering me, beating me, punching me, calling me the n-word — and I went to the outside hospital," he said. "I got stitches. I have a black eye, busted lip and my hands are still shaking."
He said he was not in the area of the prison where the officers were assaulted on Jan. 10. He said about a week and a half after the violence, officers forced scores of inmates to strip down to their underwear and move into new cells without any belongings.
"It's a hopeless atmosphere," he said. "Everyone is afraid. There is no fresh air, no windows. We're just now let out of our cells for 15 minutes a day."
Another man whose brother is incarcerated recounted something similar. Jurell Laronel said his brother called him this week and told him officers in some type of riot gear moved dozens of inmates to new cells, and several inmates were beaten.
"He said there was gas used and dogs and bean bag guns," Laronel said. "They're just trying to exert control over the whole situation. This just completely dehumanizes the inmates."
Matos says the imprisoned men all said they were denied the opportunity to complain, or file grievances.
"Almost every person we've met with so far said the attacks were completely unprovoked," Matos said.
Some inmates also told attorneys and prisoners rights advocates that, about 10 days after the violence, they were moved to different cells. Their personal belongings, including legal documents, were taken away.
Some attorneys say that they were not allowed to see their clients for two weeks immediately after the violence, but they were allowed limited visits a week ago. Matos said the criminal defense bar is "very concerned."
The Department of Correction issued a statement on Friday, saying there have been changes at the prison.
"A methodical search protocol and other temporary changes at Souza-Baranowski Correctional Center have been undertaken to ensure the safety of staff, inmates, and the public, which remain DOC's primary concern in the aftermath of serious assaults on correctional officers," the statement said. "Any use of force under these circumstances is governed by DOC policy, and any alleged violations are thoroughly investigated."
Souza-Baranowski houses up to 1,000 criminally sentenced men. The correction officers union said the 2018 criminal justice reform law was a factor in the guard attack earlier in the month. The union said the law gives more freedom of movement to those imprisoned and undermines order. But lawmakers who supported criminal justice reform dispute that and say the DOC hasn't implemented the reforms outlined in the law.
"The major reform in the prison was supposed to have been around solitary confinement. But the prisoners who attacked the correctional officers were in general population," said state Sen. Jamie Eldridge, co-chair of the Legislature's judiciary committee. "And my understanding is they were part of a gang. And so I think that much more has to do with the DOC management than anything we passed in the criminal justice reform law. "
Eldridge was previously scheduled to visit the prison Monday but that has been postponed.
This article was originally published on January 31, 2020.