Today's Weather: Cloudy And Calm, But Storm Will Bring Mixed Precipitation Tomorrow
It's a rather cloudy and chilly Wednesday, after temperatures got well into the 40s yesterday. The beat goes on with the lack of a major snowstorm.
Our next weather-maker will be coming up from the south as moisture streams north into colder air in the wee hours of Thursday morning. Although this will not produce much in the way of frozen precipitation, there will be enough that the morning commute is affected tomorrow. I expect a mixed bag of precipitation to arrive between about 3 and 5 a.m. Since temperatures will have fallen under freezing, I see spots will develop.
The total amount of accumulation will generally be scattered coatings up to an inch or two, north of the Mass Pike. Since this little weather event has been well advertised, the highway crews in towns and cities should be able to treat roads, making things just slightly slushy or wet as you're headed into work and school Thursday.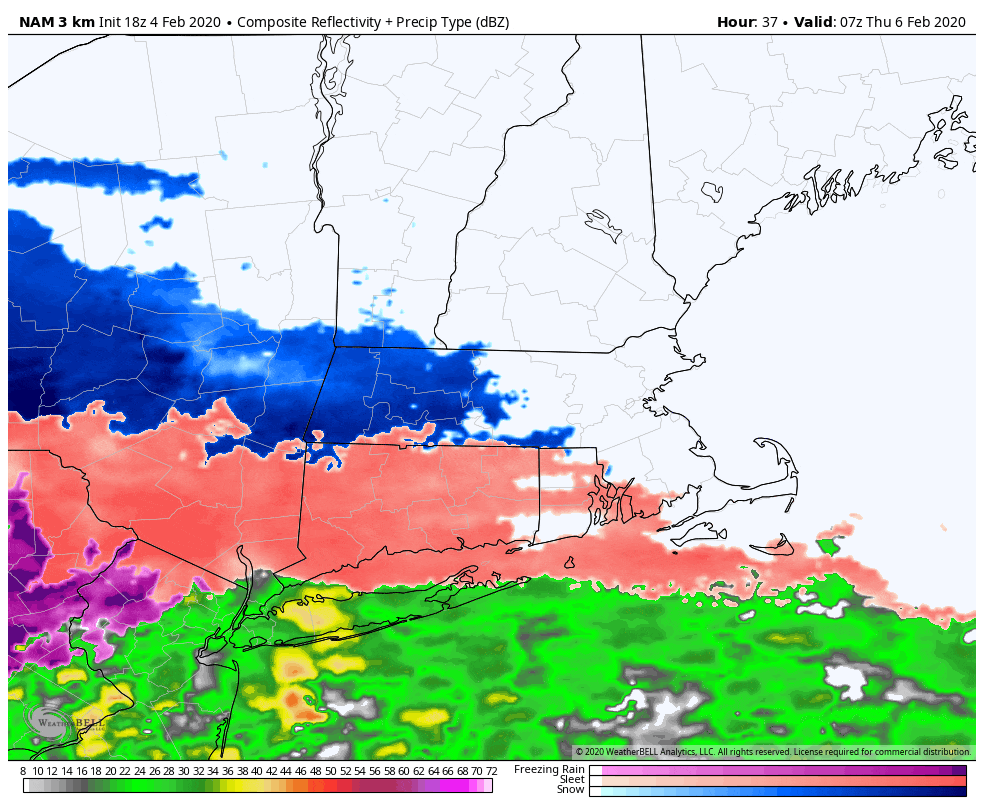 As the morning progresses, temperatures will rise as milder ocean airstreams move in.
I expect some rain to continue for much of the day and eventually, there will be another round of steadier and heavier rain Thursday night into Friday.
Friday will be mild in the morning but as colder air moves in from the north, there could be a change to a mixed bag — or even snow — as the precipitation is ending Friday.
Saturday is cold and dry, and then we will watch to see how another storm system impacts New England later Sunday — or passes us altogether — as it moves south of the area.
You can follow my updates here and on Twitter @growingwisdom.
---
Wednesday: Clouds, early shower south. Highs 35-40.
Wednesday night: Clouds, may shower, mainly south. Lows 23-29.
Thursday: Snow, sleet and rain. Some light accumulation or a coating, but up to 2 inches at most along the New Hampshire border. Highs near 40.
Friday: Rain likely, may change to snow before ending. Highs 35-42, cooling off at the end of the day.
Saturday: Mainly sunny. Highs near 30.
Sunday: Partial sunshine. Highs near 40. Watching possible storm.