The Outcomes, Not The Vote Count Meltdown, Show Why Iowa Can't Go First Anymore
The Iowa caucus vote counting debacle is bringing renewed calls to change the state's first in the nation voting status, which it's enjoyed since 1972. But the outcomes of the caucus offer even more compelling evidence that Iowa should not lead off.
The outcomes are more than just who got how many votes (however that's counted) or who ends up with more state delegate equivalents (whatever those are). They also include perceived momentum and viability, positive media coverage, fundraising, and the benefits that come with each. On that score, this primary cycle offers a very clear illustration that it's the candidates who appeal to white voters who benefit at the expense of everyone else.
Joe Biden has led in most national polls for months, and his support among black voters has far outpaced his rivals. A Pew survey in the lead up to Iowa found Biden with 36% of the black vote nationally, over 20 points more than any other candidate, echoing many other surveys. Of course there is no national primary, but these figures provide a pretty good indication of how different the process — and resulting media narrative — would be if white voters didn't get a head start.
The national dynamics are echoed in South Carolina, which votes on Feb. 29, after both New Hampshire and Nevada have also had their turns. There, Biden has led in every poll for the last year, most of them by double digits. This consistent lead owes largely to the state's black voters, where a recent Fox News poll finds Biden pulling 43% support. This vastly exceeded support for Tom Steyer (16%) and Bernie Sanders (12%). How a candidate performs among black voters is almost the whole ballgame in South Carolina, where the 2016 Democratic primary electorate was 61% black.
Getting to South Carolina is Biden's challenge. After its near total failure in Iowa, the Biden campaign is left wounded and staggering. A Politico report put it succinctly: "Biden's Iowa train wreck revived questions about the durability of his candidacy, and threatened to slow a fundraising operation that was already showing signs of stress." Biden himself said "I'm not gonna sugarcoat it. We took a gut punch in Iowa."
Right now, we still don't know who will win Iowa, whatever that means. With a very close contest between Pete Buttigieg and Sanders, and several different ways of assessing success, it's not at all clear how to even identify a winner (the Associated Press gave up). What we can say is that neither of the candidates claiming victory in the Iowa caucus garbage fire come close to Biden's support among black voters. Sanders pulled 13% of the black vote in the national Pew survey, and Buttigieg draws under 1%. Even so, both leave Iowa riding high, raking in new donor dollars, and basking in the warm glow of positive headlines.
Buttigieg's poll numbers in New Hampshire are surging, while analysts are working through drafts of Biden's political obituary. Imagine instead if South Carolina had gone first, and no majority-white state voted for the first three contests.
For the Democratic Party, the importance of black voters to their electoral success is difficult to overstate. Just ask Alabama Senator Doug Jones, whose success was propelled by sky high turnout among black voters. On the flip side, Hillary Clinton's loss in 2016 featured a drop in black turnout, the first in 20 years for a presidential election.
The demographic skew of Iowa and New Hampshire has prompted more and more critics to suggest Democrats should rethink the ordering of their primaries. The results this year offer a concrete example of how the primary process is affected when the same two states remain the permanent gatekeepers.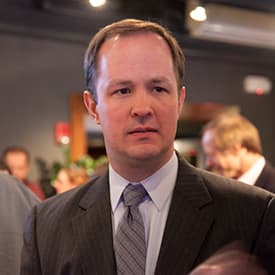 Steve Koczela Contributor
Steve Koczela is the president of The MassINC Polling Group and has overseen WBUR's polling since 2011.