ILe Sings For Puerto Rico With Her Album "Almadura"
This article is more than 3 years old.
Every song on "Almadura" is rallying cry for the island that birthed her.
It's a reminder of the strength that still lives there even after every natural disaster and despite years of colonization. The Puerto Rican singer Ileana Cabra Joglar, better known by her artist name iLe, admits that her music on this second album comes from tumult, from processing emotions following the devastation lived during Hurricane Maria, while serving as a meditation on the hardships of life.
On Monday, the Grammy-winning artist will perform a sold-out show at City Winery.
"I always want to find the way to capture what one is experiencing through the art that one does," iLe said in a recent phone interview in Spanish. "And when I was working on this album I was upset, indignant, dealing with a lot that I personally needed to understand."
"Almadura," feels like a series of protest songs. Each track is in a way, confrontational. It tackles love and identity. It embodies the politics, storied history, and oppression of Puerto Rico. It meditates on violence against women in "Temes." And it uses all styles of music to do so, from plena to mambo to salsa, even a classic cha-cha-cha with a dose of bugalu featuring legendary bandleader, arranger and composer of salsa and Latin jazz Eddie Palmieri on the track "Déjame Decirte."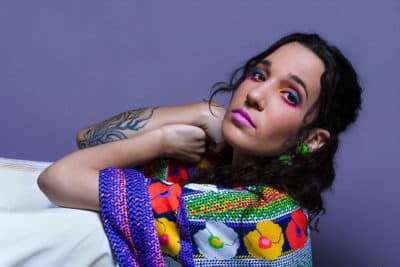 ILe's last album"Ilevitable," won a Grammy in 2017.  "Almadura" was also nominated for a Grammy this year in the best Latin rock, urban or alternative album category.
The title of the album is a play on the word "armadura," which in Spanish means "armor," but cleverly, when said in a Puerto Rican dialect, the first "r" changes to an "l" sound. Thus, the word becomes "Almadura," which means "strong soul" in Spanish." On the cover, iLe sits on horseback as if about to lead an army into battle. Last summer, she did, in a way.
ILe, her brother Residente, whom she formerly toured with as part of the group Calle 13, and Latin trap and reggaeton singer Bad Bunny were among those who joined demonstrators last summer. They helped lift the voices of activists who assembled a national strike in July that brought out droves demanding the resignation of Gov. Ricardo Rosselló.
The day before the July 18 demonstration, the three artists released the diss track and protest song "Afilando los cuchillos" with all three calling on the masses to "sharpen their knives" against the governor. The song referred to Rossello as homophobic, incompetent, and corrupt. He would end up resigning in the weeks after.
"We're such a small island that carries its history as a colony for essentially the entirety of its existence," iLe said. "I think it's important that we ask ourselves now, what should we do to grow. In a lot of ways, we're just starting to realize that we have all the power that they always said we didn't have."
"As a Puerto Rican, I express myself from that perspective," iLe said. "But at the same time, I try to translate situations that are similar in other countries and other cultures distinct from mine. I think that's what it's about, to not see ourselves so different or disconnected from one another."
ILe doesn't shy away from telling listeners exactly who she is. In the song "Contra Todo," trumpets sound as she calls herself "invaded ground, stolen nature, and the screams of the silenced voices." She's the one who can turn into a goddess if necessary in the song "Invincible." And no song captures her intensity of feeling or urgency for a change in the status quo than, "Odio" or "Hatred." It was the first song she said she wrote for the album. In it, she tells listeners to make hatred die of hunger, to not give it drink, to suffocate hatred so it no longer exists. It anthropomorphizes hatred the way her brother, rapper Residente gives voice to war in his song, "Guerra" off his 2017 debut solo album.
Yet it's the video that really brings home iLe's purpose.
She re-creates the heinous death of two pro-independence Puerto Rican activist, Carlos Enrique Soto-Arriví and Arnaldo Darío Rosado-Torres. In 1978, Both young men were killed in an ambush by police. This incident is now known as the Cerro Maravilla murders. iLe isn't afraid to go deep into the psyche of pain and trauma of her people. But she's also aware when a song like "Curandera" is needed, which is fast like a merengue and uses percussion and voice to carry its message spiritual cleansing and the medicine women who do the work of healing a community in grief.
"In Puerto Rico particularly, but also I think in the rest of the world, we're living in a chaotic, but beautiful moment," she said. "We're breaking down barriers that are difficult to break, but we're beginning to crack them nonetheless. I think that's important and to make space for new generations, for young men and women who can see things differently and live in a more open and loving and understanding world."