Navel-Gazing Oscars Yield A Single Silver Lining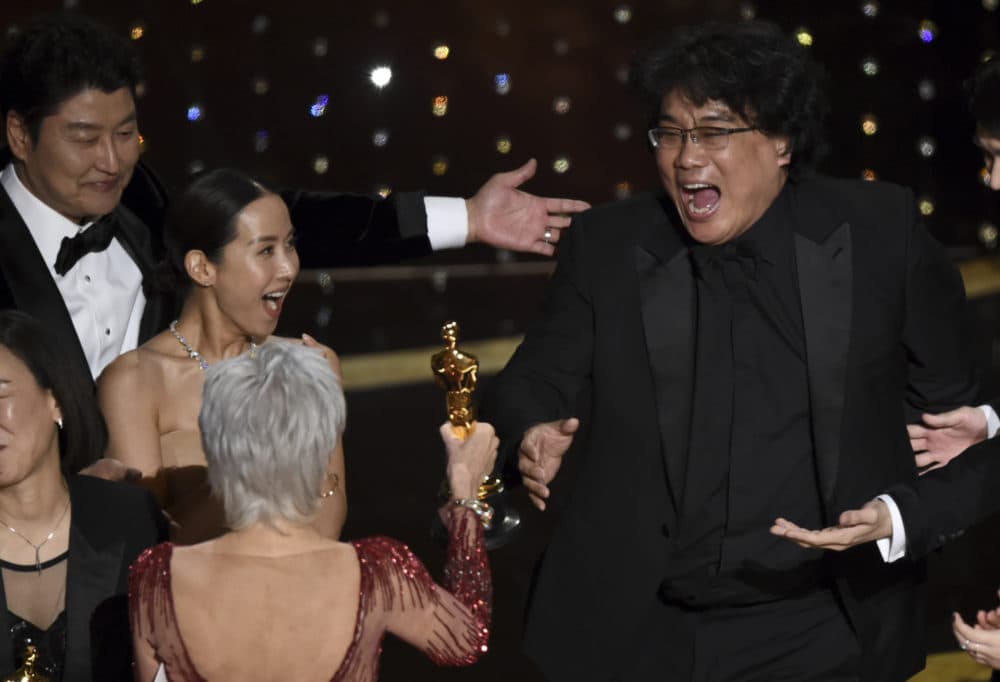 This article is more than 2 years old.
The 92nd annual Academy Awards began as a disaster. Most of us pretend not to care about the Oscars and this year ABC was playing straight into that demographic, ignoring all the pomp and circumstance and going for outdated, embarrassing kitsch. Last night's oversized 3 1/2 hour broadcast was seemingly designed for people who don't like movies very much.
It was a tedious, accidentally exhilarating affair, playing according to all the boring predictions until something rather miraculous happened. Lacking a host or any semblance of personality, the show plodded on in earnest until "Parasite," the sneaky, brilliant South Korean Palme d'Or winner by director Bong Joon Ho started sweeping up trophies for Best International Film, Best Director, Best Original Screenplay and Best Picture.
The big theme of the Oscars this year was that the Oscars hate the Oscars, opening with a bizarre musical performance by Janelle Monae relentlessly mocking the Academy for their oversights and backed with dancers bedecked in costumes from not-nominated movies like "Midsommar," "Dolemite Is My Name" and "Us."
Immediately afterward, former hosts Steve Martin and Chris Rock took the stage, taking well-deserved jabs at the Academy's blinkered preferences and goofing about how the show isn't allowed to have hosts anymore because of Twitter. Rock was especially flinty, noting that the Best Director lineup was missing "vaginas," which earned him a hearty round of boos in the house and on Twitter even before he suggested that Cynthia Erivo's Harriet Tubman had hid all of the black nominees under the stage.
This was a mess of a year nomination-wise, proving time and again that you can have the most fascinating, wondrous collection of movies released and the Academy will still find a way to screw it up somehow. After all, this is not really a critical organization, rather mostly a bunch of retired TV actors who hang out all day at their pools somewhere in Bel Air, occasionally complaining to The Hollywood Reporter's Brutally Honest Oscar Ballot about how things like the time-shifting structure of Greta Gerwig's "Little Women" were just too confusing for them to follow. (Funny, they never seemed to mind when Quentin Tarantino, Steven Soderbergh or Christopher Nolan did the exact same thing.) The fact that "Parasite" won any awards at all is a bloody miracle.

Joaquin Phoenix's award for Best Actor was probably a foregone conclusion. My watchword for these shows has always been to replace "Best" with "Most" and he certainly did the "Most" Acting we've ever seen celebrated at one of these affairs. Renee Zellweger upheld the other old awards season dictum, in that whomever looks and sounds the most like a famous dead person is presumably a shoo-in. A lone early bright spot shone upon Brad Pitt's zen stuntman from my beloved "Once Upon a Time… In Hollywood", while Laura Dern – who should rightfully already have a shelf full of these things by now – won her first Oscar for what's probably her least interesting performance. (She's still great, though.)
The calamitous program suffered from the lack of a host, as most of the running time was squandered introducing celebrities who were only there to introduce other celebrities. It appeared to fall off the rails altogether midway with a celebration of needle-drop song cues in American films. This klutzily-edited montage focused mainly on movies from the 1980s and at least offered Oscar partygoers a few delightful, instantly-memed cutaways to the likes of Martin Scorsese and his daughter Francesca staring blank-faced as a profoundly middle-aged Eminem emerged to perform his 2003 Best Original Song-winner, "Lose Yourself," which was I guess perhaps the last time this category produced anything you could still hum the next morning.
Filler like this only makes it hurt all the more that the Oscars have long ago shuttled their Lifetime Achievement Awards off to a separate, untelevised ceremony called the Governors Awards. Maybe you would like to see pioneering cinema legends like Wes Studi, David Lynch, and Lina Wertmuller receive honorary Oscars and learn a little about their lifes' work? Too bad. Instead here we've got more synergistic ABC promos for parent company Disney/Marvel and some ads for American Idol!
I really resented the way this year's telecast trotted out television celebrities like Maya Rudolph and Kristin Wiig to make a dismissive joke out of important craft categories such as Production and Costume Design. Similarly stranded TV stars like Will Farrell and Julia Louis-Dreyfus (who not-coincidentally have a big-screen Disney bomb waiting to open next week with their Sundance-flop re-make of the Norwegian hit "Force Majeure") goofed about not knowing what cinematographers do. What a crummy way to suck the spotlight from hard-working craftspeople finally having their big moment on national television!
When I grew up the Oscars were always a vulgar overlong pageant of course, but also one in which I learned about cinema history and watched a lot of montages that connected films from past to present. The awards these days suffer from the terrible tyranny of the now (or at least the 1980s.) The lone, great tear-jerking exception this year was brought on not by the program's incompetent producers but rather Best Director recipient Bong Joon Ho, paying it back to his inspiration Martin Scorsese, inducing a standing ovation from the audience while Spike Lee served as his hyperactive hype-man.
I'm not ashamed to admit that I cried while watching this, seeing three of the most iconoclastic filmmakers of their generations in awe of one another, sharing a moment of mutual admiration and respect with all of us out there in the audience. It was pure joy to watch them celebrating each other's accomplishments, a pleasure undiminished by the Academy's occasionally dim-bulb pronouncements, and a reminder of why it's still worth tuning in and giving up a Sunday night for this foolish thing.