'Portrait Of A Lady On Fire' Smolders With Desire and Longing
This article is more than 3 years old.
"Is this how you see me?" the model asks the artist in writer-director Céline Sciamma's sublime "Portrait of a Lady on Fire." It's a loaded question, and one we'll be returning to throughout this swooningly sexy and cerebral romance set on a remote seafront estate in 18th century France. Winner of best screenplay at Cannes last year, Sciamma's brainy bodice-ripper has been wowing audiences on the festival circuit for months and played as the closing night film at IFFBoston's Fall Focus back in November. It's finally coming to local theaters just in time for Valentine's Day, and the good news is that you will definitely get lucky after going to see this movie. The even better news is that you'll have a ton to talk about afterward.
Noémie Merlant stars as Marianne, a worldly and sophisticated bohemian artist — she smokes tobacco, in the nude! – summoned to the cliffs of Brittany for an unconventional assignment. She's been hired by a moderately wealthy widow (Valeria Golino) to paint an unwilling subject. The widow's daughter, Héloïse (Adèle Haenel) is set to be married off to a Milanese nobleman, but only after he sees her portrait. (This is how Tinder worked 250 years ago.) The stubborn Héloïse has already sent one painter packing by refusing to pose, so Marianne's here under false pretenses, allegedly serving as a walking companion while secretly putting together a portrait from stolen glances and surreptitious stares.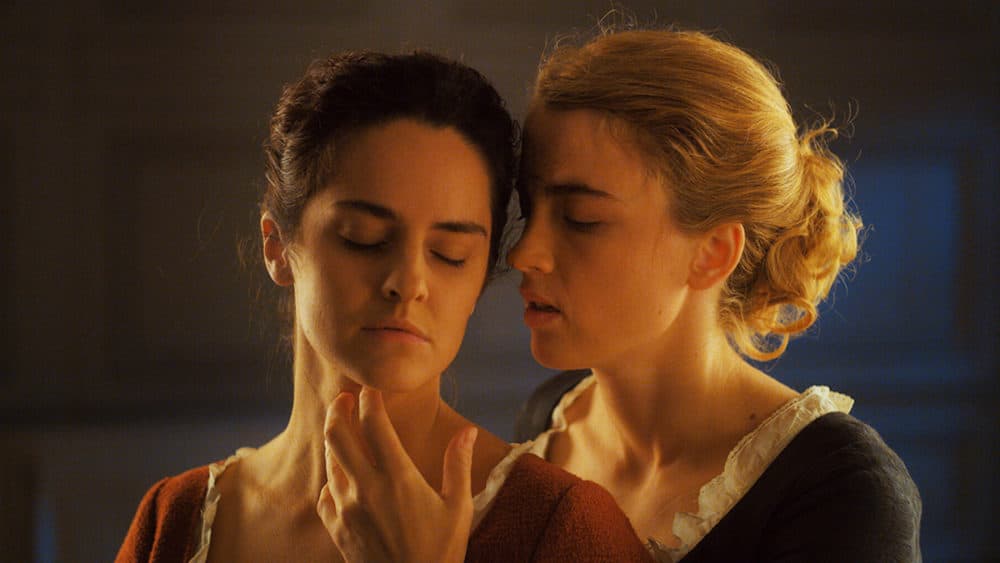 A big part of of going to the movies is the pleasure of looking at beautiful women, but I don't think we're supposed to say as much in polite company these days. So it's something of a relief when a film takes this aspect expressly as its subject, and "Portrait of a Lady on Fire" is indeed all about the act of looking, and what it means to be seen. Sciamma's camera worships these women, not in a leering manner but with a gaze that is both appreciative and direct. She gives Héloïse one heck of an entrance, our view concealed at first by a bonnet as she charges toward the shore and then pivots into a gorgeous, screen-filling closeup worthy of a silent movie star.
We first see her in fragments, with Marianne attempting to burn into her brain details about Héloïse's hands and earlobes while also trying not to get caught. It's a clever central deception with which to kick off a movie, and the brilliance of Sciamma's screenplay lies in how artfully her thematic concerns have been woven into the story. I don't think it's much of a spoiler to say that you can't look at someone so intently without your gaze being returned, and before long "Portrait of a Lady on Fire" has upended all of the traditional power dynamics between an artist and her muse. The characters read aloud from Ovid about the myth of Orpheus and Eurydice, elegantly circling back to the act of looking and the prices paid for what you've seen.
Men may be missing from the movie but they still set the boundaries of this world. Marianne explains how female painters are puritanically prevented from studying the male anatomy, thus walling them off from most important subjects. Héloïse's future is consigned to a loveless marriage with a total stranger, the progress of the portrait serving as a countdown clock to the inevitable end of their idyll. The film's most evocative tangent finds Marianne helping Héloïse's handmaiden take care of an unwanted pregnancy via a late-night trip to a village of witchy women singing by a bonfire, their incantatory a capella chants filling a soundtrack previously devoid of musical accompaniment. It's a tantalizing glimpse of a female space where women can make their own rules, but like many things in this movie it isn't meant to last.
In the three films since her dazzling 2007 debut "Water Lilies" (which also co-starred Haenel) Sciamma has been ratcheting up the romantic intensity. She does inchoate longing better than pretty much anybody right now, with a pair of powerhouse performances here hammering it home. Merlant is all swan-necked elegance, cool and in control until she realizes how hard she's fallen. Haenel is a captivating camera subject, boasting the best eyebrows in the business and a grin that's pitched perilously close to a sneer. ("I can't make you smile," a frustrated Marianne complains while trying to paint Héloïse's face, the accidental double meaning speaking for itself.) Cinematographer Claire Mathon — who also shot last year's gobsmackingly gorgeous "Atlantics" – uses color temperatures to contrast these warm, roiling characters against their cold, constricting surroundings. You could look at them all day, which I suppose is sort of the whole point.
---
"Portrait of a Lady on Fire" has sneak preview screenings in area theaters on Wednesday, Feb. 12, and plays Thursday, Feb. 13 at the Coolidge Corner Theatre with writer-director Céline Sciamma in attendance. Regular engagements begin Friday, Feb. 14.