From Aphrodisiacs To Heart-Shaped Junior Mints, Tour Boston Valentine's Candy History
Resume
It's Valentine's Day, a multibillion-dollar holiday fueled by flowers, greeting cards and tons of candy. Since 1902 some of the cheekiest and most iconic gifts have been Sweethearts, which until nearly two years ago were produced by the New England Confectionery Company – a.k.a. NECCO – in Revere. But the Boston area's connection to Valentine's candy goes way beyond those chalky, edible love messages.
Susan Benjamin, a passionate expert, knows all about it. She owns the True Treats Historic Candy company and shop in Harpers Ferry, West Virginia. "We research the history of candy and its role in shaping North America," she explained on a cold January afternoon, "going way back to the Native American sugars and working our way through the Cold War era."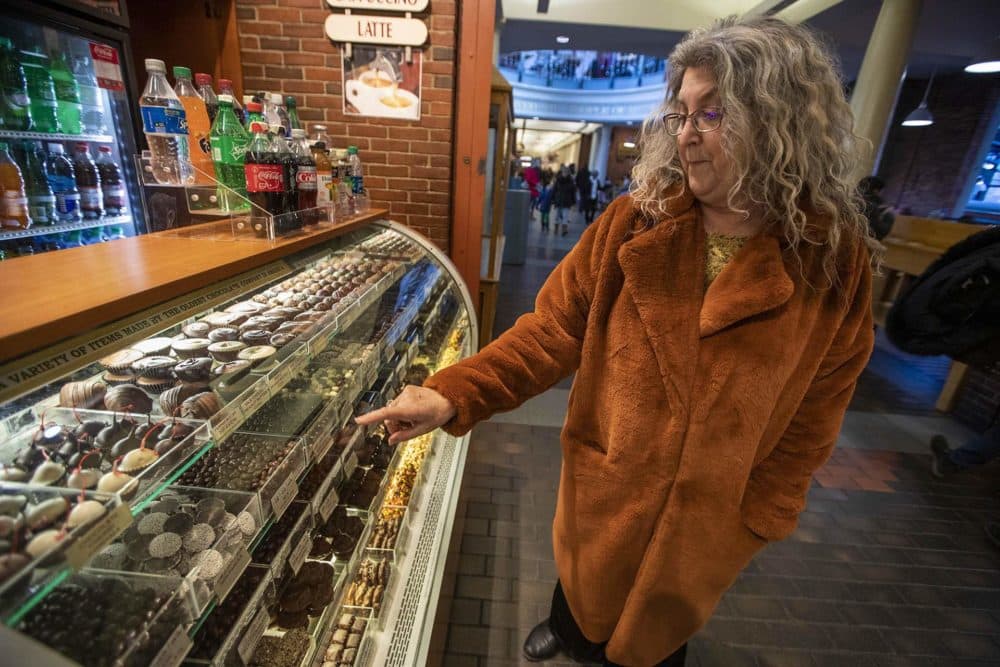 Benjamin is a Massachusetts native and author of the book, "Sweet as Sin: The Unwrapped Story of How Candy Became America's Favorite Pleasure." She comes back to New England every winter to get period-accurate chocolates for Valentine's Day. When asked, Benjamin was totally game to travel through time for a candy history tour of Boston starting in the 1700s.
"Valentine's Day candy actually is about love, and about making love, and no better demonstration of that than the area around Faneuil Hall," she said, "because you had these wonderful spices coming in, and some of the most popular at the time were ancient aphrodisiacs," including nutmeg, cinnamon and clove.
Today Faneuil Hall is known for tourists and t-shirts, but in the 18th century exotic spices flowed from Salem's port to the bustling marketplace near Boston Harbor. Faneuil Hall is also notorious for auctioning slaves, many who were integral to the brutal, booming sugar trade.
From that bitter past Benjamin said early sweets laid the foundation for Valentine's candy in Beantown. "The seed, as they say, was planted," she went on, "And sugar was, for those early colonists, something that you had to have," because so many are the backbone of our medicines.
Candy has origins in apothecaries, Benjamin explained. Oliver Chase designed a machine at his Boston pharmacy in 1847 to cut thin discs that would become NECCO wafers. His brother transformed the saccharine circles into wedding candies that were the precursors to the Valentine's icon, Sweethearts.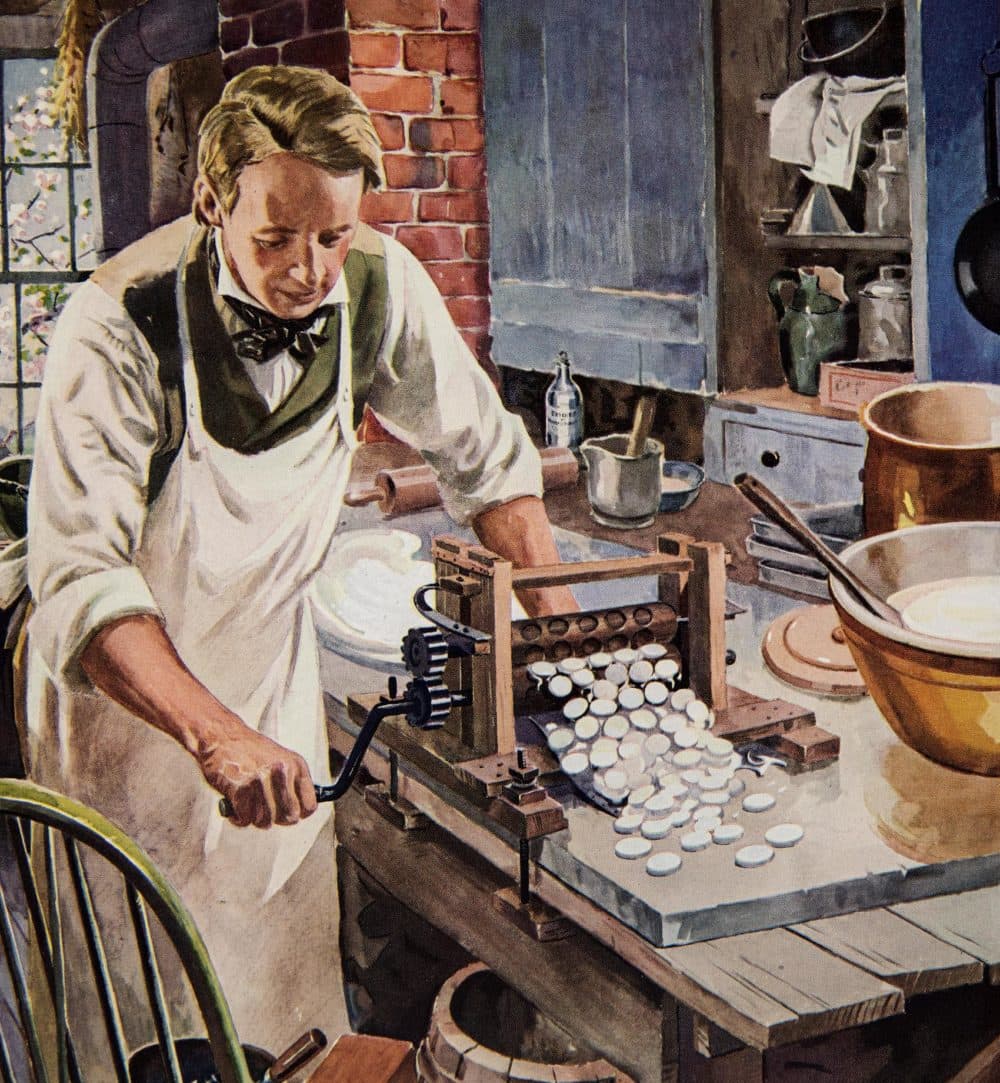 Then there's the chocolate. In 1764 John Hannon and James Baker opened the country's first chocolate mill in Dorchester. Standing over a modern merchant case Benjamin pointed to a few classic confections.
"Some of the chocolates that you see here in Quincy Market really are the chocolates you would have found during the 1800s and into the early 1900s," she told me, "We have the Nonpareils, the chocolate covered almonds, the covered peanuts — oh my gosh, people loved those then!" With a gasp Benjamin added, "and we have the dark chocolate covered ginger!"
 Colonists used chocolate as a weapon against the British, drinking it instead of taxed tea. It was also considered good for virility.
"This is aphrodisiac central," Benjamin mused before explaining how candy butchers – as they were called – peddled cheap sweets to working class lovers. Rich truffles made in the French fashion and caramels enrobed in chocolate became the gift of well-to-do, male suitors "who would go to the home of the woman dressed just so with this luscious box of chocolates," Benjamin said. "They had these voluptuous roses on the top that were very womanly (meaning they evoke vaginas) and were part of the arsenal of aphrodisiacs."
As with so many holidays, Valentine's Day has always been about marketing. Seductive advertising drove demand for increasingly amorous presentations, including a blockbuster marketing tool we still find on drugstore shelves today.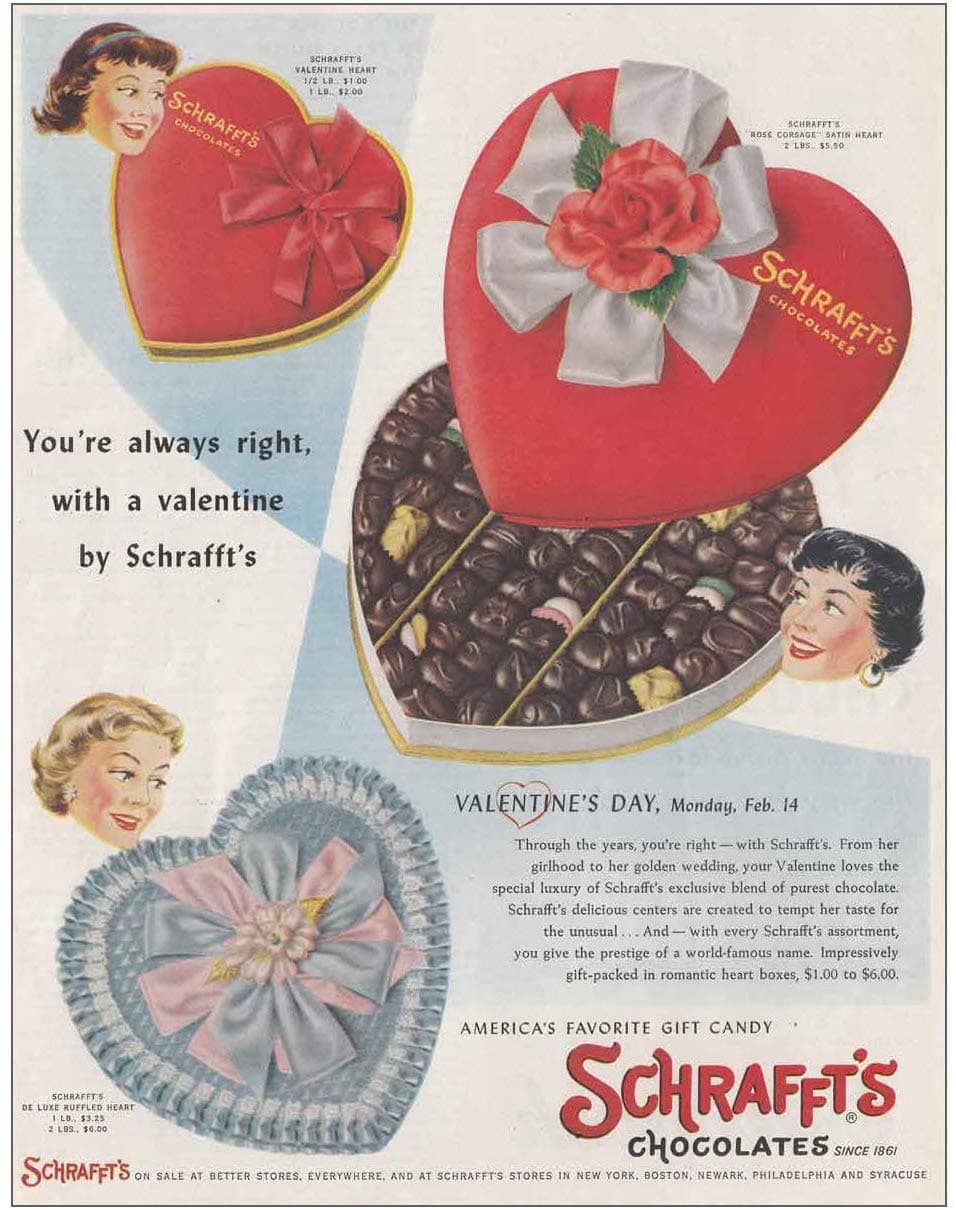 "The heart-shaped box started in 1861 in England with the Cadburys," Benjamin said, "and morphed into the many different iterations here," including the fanciful hearts from the boxed chocolates giant Schrafft's in nearby Charlestown that were festooned with flowers and satin ribbons.
To capture the real essence of Valentine's Day Benjamin said we had to leave Faneuil Hall and head to Cambridge, but we swing by the old Schrafft's plant on our way. As we get out of the car Benjamin told me it's the place where a guy named Frank Shadduck marketed the heck out of fancy chocolates. He took over William F. Schrafft's Boston-based company in 1898 and moved it to this new building in 1928.
"It's so majestic, and it wound up influencing Valentine's Day candy and so many things," Benjamin said.
Schrafft's shut its doors in 1981.
Back in the car Benjamin excitedly told me how cool it is to be physically following the timeline of candy development. "It went from the Boston candy companies which wanted to expand into Cambridge."
On Main Street we pass bio-tech companies housed in glass and steel, but Benjamin said in the mid-1900s more than 60 brick factories cranked out six million pounds of candy a year here. That heyday earned this stretch of road the nickname Confectioners Row. Today, after NECCO relocated to Revere where it ultimately shut down, only one candy company remains.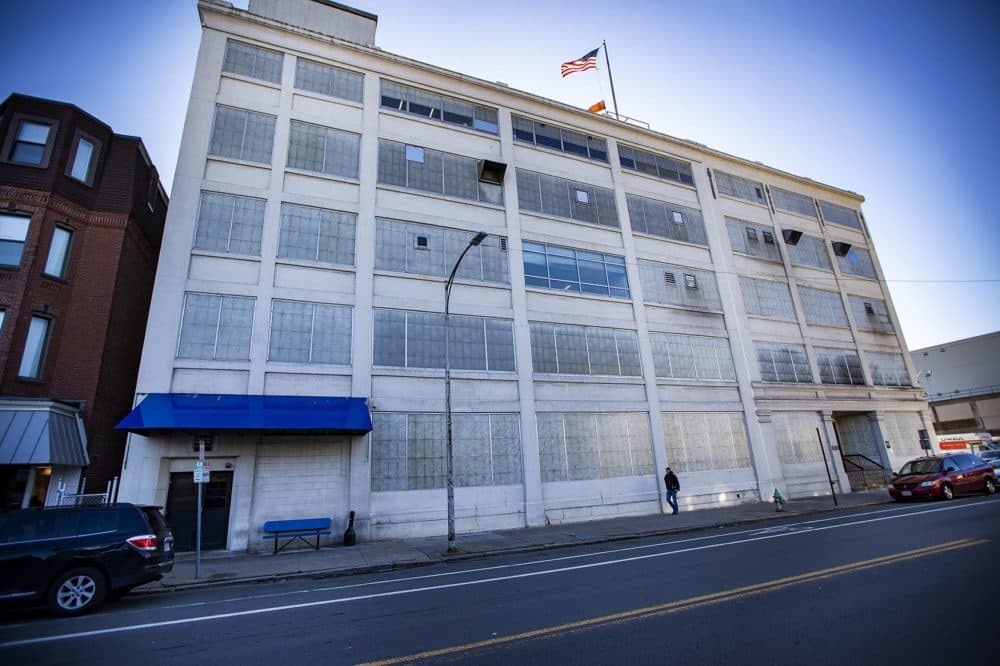 "Cambridge Brands is so discreet you wouldn't notice it," Benjamin said as we approached a building that used to house the Boston Confectionery Company, "And inside there's this big world, reflecting the old world of candy making here in Cambridge."
I've passed this whitish-gray exterior for years not knowing it's owned by Tootsie Roll Industries. There's a tiny sign out front that looks like the famous candy's wrapper. Here in Cambridge the company (which owns other seven plants in places including Tennessee, Chicago and Mexico) still makes the Charleston Chew, Sugar Babies and, since 1928, the Junior Mint.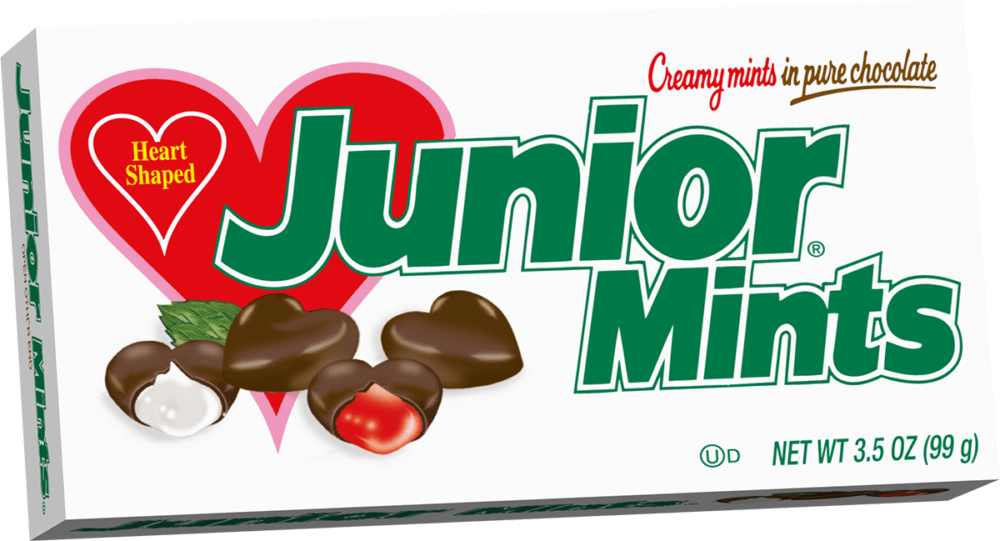 "To this very day they're pumping out millions and millions every week," Benjamin said as we pulled to a stop, including what she described as the "last holding to Boston as Valentine's central – the Junior Mint shaped in a heart."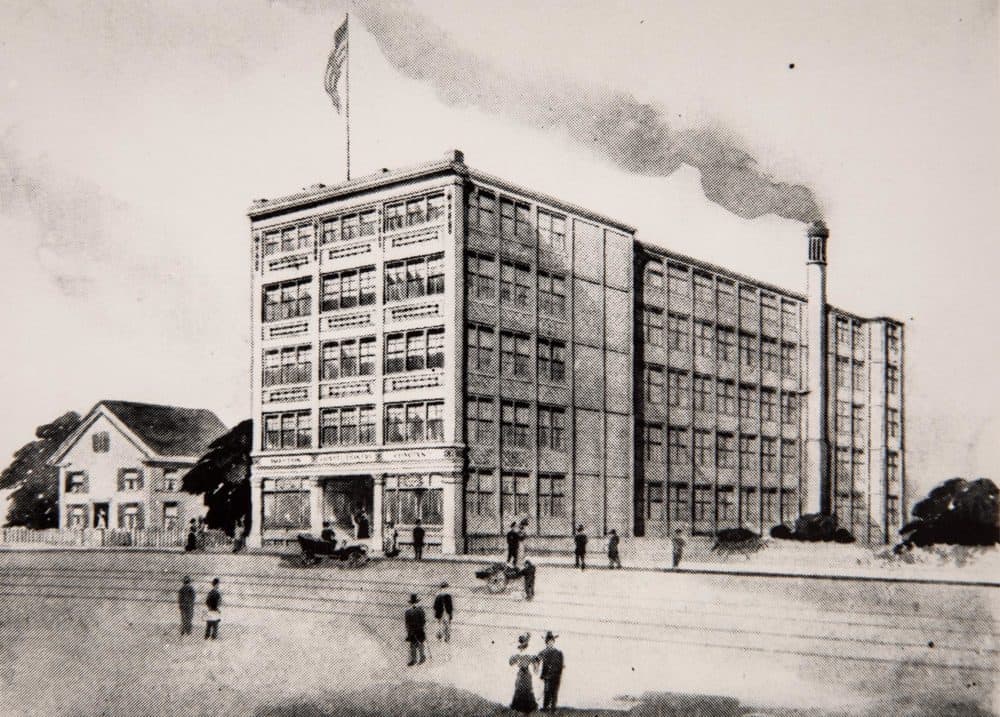 As a kid Benjamin, who's now 66-years-old, inhaled the smells of mint and chocolate wafting through the streets – so of course we had to get out of the car.
"Yup, smell it?" she asked, urging me to stand down wind. The intoxicating aromas of chocolate, mint and caramel enshrouded the homes around Confectioner's Row where immigrants — including Benjamn's great grandparents – made their new lives. She believes the sweet air delivered feelings of love, possibility and privilege.
"It was about well-being, and it was about family love, and romantic love," she said, "which really is what we find when we open a red box of chocolates, it's about having something better than our daily lives, and just loving this smell. It was so emotional."
And Benjamin said, it still is.