A Spirited Live Action 'Call Of The Wild' Strays With CGI Canines
"Never was there such a dog." — John Thornton in Jack London's "The Call of the Wild"
"There was no dog, Jimmy." — Harrison Ford on "Jimmy Kimmel Live"
The toughest things to wrap your mind around while watching "The Call of the Wild," director Chris Sanders' spirited, live-action/computer animation hybrid adaptation of Jack London's 1903 classic about a noble sled dog discovering his destiny in the Yukon, are that the CGI protagonist doesn't really look or act all that much like an actual dog and that he never quite appears to be occupying the same physical space as his human co-stars.
A motion-capture creation "performed" by renowned stuntman and Cirque du Soleil star Terry Notary, Buck is a massive, lumbering mutt — 140 lbs. according to the novel — who leaps and frolics in over-exaggerated gestures, pulling faces with the same style of hyper-detailed, distractingly dead-eyed digital animation familiar from last year's "The Lion King" remake. While this isn't nearly as terrifying as those creepy Dr. Moreau creatures from "Cats," once you've got the idea in your head it's awfully hard to get over how much Buck moves around like a dude pretending to be a dog.
You're probably wondering why they didn't just hire a dog, which seemed to work out fine for at least four previous adaptations of this story. (A fifth, from 1978, starred Snoopy.) But I think maybe the whole point of this particular effort was to play around in the area between what our eyes accept as live action and what we can tell is augmented imagery, leaning into the artificial qualities for a storybook effect that's occasionally enchanting when it isn't just kind of weird. "The Call of the Wild" boasts several boldly expressive set pieces excitingly untethered from the quotidian concerns of "photorealistic" animation, and then at other times is so sloppily stagebound it can't even convince us that these characters are standing outside. This is an Alaskan adventure shot in Los Angeles, and it shows.
It's a curious experiment, yet perhaps even more perplexing was the choice to adapt this particular novel, which I guess everyone remembers enjoying in elementary school but is rather a much more vicious piece of work than you may recall. Our bumbling buddy Buck devolves from pampered pet to subjugated slave, eventually unshackling himself from civilization and getting back in touch with his animal instincts to become "the dominant primordial beast." (Screenwriter Michael Green excises a lot of London's vintage racism, and obviously scraps the book's ending in which Buck becomes a local legend by ripping out the throats of Yeehat savages who slaughtered his master.)
This version puts a much kinder, gentler spin on the material, basically saying that after all these misadventures Buck would rather go play in the woods with some friendly wolves, and can you blame him? Sanders previously directed Disney's lovely "Lilo & Stitch," as well as DreamWorks' surprisingly splendid "How to Train Your Dragon," so he knows his way around his anthropomorphism, and there's a real visual wit with which he unfurls unexpected sight gags. He's got most of the cast decked out in bold, bright costumes delivering shouty, oversized turns, like we're watching a cartoon that just so happens to have people in it.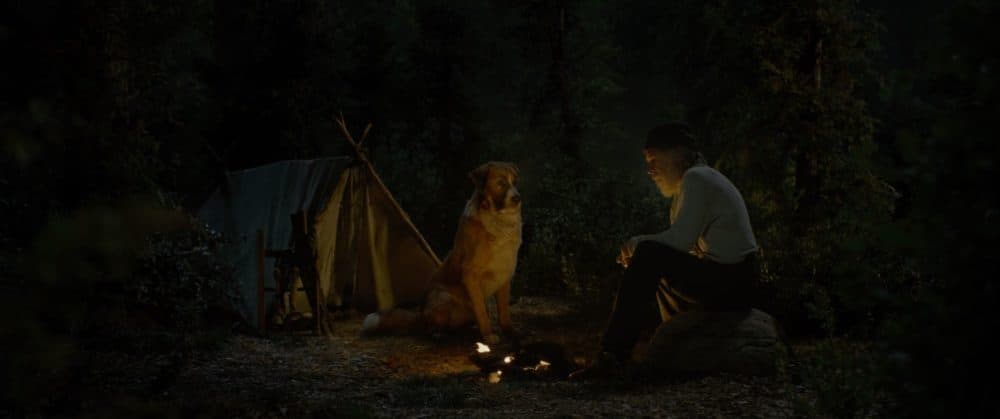 It's an approach that works during the story's sillier sequences, less so when things are supposed to get scary or sad. The movie's ace in the hole, however, is an absolutely gorgeous, perfectly modulated performance by Harrison Ford as John Thornton, the last and most beloved of masters Buck serves during the film. With great humor and a shaggy Dan Haggerty beard, Ford takes over the whole second hour of the picture, giving us the touching tale of a closed-off, grieving loner who drinks too much and only slowly becomes his best self again thanks to the loyal companionship of his furry friend.
Such a strange career Ford has had, unable to disguise his contempt for so many phoned-in projects over these past couple decades and yet on rare occasions when his interest is sparked — as it clearly is here — there's nobody who can strike up such an easy rapport with the audience. After four flights in the Millennium Falcon, he's also proved himself peerless when it comes to palling around with comically oversized canines that don't actually exist, so I guess I shouldn't be surprised at how moved I was by his relationship with Buck. "The Call of the Wild" gets better as it goes along because Ford does what millions of dollars in special effects can't pull off. He makes you believe the dog is real.
(POSTSCRIPT: In a bizarre coincidence of cinema history, director William Wellman's 1935 "The Call of the Wild" — which starred Clark Gable as Thornton opposite a real live dog — was the last film released by Twentieth Century Pictures before it merged with the Fox Film Corporation to become Twentieth Century Fox. This 2020 adaptation was produced by Twentieth Century Fox before Disney's recent absorption of the company and is now going out as the first film under the entertainment monolith's new Twentieth Century Studios banner. Onward with progress, I guess. Mush.)