Paying Tribute To A Hollywood Legend, The Brattle Honors Kirk Douglas
This article is more than 3 years old.
When Kirk Douglas passed away earlier this month at the age of 103, it felt like the end of an era. I guess Olivia de Havilland is still hanging in there — she turns 104 this July — but the man who played Spartacus was one of our last living connections to Hollywood's Golden Age. Even in his declining years, he remained such a swarthy, virile specimen I sometimes wondered if Kirk Douglas might be around forever. (He outlived the author of his Boston Globe obituary by six years.) Though later in life he liked to joke that he was now mainly famous for being Michael's dad, the elder Douglas left behind a fascinating filmography full of idiosyncratic choices with a progressive, anti-authoritarian bent. This week, the Brattle Theatre is screening three of Kirk's finest films, showcasing the risks and range behind that toothy smile and the iconic, dimpled chin.
First up is Jacques Tourneur's 1947 "Out of the Past," only the third big-screen role for Douglas and one in which his smiling, sinister tycoon learns the hard way that you should never send Robert Mitchum to Mexico with your girlfriend. It's about as much fun as film noirs get, with nearly every line of dialogue a hard-boiled zinger and so much nicotine-stained ambience Roger Ebert heralded it as "the best cigarette smoking movie ever made." (There's a great throwaway gag in which Douglas offers Mitchum a butt. The star gestures with the one burning in his hand and replies, "Smoking.")
Douglas was best known for his hero roles but the guy sure could play a son of a gun, and the seething entitlement beneath his patrician pleasantries brings an electric undercurrent to all the passive-aggressive banter with Mitchum's hepcat detective. It's an inspired pairing, pitting Douglas' rictus grin against Mitchum's sleepy-eyed insouciance. "Baby, I don't care" may be our hero's most famous line but one gander at Kirk's white-hot glare makes it clear that this villain cares entirely too much. I also adore Douglas' assessment of an underling who "couldn't find a prayer in the Bible."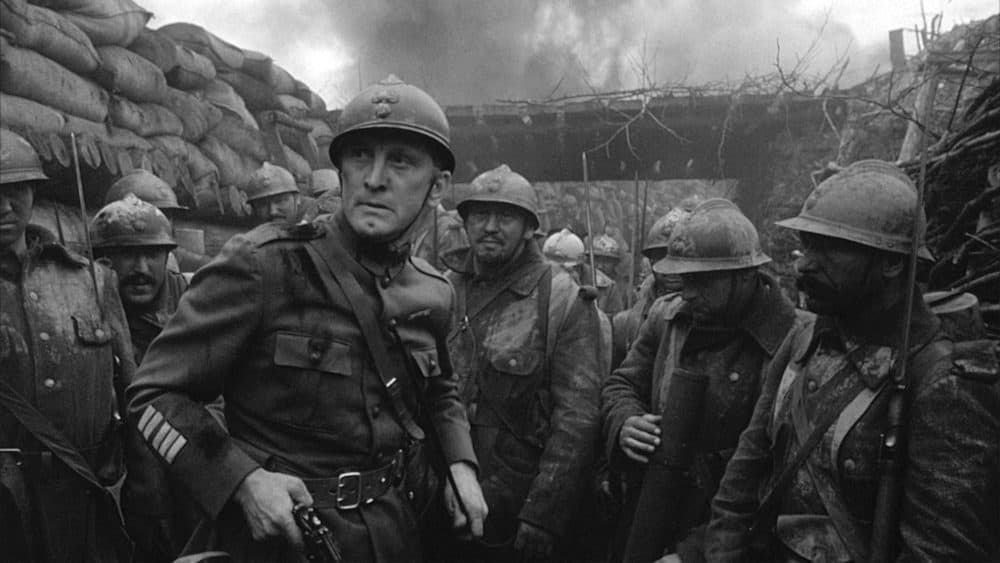 By 1957, Douglas was producing his own pictures and had become a big enough star to take a gamble on an up-and-coming young filmmaker named Stanley Kubrick. Their "Paths of Glory," which closes out the Brattle series on Thursday is one of the finest anti-war statements ever filmed and the picture in which this director's diabolical genius first fully flowered. Like most Kubrick movies, it's about a broken system collapsing under its own faulty logic — this time the French army in WWI, where Douglas must defend three soldiers charged with cowardice after the failure of a stupidly-conceived suicide mission.
Kubrick's gravely absurdist perspective is clear from the outset, as generals in opulent staterooms debate appropriate percentages of men to be expended on a military target called "the anthill." Seven years hence, the director would tweak these same kinds of conversations about two degrees to the left for the mordant satire of "Dr. Strangelove," but "Paths of Glory" remains one of his straightest, most despairing films. Never has the gross wastefulness of war been depicted with such clarity as Kubrick's mournful tracking shots through the endless, filthy trenches (an approach thoughtlessly pilfered by a recent Best Picture nominee).
"Paths of Glory" was based on a novel by Humphrey Cobb. According to legend, during production the director flinched at the book's downer ending, asking his co-writers Calder Willingham and Jim Thompson to come up with a last-minute reprieve for these doomed men. But Douglas was having none of it, insisting on the integrity of the original story, box office be damned. (The film did not do well, though it's now universally regarded as a masterpiece.) The closest we get to catharsis is the star's spectacular pronunciation of the word "degenerate" during a final, ineffectual rant.
The one role that got away from Douglas was that of R.P. McMurphy in Ken Kesey's "One Flew Over the Cuckoo's Nest." He owned the property for years and even played the character in a short-lived stage production, but by the time the film finally got made, its producer — who just so happened to be Douglas' son Michael — felt he'd grown too old for the part and cast Jack Nicholson, the next generation's toothy iconoclast, instead.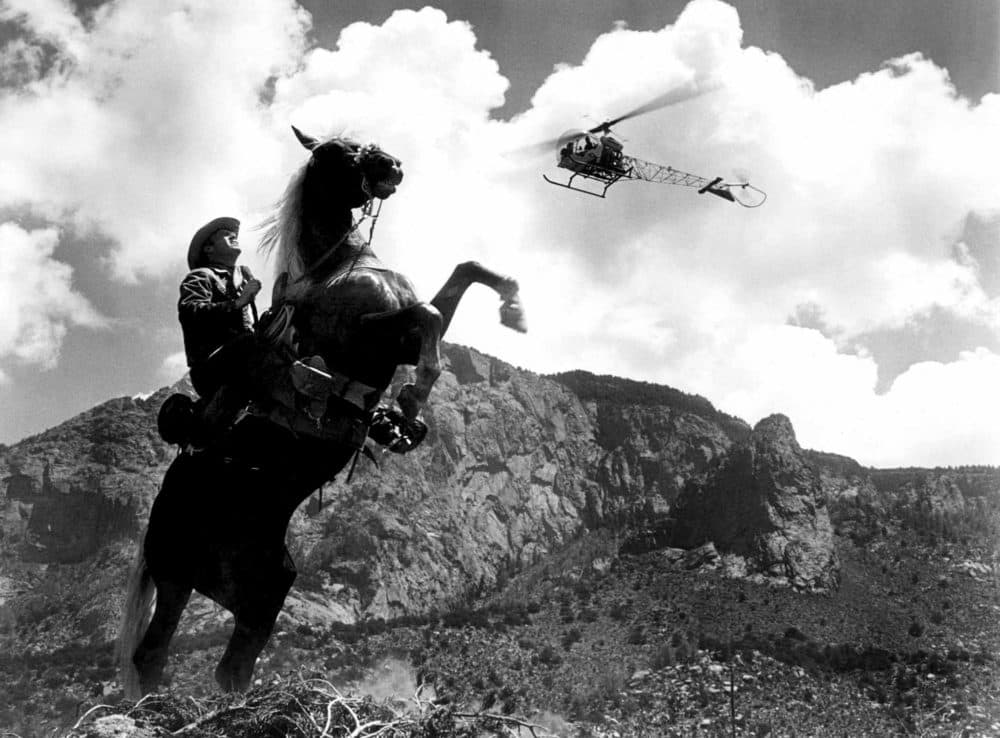 The closest Douglas got to playing Kesey's inpatient anarchist was in a role he often cited as his favorite, fugitive cowboy John W. Burns in 1962's "Lonely Are the Brave," which screens at the Brattle on Wednesday. Adapted from a novel by radical environmental activist Edward Abbey, the film stars Douglas as a larger-than-life figure ill-suited for the smallness of contemporary life. Seeking to help a friend facing a stiff prison sentence for aiding undocumented immigrants, Burns punches a cop to get himself locked up so that he can bust his buddy out. He's a brash, ferociously charismatic figure out of step with the modern age, a relic from another era right down to his Western duds.
Screenwriter Dalton Trumbo (with whom Douglas had helped break the blacklist via "Spartacus" just two years before) gives the actors so many big, deliciously meaty speeches that it's something of a disappointment in the film's second half when it settles into being a straightforward chase movie. Far more exciting than the admittedly excellent stunt work is the film's shrewd contrasting of performance styles, playing Douglas' old-school superstar charisma off of hangdog character actors like Walter Matthau, George Kennedy and Carroll O'Connor. A stunning sequence of scenes between Douglas and Gena Rowlands is all the more marvelous for the things that remain unsaid, a master class in showing what can't be told.
Douglas had such a smart understanding of his stardom that he was already using the role of Burns to comment on it barely a decade and a half into a career that would continue for another 40-odd years. "Lonely Are the Brave" is a great film to remember him with — the story of a difficult, outsized idealist, the likes of whom we won't see again anytime soon.
---
"A Memorial Tribute to Kirk Douglas" runs at the Brattle Theatre from Tuesday, Feb. 25 through Thursday, Feb. 27.