How To Cast Your Vote Early In Boston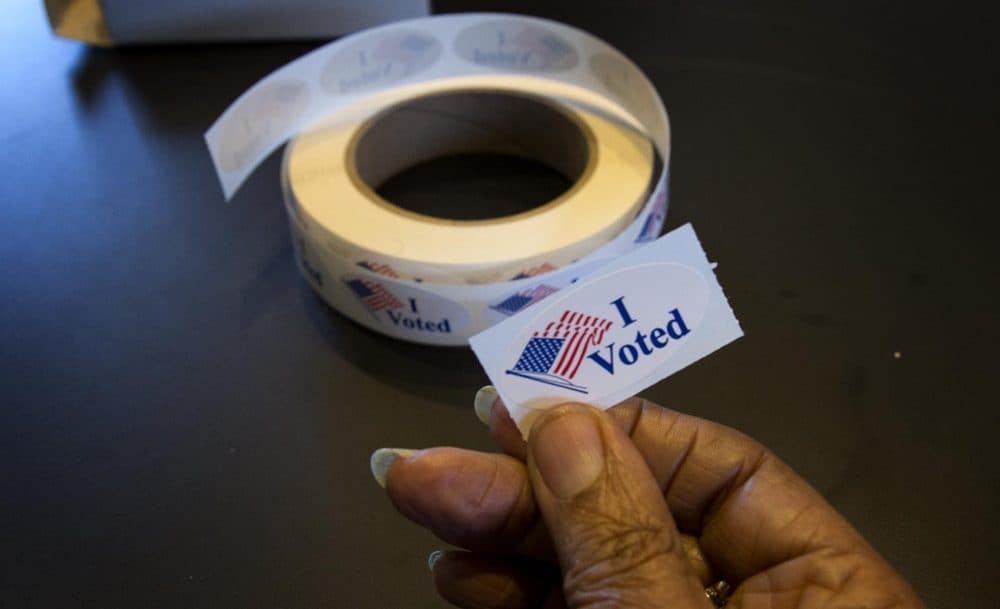 If you live in Massachusetts, you don't have to wait until March 3 to vote in the presidential primaries. Early voting is available this week to all registered voters throughout the state.
Boston Elections Commissioner Eneida Tavares says early voting means people don't have to stand in long lines on Election Day.
"You don't have to go to your specific precinct as you would on Election Day," she says. "You can go to any early voting site that is convenient for you at a time that's convenient for you." Your polling location in your town or city may not be the one it is on Election Day, so check in with your election officials to make sure you know where to go.
Boston
In Boston, City Hall will be open for voting Monday to Friday, from 9 a.m. to 5 p.m. It's the only option for voting on Monday, Wednesday and Friday.
Tuesday, the following locations will be open for voting from noon to 8 p.m.:
Copley Square Library, 700 Boylston St., Boston
East Boston High School, 86 White St., East Boston
Jackson Mann School, 500 Cambridge St., Allston
James F. Condon Elementary School, 200 D St., South Boston
The Dewitt Center, 122 Dewitt Dr., Roxbury Crossing
ABCD Thelma D. Burns Building, 575 Warren St., Boston
Thursday, the following locations will be open for voting from noon to 8 p.m.:
All Saints' Church, 209 Ashmont St., Dorchester
Another Course To College, 612 E. Metropolitan Ave., Hyde Park
Margarita Muniz Academy, 20 Child St., Boston
First Parish Church of Dorchester, 10 Parish St.
Mildred Ave. Community Center, 1-5 Mildred Ave., Mattapan
Roche Community Center, 1716 Centre St., West Roxbury
Get more information at the city's website.
Cambridge
Cambridge will have six early voting locations open throughout the week to all Cambridge registered voters, including City Hall and the Election Commission office.
Somerville
Registered voters in Somerville will be able to cast ballots exclusively at City Hall.
Elsewhere
Residents of other Massachusetts cities and towns can check the Secretary of State's website for polling locations in their community.
Registered voters in Massachusetts can also vote by mail by downloading an early ballot application and mailing it to their local election official.
Fausto Menard Newscast Writer and Digital Producer
Fausto Menard is a freelance newscast writer and digital producer at WBUR.