Gas Tax Increase, New Uber Fees Among Proposals In House Transportation Bill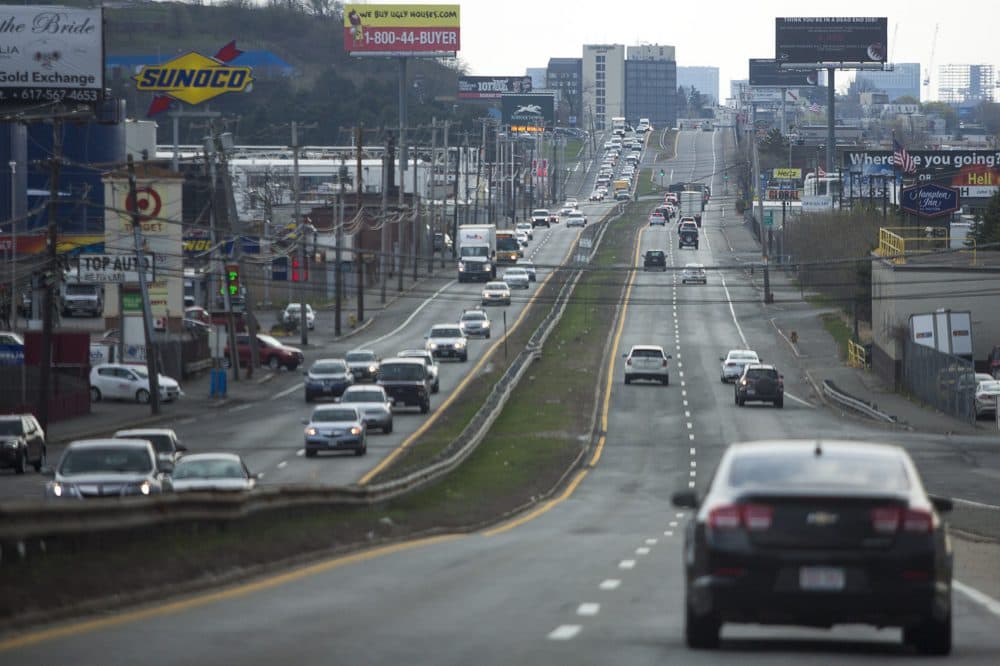 This article is more than 2 years old.
Massachusetts drivers will pay 5 cents a gallon more for gasoline under a proposal released Wednesday by House leaders.
The fuel tax hike is just part of a revenue package the leaders say will bring in an additional $522 million to $612 million for transportation needs in the state. Other proposed changes will affect the corporate minimum tax, taxes on Uber and Lyft rides, and what rental car companies pay the state for their fleets.
"When it comes to our transportation system, revenue can't wait. Revenue can't wait any longer," said House Speaker Robert DeLeo during a briefing with reporters.
"We've had some major derailments, and failures of the new Orange Line cars, train fires, and persistent delays that have demonstrated a need for an immediate infusion of funds," DeLeo added. The Winthrop Democrat also noted that commute times have increased in recent years for drivers and bus riders.
Under the proposal, gasoline taxes will go from 26.54 cents a gallon to 31.54 cents a gallon. The state tax on diesel fuel will jump from 26.54 cents a gallon to 35.54 cents a gallon. The gasoline and diesel fuel hikes are estimated to bring in an additional $182 million to $207 million annually.
In addition, the bill creates a new, 9-tiered system for the corporate minimum tax. House Revenue Committee Chairman Mark Cusack of Braintree said it's estimated 60 to 60% to 70% of corporations in the state pay the minimum corporate tax rate of $456 dollars a year, a rate that has not been raised since 1989.
"From the most recent data we could get from the Department of Revenue, there were 403 corporations with over a billion dollars in sales in 2016 that paid $456 in the corporate minimum tax," said Cusack.
Under the proposal, small businesses in Massachusetts with less than $1 million in sales would continue to pay the minimum. The corporate tax would be capped at $150,000 for companies with annual Massachusetts sales of $1 billion or more.
If passed, the proposal would hike fees on most transportation network company (TNC) services like Uber and Lyft. Fees on shared rides, like those taken through Uber Pool, would stay at the current 20 cents per ride. The fee on non-shared rides would go up $1, to $1.20 cents a ride. And the fee on non-shared luxury rides would go up a dollar on top of that, however the tax on shared rides would not go up.
The House bill would also lift the exemption rental car companies enjoy on sales taxes for their fleet. Currently, the companies do not have to pay sales tax on a vehicle purchased and registered in Massachusetts. If passed, those vehicles purchased in Massachusetts would be subject to the state's 6.25% sales tax.
House leaders stressed that the additional money isn't just for the MBTA. $15 Million would be transferred to Regional Transit Authorities (RTAs) from the Commonwealth Transportation Fund, along with an extra $27 Million raised from the increase in TNC fees. $10 million would be earmarked for rural transit assistance.
Senate President Karen Spilka said her chamber was ready to work on the issue.
"Having worked on these issues for many months through the Transportation Working Group, the Senate looks forward to beginning in earnest the exchange of ideas between the House and Senate that will result – we hope – in a safer and more effective transportation system for the entire Commonwealth,"Spilka said in a statement released Wednesday afternoon.
The House is expected to take up the revenue package during a formal session next week, as well as a transportation bond bill that will set priorities for the spending.
This article was originally published on February 26, 2020.