What To Know About Voting In Mass. On Super Tuesday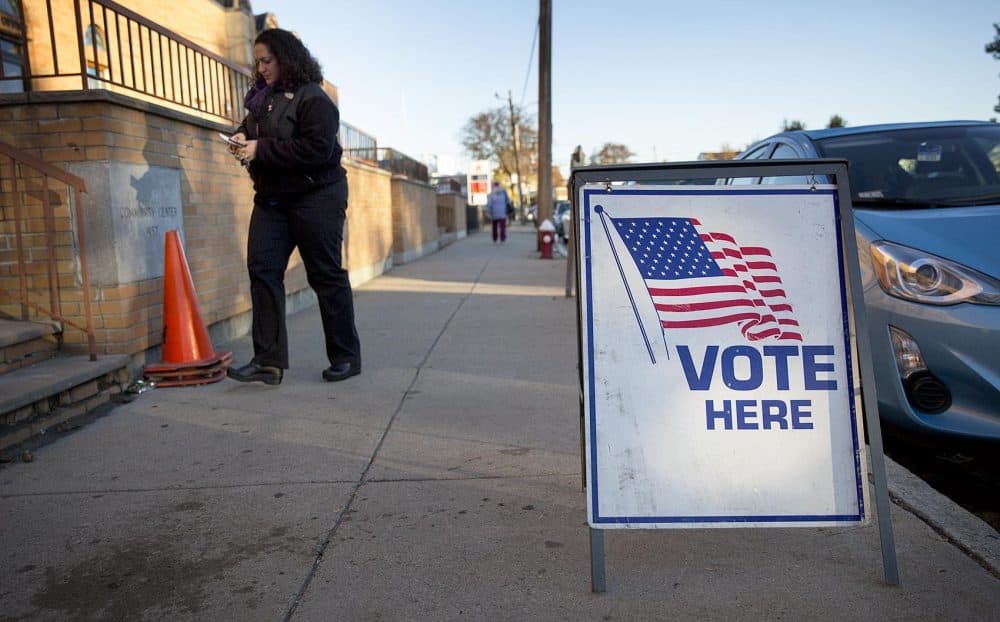 Tuesday, March 3 is not your average Tuesday; it's "Super Tuesday," where Massachusetts joins 13 other states, American Samoa and Democrats living abroad in voting in the presidential primary. Two of those states are Texas and California, making the day a potentially decisive one for the Democrats running for president.
Who's On Your Ballot?
You can see who's on the ballot for the presidential primaries for the following parties: Democrat, Republican, Green-Rainbow, Libertarian (Note: You'll see some ballots have candidates on them who have already suspended their campaigns. This is because the ballots were printed before the candidates announced they were leaving the race).
If you are registered as a Democrat, Republican, Green-Rainbow or Libertarian, you can only vote on the ballot of the part you are registered for. If you are "unenrolled," or registered for any other party other than the four mentioned, you can select any one of the ballots without having your party designation changed.
In addition to selecting a candidate for the presidential primary, you may also vote to elect members of your party ward and town committees. Check to see specifically who will be on your ballot here.
But before we get ahead of ourselves, make sure you're registered to vote, and find out where to vote in your town or city.
Voting: How Does It Work?
Polls across Massachusetts will be open from 7 a.m. to 8 p.m. (and some locations may open as early as 5:45 a.m.) If you're in line at 8 p.m., you can still vote.
If you can't make it to vote in person, you'll have to have secured an absentee ballot and must return it to a local election office by noon on Monday, March 2.
You may be required to show your ID when you check in at your polling place, the state says, under these circumstances:
It's your first time voting in Mass. in a federal election
You're an inactive voter (meaning you were previously registered but removed due to not voting)
The poll worker has "a reasonable suspicion" that leads them to request ID
You're casting a provisional or challenged ballot; these ballots can be given when — for another reason — your ID is requested and you don't have it on you. (Note: You'll need to return with a valid ID before the polls close for your provisional ballot to count.)
You can find out what qualifies for an acceptable identification request here.
If you think your right to vote has been violated, call the Secretary of the Commonwealth's Elections Division at 1-800-462-VOTE (8683).
Voter Voices And Election Results
We'll be frequently updating our website and on-air broadcasts with scenes from the polls, and ultimately, results Tuesday. You also can follow us on Twitter, Instagram and Facebook for the latest election news.
Editor's note: This article has been changed to correct information about party designations and voting.