Mass. GOP Voters Like Trump More Than Their Republican Governors
Massachusetts Gov. Charlie Baker is one of the most popular governors in America. His old boss, former Mass. Gov. Bill Weld, won his 1994 election in a 40 point wipeout, carrying 346 of the state's 351 cities and towns. Another Republican governor, Mitt Romney, didn't quite reach Weld's level dominance when he was governor in the early 2000s, but he was durably popular — at least until his gaze strayed toward national office.
The state Republican party kept putting up popular gubernatorial candidates, and Massachusetts kept electing them.
That was then. This is now.
Since that time, the state has divided, with Republican voters turning sharply toward the politics of President Donald Trump and away from their current and former GOP leaders. A new WBUR poll of likely Massachusetts Republican primary voters finds the three governors viewed with something between suspicion and contempt among their own partisans. Far more Republican primary voters in the state say that President Donald Trump (63%) is a better model for Republican politicians than Baker (27%).
Weld and Romney have been all but flattened by the Trump train as it barrels across Massachusetts, with deeply negative favorability ratings among their own partisans. Baker is left waiting on the platform as the cars overflowing with MAGA hats zoom through the station.
All three are far less popular with Republican primary voters than the man who will be at the top of the national ticket this year, Donald Trump. Pollsters and politicos often discuss popularity in terms of "net favorability," which is simply the difference between the percentage who view a person favorably, and the percentage who view the person unfavorably.
For Charlie Baker, 50% of Republican primary voters view him favorably, and 36% unfavorably, for a modest +14 net favorable rating. Weld, who is running an insurgent bid against Trump, is 31 points underwater with GOP primary voters. Romney, who was the lone Republican to vote to convict Trump of abuse of office last month, is even more reviled (-37). Meanwhile, Trump soars, with +70 net favorables among GOP primary voters.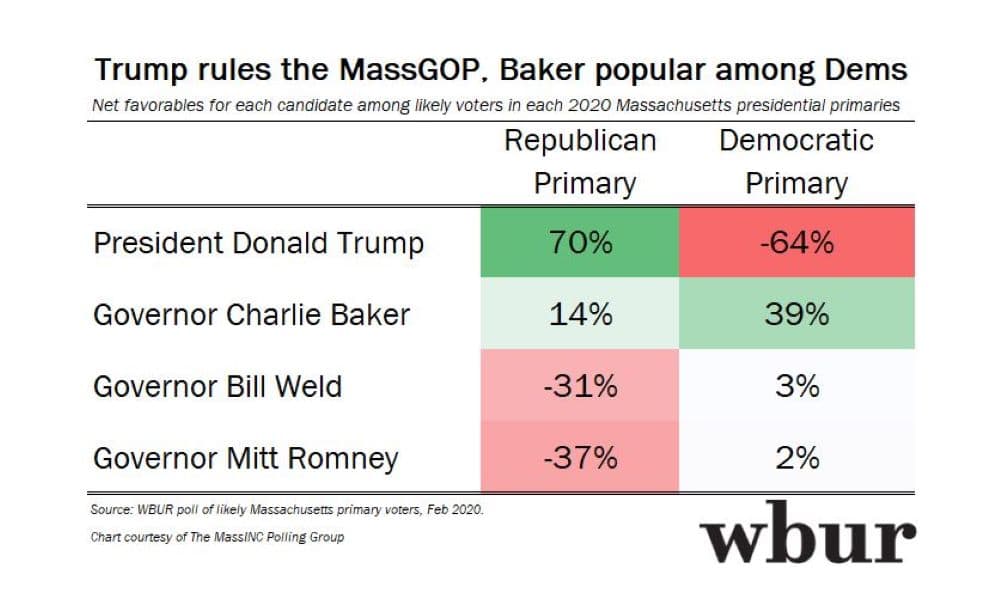 These numbers highlight the limits of the current governor's influence over his own party. Charlie Baker is far and away the most powerful Republican in the state, but his sparkling figures come more from the other side than his own. He often struggles to use his power to influence his own party.
A tidy illustration of this reality is the battle for control of the state committee, an obscure but influential group of party leaders who are elected by popular vote. After pro-Trump candidates took control and elected Trump's state campaign chair to head of the party, they have been in a periodic war with team Baker.
This year, Baker and his allies are trying to win back the state committee, with the vote this Tuesday. Their tactics, as reported by the Boston Globe, illustrate the depth of the alienation between Baker and the majority of the party's voters. The Baker team's mailers use photos of President Trump, and language and ideas more related to Trump than to Baker — despite Baker long declining to endorse Trump.
In many ways, the state's Democratic party is picking up the shattered pieces of the old Massachusetts Republicanism. Their voters certainly have adopted Charlie Baker, whose +39 net favorables among Democratic primary voters is higher than any of the Democrats running for president, including home state Sen. Elizabeth Warren. Weld and Romney are also seen more favorably among the Democratic party electorate.
In other words, Republicans prefer Trump to Baker, Democrats prefer Baker to their own candidates. It's an open question whether Baker, if he were introducing himself as a candidate today, would even win the Republican primary, while he might fare pretty well among Democrats.
This Tuesday's primary appears set to feature Donald Trump walloping the once wildly popular Gov. Bill Weld. The results will also tell us whether Baker can salvage any influence in his own party by taking back control of the committee that runs it. That will say a lot about where the party is headed.