Stockpiling Mass. Shoppers Clean Out Shelves Amid Coronavirus Concerns
Play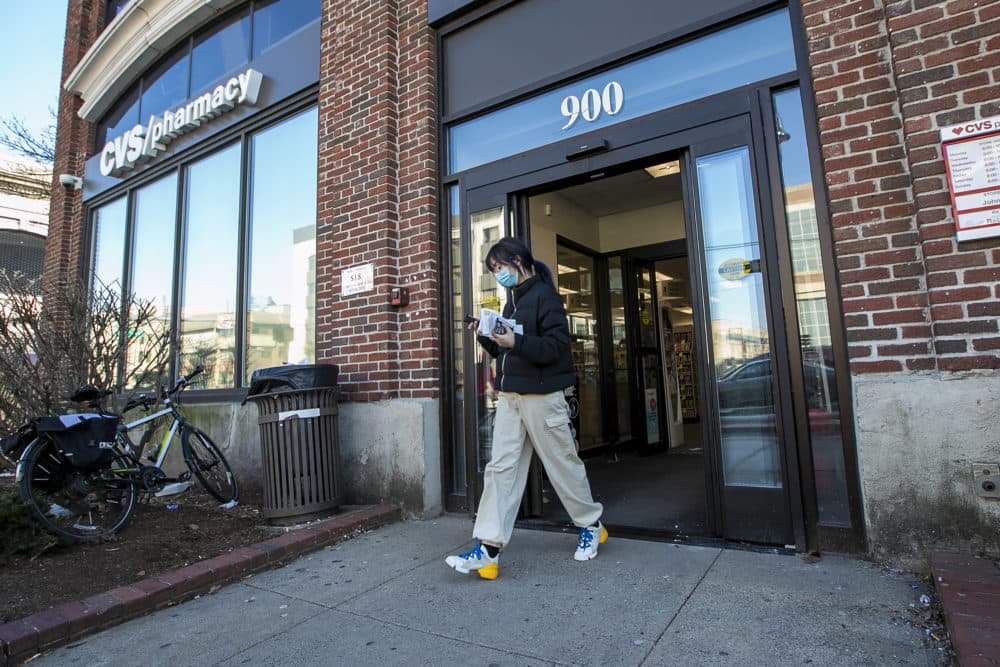 This article is more than 2 years old.
Hand sanitizer. Cleaning wipes. Pasta sauce. These are just some of the items customers are loading up on at one local retail chain. Many people appear to be heading the advice of public health experts to stock up on essential items in case the new coronavirus spreads.
"I just bought regular santizers. I bought some cold and flu things," said Boston University sophomore Jack Carignan as he walked out of a CVS near campus with his items in a large paper bag.
Carignan said he's no more concerned about coronavirus than he is about other viruses that tend to go around this time of year.
"During the winter I generally just stock up on [hand] sanitizer and stuff like that, but nothing over the top this year," Carignan said. "I mean, I'm more cautious about not touching my eyes and face and things. But in general no, I'm not overly concerned or changing up my routine."
While coronavirus is expected to spread in the U.S., public health officials say the best precautions are ones we should normally take against the flu: Stay home if you're sick; Cover your coughs and sneezes; and please wash your hands often.
Public health experts have emphasized that right now, there's still a higher risk of catching the flu.
But when it comes to preparing for a potential coronavirus outbreak, many people are heading to the cleaning aisle of their local store.
"Yes, we can confirm that we're seeing increased sales on items like hand sanitizers, disinfecting wipes, Lysol sprays, bleach and other cleaning products," said Stop & Shop spokeswoman Jennifer Brogan. "And this is something we're seeing across all the states we operate in."
Brogan said customers are also stocking up on food items like rice, canned vegetables and pasta sauce.
"We're working with our suppliers and distributors to keep these high demand products available and in stock, and in some cases makers of household cleaning supplies and sanitizers are ramping up production," Brogan said. "We're just doing our very best to stay stocked with these items our customers are looking for."
Other retailers said they're experiencing a rush for certain products too, including Walgreens and CVS.


Kathryn Hall, an assistant professor at Harvard Medical School, stopped into a CVS on Commonwealth Avenue. She said she's worried about coronavirus and has already bought food.
"I stocked up at Whole Foods," Hall said. "I got like beans and things that can last a long time. I got like 10 cans of tuna and some frozen meats."
Hall said since she travels for work and attends conferences, she feels it's important to be prepared.
"It might come to nothing, and it would be great if they were able to stop the spread of the virus. But it doesn't hurt to have a certain amount of caution," Hall said.
Many people have rushed to purchase masks since the new coronavirus outbreak began spreading beyond China, leaving some stores with empty shelves. In Massachusetts, public health officials are not recommending masks for everyone — but they say if you are sick, a mask could help prevent your germs from spreading.
Meanwhile, the coronavirus has made some shoppers wary of another item: Corona beer — at least according to a couple of recent surveys.
"As soon as I get a chance, I'm going to get a case or two of Corona beer because that's kind of ridiculous if people can't tell the difference between Corona beer and coronavirus," said CVS customer Sue Conte.
Conte said she's not concerned about coronavirus.
"I think it should be something we should think about as part of our general health and welfare, whether it's the flu or coronavirus or whatever it is," Conte said. "Just be smart, pay attention to your body and do the best. But don't go over board about things. That's my opinion."