Boston's First Retail Cannabis Shop Opens To The Public
The city of Boston's first adult-use retail cannabis store opened for business Monday in the Grove Hall area of Dorchester. About three dozen people were in line when Pure Oasis opened its doors to the public.
Cashiers inside the Blue Hill Avenue shop were kept busy ringing up sales for customers. Pure Oasis currently has 34 employees, and they expect to hire 16 more. It's the first black-owned applicant to open in the state, a source of pride for co-owner Kevin Hart.
"You know, we set out on this journey a long time ago to show people who look like us that if you work hard, and you persevere, then success is still to come," said Hart shortly after the store's first sale was made.
Co-owner Kobie Evans predicted the store will be a benefit for the neighborhood, and will help to offset some of the negative effects caused by the war on drugs, and create balance.
"That's what equity is, is its balance," Evans said. "You balance out what has happened in a negative light and create something positive in the community."
He said many of his employees walk to work, and since some have criminal backgrounds, the business is trying to give them second chances.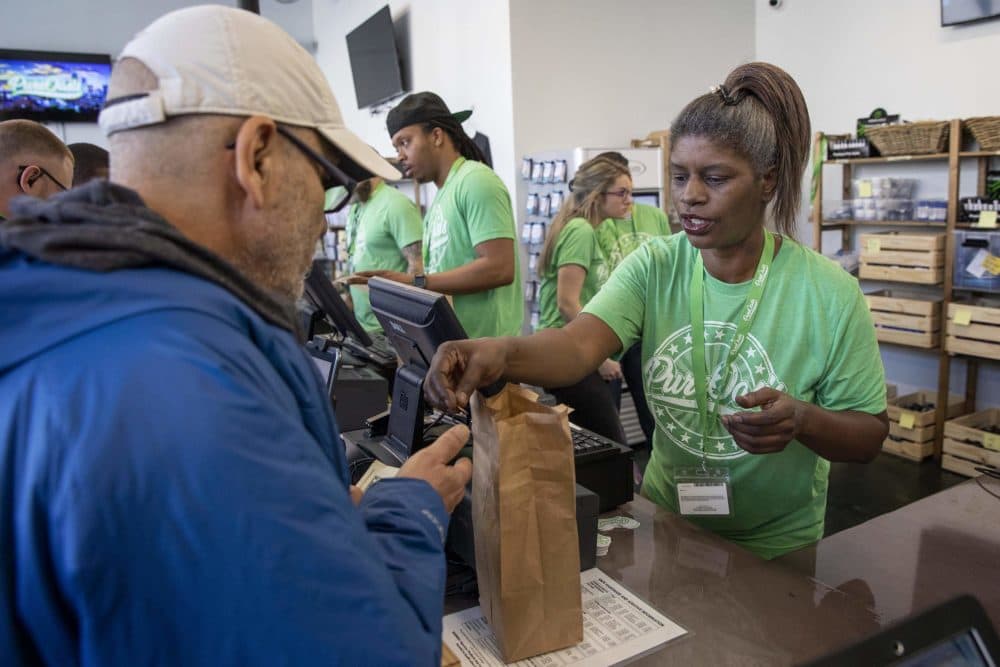 Commissioner Shaleen Title of the Cannabis Control Commission was on hand for the opening. Title championed the commission's Economic Equity Program, which helped Hart and Evans navigate the regulatory process and get to their opening.
"Pure Oasis has set a wonderful precedent here," Title said. "I think we'll see many more of these stores that are hiring people from the community, that are giving back to the community, and that are fulfilling the vision that Massachusetts voters had."
Not all Dorchester residents were happy to see the store open. Uphams Corner resident Isaura Mendez said she voted for the legalization of marijuana, but thinks it will not cut into the illegal market.
"The price they're going to put it (legal cannabis) is going to be a lot of money," said Mendez, who said two of her sons were murdered by drug-related violence.
She said many young people won't be able to afford the prices at Pure Oasis, and will continue to shop the illicit market.
"It's going to be all about money and is not going to save our children," she said.
Pure Oasis is the 41st adult-use retail store to open in Massachusetts since retail cannabis sales were first allowed in November of 2018. Three more retail shops have been granted licenses in Boston, but have not yet received final approval to commence operations.