Hotel That Hosted Biogen Gathering Tied To Coronavirus Outbreak Will Close Temporarily
The hotel that hosted a Biogen company gathering linked to a majority of coronavirus cases in Massachusetts is closing temporarily.
In a letter to guests, the Boston Marriott Long Wharf said it made the decision with the Boston Public Health Commission.
"We appreciate the efforts of our public health authorities as they continue their important work to mitigate potential spread of the novel coronavirus," the hotel's general manager, Ed Rocco, wrote. "The safety and well-being of our guests is of paramount importance to us."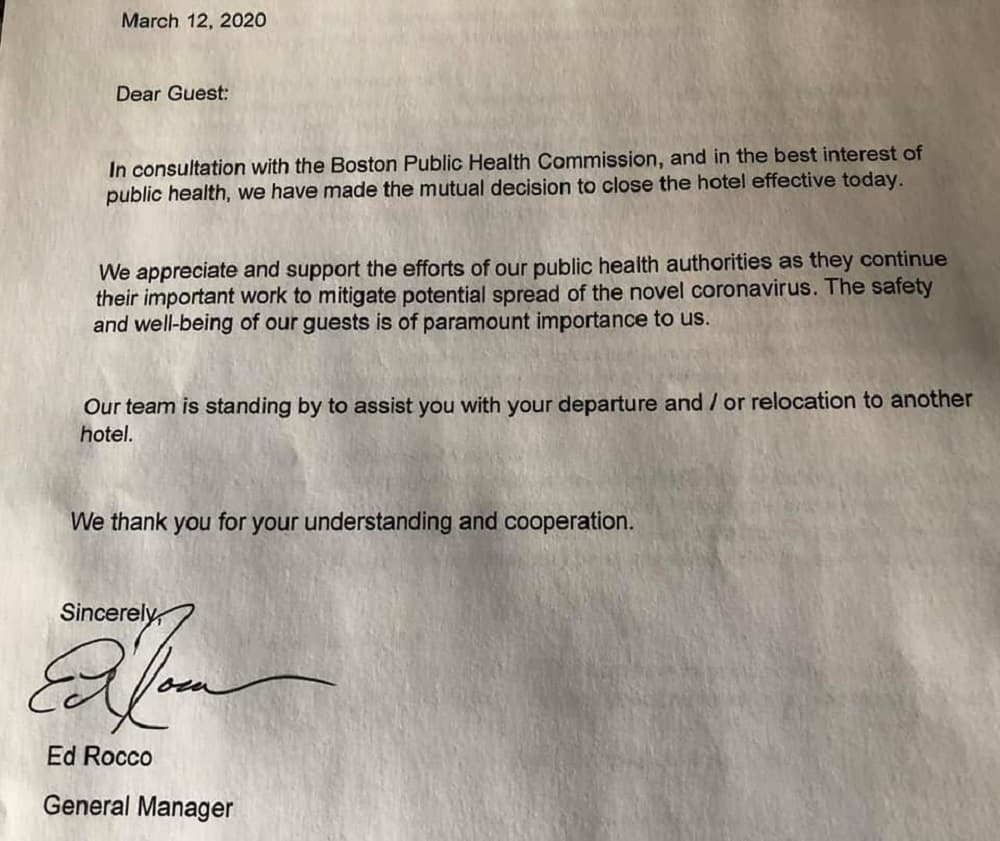 Hotel guest Colleen Turner Secino of Newburyport shared the letter with WBUR, which verified its authenticity with the Marriott Long Wharf's front desk. Rocco and the health commission did not respond to inquiries, but a Marriott spokeswoman said the decision to shutter the hotel, after initially keeping it open, was prompted by unspecified "new information."
Secino, 58, said she and her husband booked a room at the Marriott Long Wharf after learning about the Biogen event because they figured the hotel would be ultra clean after a brush with the coronavirus.
"We expected, really, nothing but fabulousness — and it was," Secino said. "We walked in. The place smelled nice and clean. Our room was pristine. Everything was lovely. So, imagine our surprise when, overnight, we get this letter that they're closing the hotel."
The letter does not say how long the hotel will shutter, but Secino said a Marriott representative told her it will be two weeks.
Of the 95 presumptive positive coronavirus cases in Massachusetts, 77 are tied to Biogen's meeting at the Marriott Long Wharf, which was held late last month.
WBUR reporters Steve Brown and Dan Guzman contributed to this report. 
Correction: A previous version of this story misstated Colleen Turner Secino's age. She is 58.
This article was originally published on March 12, 2020.