Baker Files Suite Of Coronavirus Response Bills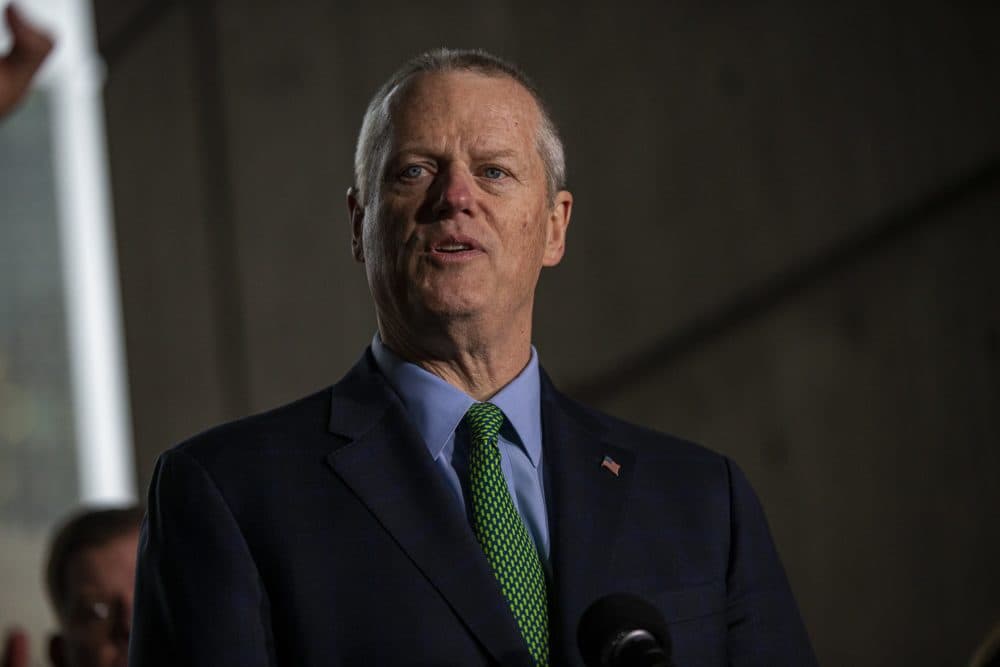 With closures tied to the coronavirus outbreak impacting everything from restaurants and schools to municipal offices, Gov. Charlie Baker on Monday filed a suite of legislation intended to offer a lifeline to workers forced to stay home and to cities and towns trying to keep local government operational.
Baker last week declared a state of emergency in response to the spread of coronavirus throughout Massachusetts, but his emergency powers only extend so far.
The governor filed a package of three bills on Monday morning to allow workers to begin immediately collecting unemployment benefits, and to allow municipalities to extend existing budgets on a month-to-month basis.
The House and Senate were both in session Monday, with a small number of lawmakers present in both branches, as they tried to map out strategies. Baker plans to meet later Monday with Senate President Karen Spilka and House Speaker Robert DeLeo.
One Baker bill would waive the one-week waiting period for unemployment benefits to be paid to workers impacted by COVID-19. The municipal flexibility bill would allow town moderators, in consultation with local board of selectmen, to postpone Town Meetings for up to 30 days because of a public health emergency, and a select board could push the meeting beyond June 30, which is currently the deadline in state law.
Towns would also be able to reduce quorum requirements to conduct the most pressing Town Meeting business, and town leaders could extend budgets on a month-to-month basis based at prior-year spending levels if they are unable to complete a new fiscal year 2021 budget.
Another Baker bill would make Monday, Sept. 14, the date of the postponed Boston Marathon, a statewide holiday.