Now Streaming, 'Blow The Man Down' Is A Nifty Maine-Set Murder Mystery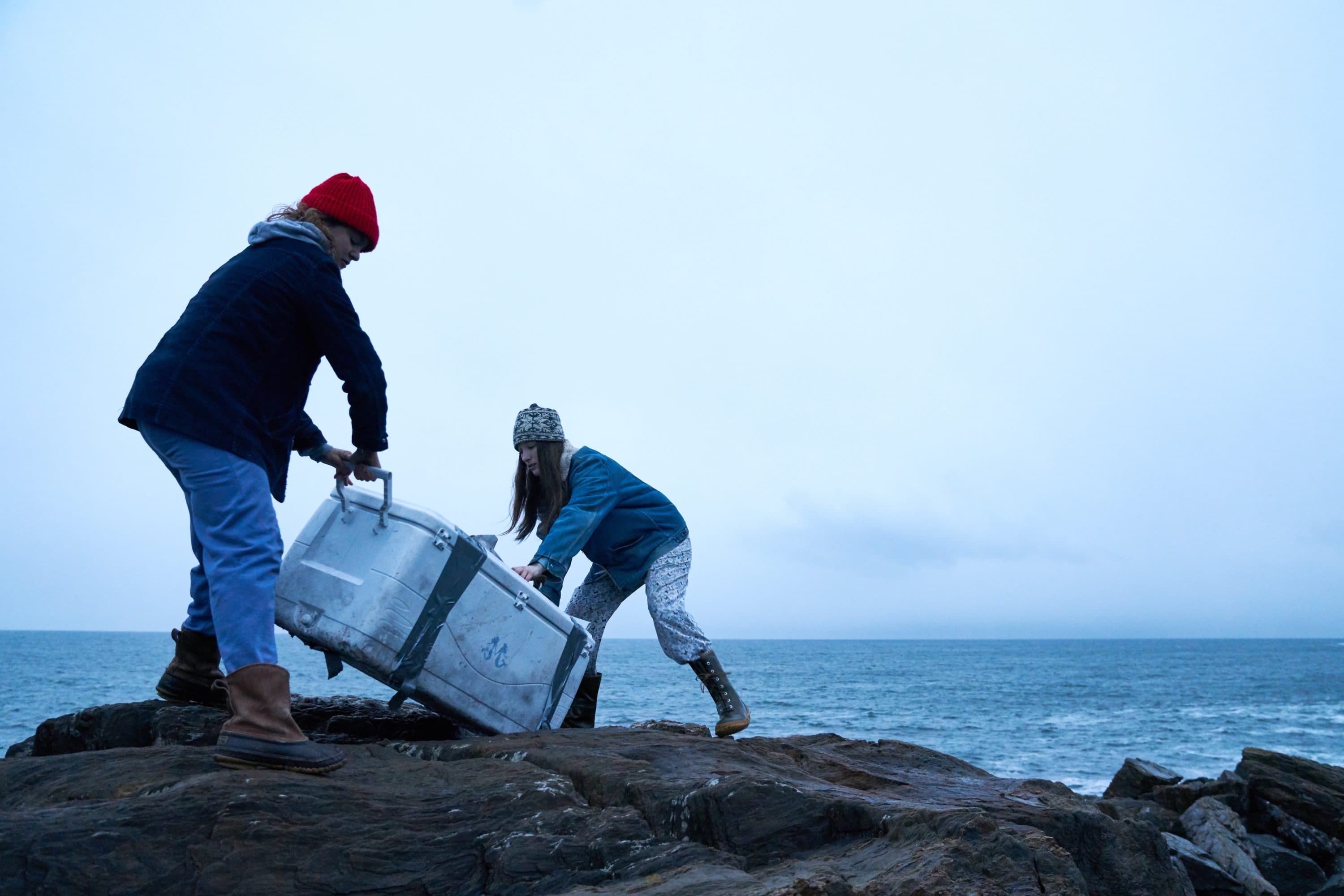 This article is more than 1 year old.
I don't know about you folks, but these past couple of weeks have atomized my attention span. It's a cruel kind of irony that now suddenly stranded at home with all the time in the world to dig into the works of Dickens or Dostoyevsky, my mind is running on such a hamster wheel it can only handle detective novels while I'm nervously glancing at my phone every few pages for breaking news alerts. I suppose whenever we mentally settle into this madness, I'll finally be able to tackle all those contemplative slow cinema epics I've always been meaning to watch, but at the moment I've mostly been killing time between panic attacks with old episodes of "Spenser: For Hire."
Potboilers are my preferred comfort food, and Amazon Studios' nifty Maine-set murder mystery "Blow the Man Down" sure hit the spot. Set in the fictional fishing village of Easter Cove, this twisty treat from writer-directors Danielle Krudy and Bridget Savage Cole turns out to be ideal quarantine viewing, just demanding enough to keep you distracted without leaving you feeling overtaxed. It's a New England spin on the Coen brothers' Rube Goldberg crime contraptions with a welcome feminist bent, though Krudy and Cole are less enamored of the "Fargo" filmmakers' cosmic absurdity and a bit more sympathetic to their characters' predicaments.
Sophie Lowe and Morgan Saylor star as Priscilla and Mary Beth Connolly, who we first meet burying their dear departed mother, Mary Margaret, and staring down an uncertain future of late mortgage payments and past-due bills at the family fishery, which like most longstanding institutions in Easter Cove has seen better days. The older, uptight Priscilla has been stoically keeping the bad news from her wild-child baby sis Mary Beth, who's aching to blow this backwater town and light out for UMaine.
The only business that's booming in Easter Cove is a bed and breakfast called the Ocean View. It's a tacky old joint with a mermaid door knocker and a decorative scheme that looks like it hasn't been updated since 1963. Of course, folks aren't coming here for the amenities. The place is not-so-secretly a brothel, run by curt, no-nonsense Enid Nora Devlin (the great character actress Margo Martindale) and her creepy, cokehead enforcer (Ebon Moss-Bachrach).
What starts out as an ill-advised bar hookup with said henchman for misguided young Mary Beth rapidly escalates to a harpoon in her handsy suitor's neck. This leads to bonding with her big sister while mopping up massive amounts of blood and removing the corpse's limbs with a Connolly Fisheries deboning knife. There's the genre prerequisite bag of cash hidden beneath some floorboards, and the siblings' messy, misguided coverup soon overlaps with another investigation when one of Enid's girls washes ashore with a gunshot wound.
Benevolently lording over the affairs of Easter Cove are Susie (June Squibb), Doreen (Marceline Hugot) and Gail (Annette O'Toole), three smiling, politely pushy seniors who have seen it all. The men in this town might be full of barroom bluster, but it's these women who call all the shots. As the old secrets of this seemingly sleepy village begin coming to light, the Connolly girls discover that there was more to their sainted mother Mary Margaret than they ever imagined. "Blow the Man Down" becomes a master class in passive-aggressive New England "nice," where a firm smile can be more intimidating than a gun.
Anyone who saw Martindale's star-making turn as a Kentucky crime boss on TV's "Justified" knows she was born for this kind of role. Whether trading withering barbs at the beauty shop like "Careful Gail, you're making your frown lines worse," or threats far more focused and severe, the actress nonetheless brings an easily wounded soulfulness to the role, shading the villainy with something sadder and more complex than what's sometimes on the page.
The sweetest character is an idealistic, rookie cop played by Will Brittain who's still nursing a childhood crush on Priscilla and spends the movie slowly learning things about his hometown (and his sweetheart) that he never wanted to know. Even though his accent sounds more Southie than Downeast, the performance provides a beacon of warmth and goodness in this increasingly slippery moral morass. (As a big fan of Brittain's work as a terrifying teen psychopath in writer-director Michael Curtis Johnson's 2018 "Savage Youth," I honestly didn't recognize him here and yelped when I saw his name in the closing credits.)
Shot last winter in Harpswell, Maine, "Blow the Man Down" is infused with a perpetually grey-skied chill, all these clapboard houses painted in 50 shades of slate. Co-writer-director Cole hails from Beverly, Massachusetts and used to work as a waitress in Gloucester, which might explain why the seaside patter feels so much more authentic than what we usually hear in Hollywood depictions of New England life.
Krudy and Cole's most audacious directorial gambit is a quartet of singing fisherman who step into scenes from time to time, bellowing old sea shanties that comment on the action like a Greek chorus out of a Gorton's frozen food commercial. How telling though that by the end of "Blow the Man Down" it's instead Susie, Doreen and Gail who are singing the title song, as the town of Easter Cove has always danced to their tune.
---
"Blow the Man Down" is now streaming on Amazon Prime.