Coming-Of-Age Comedy 'Big Time Adolescence' Focuses Pete Davidson's Appeal
This article is more than 3 years old.
James Bond made the first move. At the beginning of this month, the April release of the new 007 picture "No Time to Die" was bumped back to November in light of concerns about the effects of COVID-19 on the international box office. At the time, this almost unprecedented scrapping of a massively expensive blockbuster campaign looked like a matter of good business sense and simple math. In 2015 the last Bond movie, "Spectre" grossed $83 million in Chinese theaters that were now closed due to the virus.
That might feel like a lifetime ago, but it's barely been two weeks and now American theaters are shuttered as well. Disney has canceled its entire release schedule through the month of May, including tentpole blockbusters "Mulan" and "Black Widow." Universal delayed the next installment of the "Fast and Furious" franchise for a full year but has announced that their films that were in current theatrical release, such as "The Invisible Man," "Emma" and "The Hunt," will be made available for home viewing at a premium price on VOD platforms this weekend. (You still shouldn't rent "The Hunt." Especially not for $19.98.) Sticking by theaters, undaunted indie distributor A24 plans to re-release Kelly Reichardt's sublime "First Cow" later this year, "once the marketplace has rebounded from the limitations presented by COVID-19."
Neon's Pete Davidson comedy "Big Time Adolescence" opened last week at the ArcLight in advance of a streaming debut originally planned for this coming Friday. In light of current events, the movie was made available on Hulu early, and to be honest, there are worse ways to distract yourself in the midst of a crisis. This genial coming-of-age comedy charmed audiences at the 2019 Sundance Film Festival, and the fact that it's taken more than a year to find its way into general release feels somehow fitting considering it's a movie about delayed development.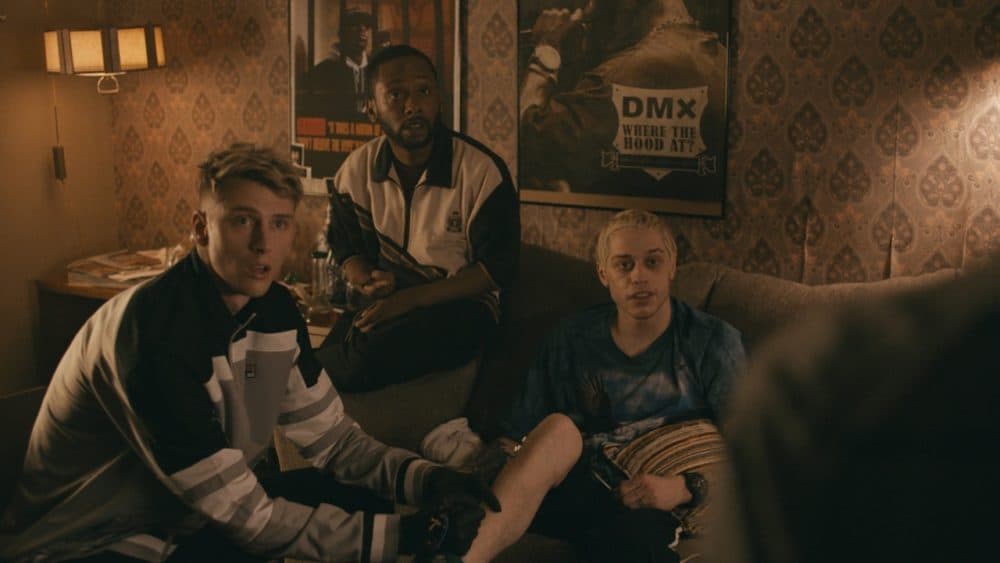 Griffin Gluck stars as Monroe "Mo" Harris, a bright, socially awkward 16-year-old whose best friend is Zeke, his older sister's 23-year-old, burnout ex-boyfriend. As played by Davidson with a devil-may-care charisma, Zeke grew fond of the young fella whenever his girlfriend was babysitting and just because she wised up and dumped him six years ago (Zeke was cheating on her, of course) doesn't mean he and Mo can't still hang out. Like the coolest older brother you could ever imagine, Zeke brings his little buddy to R-rated movies and bars, dispensing dubious wisdom about women and the world.
Young Mo understandably idolizes Zeke and his crew of pothead pals, unemployed layabouts who lounge around Zeke's deceased grandmother's house all day, swigging 40s, playing videogames and giving each other tattoos. They're such an amiable bunch of lunkheads, you like hanging out with them even though you know you probably shouldn't. Writer-director Jason Orley (working from a semi-autobiographical script) takes an affectionately clear-eyed view of all this nonsense, understanding full well that these loveable losers are something Mo needs to grow beyond.
He gets a push from love interest Sophie (Oona Laurence), a sarcastic, self-possessed classmate who can see straight through Mo's misguided macho posturing. It's notable how much smarter and more put-together the female characters are in "Big Time Adolescence" compared to their male counterparts, without being the shrill buzz-kills you usually find in man-child comedies from the Judd Apatow school. The agreeably low-key conflict arises when Mo starts selling Zeke's drugs at rich-kid parties, ingratiating himself to the upperclassmen while worrying about being branded as "the weed guy."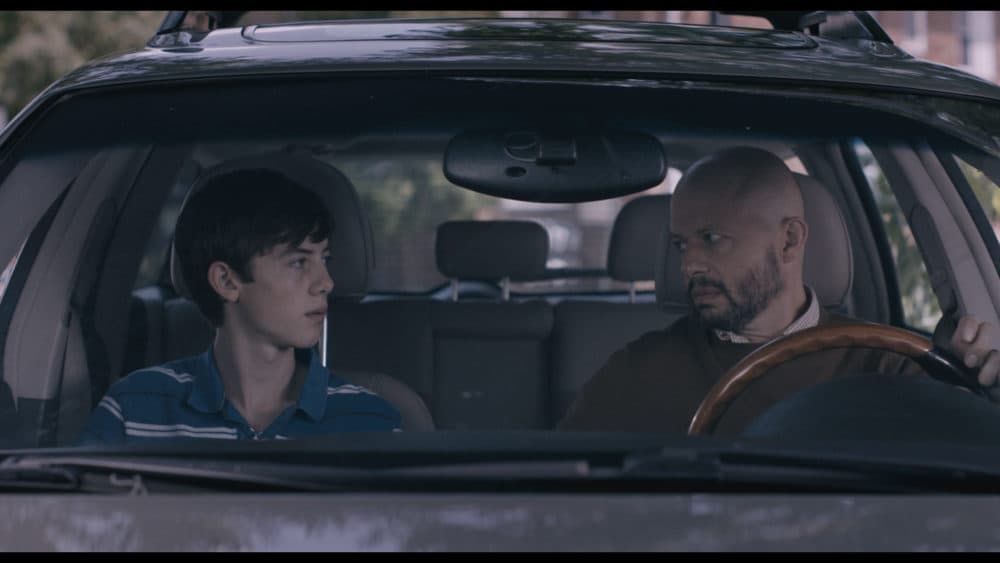 It's a film of minor pleasures, perhaps better suited for the small screen. (Orley's smartly staged scenes are done no favors by Andrew Huebscher's sludgy cinematography.) There's a poignant performance from Jon Cryer as Mo's dorky dad, perplexed by his son's adoration of this wastrel. It's a canny bit of casting not just thanks to Cryer's history as an '80s teen movie icon, but also because he and Davidson even kind of look alike — two geeky, bug-eyed outsiders staring each other down from across the generational divide.
It took me a while to come around on Pete Davidson, as the first "SNL" star born in the 1990s seemed like he was shaping up to be one of those dudes whose offscreen antics overshadow his talent. But seeing "Big Time Adolescence" at Sundance last year really won me over. He's got the zonked, wiseacre affectlessness of vintage Bill Murray but with a post-millennial fragility; cocky in a manner that comes off as deeply, touchingly insecure. (In a way, "Big Time Adolescence" is like "Meatballs," but for people on antidepressants.) Davidson's whole persona is that of a slacker who isn't working nearly hard enough to have gotten as far as he has, and he understands this fact so well that it's quietly eating him alive. He's an underachiever for an anxious age.
Orley really understands Davidson's appeal, shrewdly building his movie around it. He also directed the comedian's recent Netflix special "Alive From New York," which like "Big Time Adolescence" is more endearing than laugh-out-loud funny but well worth a watch while you're stuck in the house anyway. Half-standup set, half-therapy session, the show takes us through the comic's recent tabloid travails, including his well-publicized dust-ups with Louis C.K. and Texas Rep. Dan Crenshaw, as well as his embarrassingly public breakup with pop superstar Ariana Grande.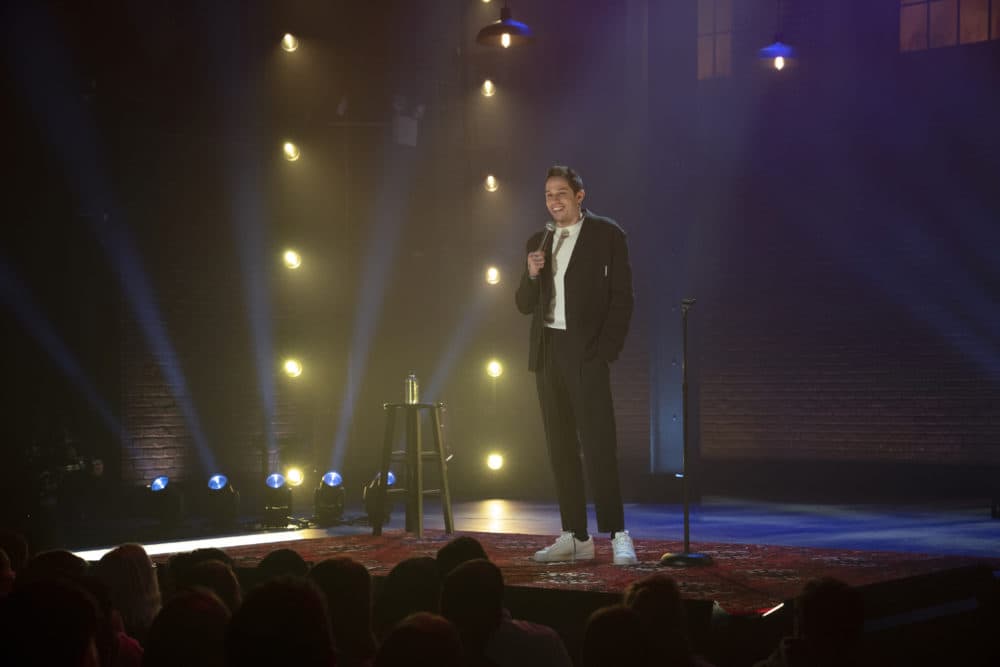 The highlight is Davidson lamenting how Grande's notorious tweet complementing the size of his manhood was, in fact, the meanest thing a woman could possibly do to an ex, ensuring that all his future romantic partners will inevitably be disappointed. ("She has small hands," he explains. "Everything's huge to her.") He also gets into some emotionally dicey material about his dad — an NYC firefighter killed on 9/11 when the comic was just 7 years old — and hearing wild stories about your father that his buddies should probably have kept to themselves.
A lot of these jokes could be a bit more polished, but you enjoy spending time with Davidson, and will probably find yourself worrying about him a little. Same goes for Zeke, who's an unquestionably bad influence but always a good friend. Though some of the late-game plot rigging clangs against the movie's casual vibe, "Big Time Adolescence" builds to an ending as inevitable as it is bittersweet, with a wistful honey of a final shot that'll make you think back fondly on the old hometown pals that get left behind as we make our way.
---
"Big Time Adolescence" is streaming on Hulu. "Pete Davidson: Alive from New York" is streaming on Netflix.