How To Support Local Artists And Musicians Right Now
This article is more than 2 years old.
As the response to COVID-19 has evolved, social distancing measures have created immediate financial obstacles for many local artists. Shuttered theaters and venues, strict limits on gathering sizes, and abrupt closures of restaurants and retailers have cut tours short and limited sources of supplemental income.
At the same time, the importance of art feels especially pronounced. Social distancing is isolating by nature; art offers alternate avenues to stay in touch with humanity when we need a break from the news and can't surround ourselves with actual humans. While the timeline is uncertain and governmental response is unclear, community support can help offer more stability for the challenges ahead. If you're looking for ways to support the Boston-area arts scene, here are a few ways to offer help during social distancing.
Show canceled? Spend the ticket refund on merch.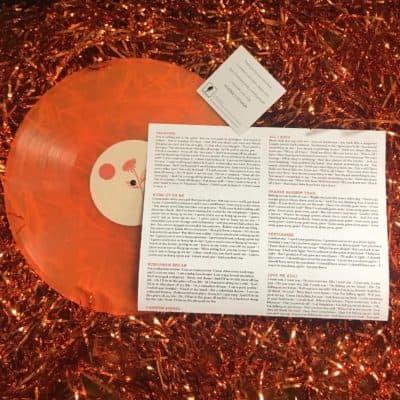 Spring is a major touring season for many full-time musicians and bands, and as tour dates and festivals get canceled, so do opportunities to sell merch. For up-and-coming artists, that can mean losing a significant source of income. But even though upcoming events are canceled, chances are that your favorite bands are now sitting on a stash of freshly printed t-shirts.
Still, the kind of merch that you buy can make a difference. "Be mindful of how you're supporting artists, because their sales online don't always go directly to them," says Kaley Honeycutt of local band Honey Cutt. She mentions that some artists' contracts arrange for record labels themselves to earn more profit from the sales of vinyl and CDs, while the artists keep more of their earnings off t-shirts and other "soft merch." Of course, the specifics vary by artist and label affiliation. Artists' social media accounts sometimes offer clues about their specific needs or the best way to support them.
Donate to an artist relief fund.
If you're looking to donate money directly, a number of recent fundraisers have been created to help soften the impact of recent closures and cancelations. On March 16, the city of Boston announced the Boston Artist Relief Fund, which will issue grants of $500 and $1000 to individual artists who have been financially impacted by the coronavirus Covid-19. These grants are available to Boston artists across disciplines.
Additional emergency funds, like the Theatre Community Benevolent Fund and the Boston Singers' Relief Fund, are accepting donations to support specific disciplines. This week, nonprofit artist space The Record Company launched the Boston Music Maker COVID-19 Fund and Cambridge venue Club Passim announced the Passim Emergency Artist Relief Fund, both providing support to local musicians.
Support your favorite independent venue.
Extensive closures mean that local venues are missing out on everything from ticket sales to bar tabs, which can leave venue staff in uncertain positions. Great Scott, O'Brien's, and ONCE Somerville are all popular with local bands, and have recently announced fundraisers to help support their own employees. Local independent cinemas the Coolidge Corner Theatre and the Brattle Theatre are both accepting donations as well.
Check out a livestream.
In lieu of planned tours, a growing number of artists are opting to perform over livestream channels like Twitch and Instagram. Around the world, artists from Blood Orange to Christine and the Queens have taken their shows to the internet; Boston's own Dropkick Murphys even moved their annual St. Patrick's Day bash online. Through social media platforms, livestreaming concerts is just as feasible for smaller independent artists as it is for big names. Shows range from free and donation-optional performances to ticketed gigs, and as many artists have announced individual streams, full online "festivals" are starting to come together as well.
Local artist and activist Evan Greer is working with digital-rights organization Fight for the Future to launch one new online festival, "Stay at Home Fest." It was first imagined as a single curated online event, but has since grown into a submission-driven online calendar that includes musical sets, spoken-word poetry, drag performances, and more.
"All the artists who are sitting at home really needing to make some income and reach an audience have a place to list the shows they're putting together. And every one of us who's sitting at home feeling anxious and overwhelmed by the news and isolated has a place to go to find these events and still feel connected, even while we have to stay apart," says Greer.
While more details are still emerging, Greer says that a curated "Main Stage Event" lineup is in the works for sometime in early April.
Grow your digital music collection.
Streaming services and digital downloads make listening more accessible for everyone, but not all digital music platforms provide artists with comparable payouts. Notably, streaming platforms like Spotify and Pandora only pay artists a fraction of a cent each time a song gets played. Some artists advocate for "overstreaming" — playing one artist's songs constantly on repeat often silently, at all hours to rack up maximum plays — but for those who are able, buying music directly from artists, especially unsigned ones, usually goes further to provide financial support. Most platforms still take a cut for themselves, but on Friday, March 20, online music platform Bandcamp (a favorite among independent and unsigned musicians) is paying artists 100% of sales to provide additional support.