Today's Weather: Raw, Damp And Chilly
It was a very wet Sunday and it concluded with more showers and thunderstorms. To follow things up, I am expecting a day of more cool weather, lots of clouds and, again, a few showers. There could even be snow showers overnight as somewhat colder air works into the region.
As this particular weather system moves off toward the Northeast, we will have somewhat improving weather tomorrow: a chance of showers early in the morning followed by a lot of clouds and more cool temperatures.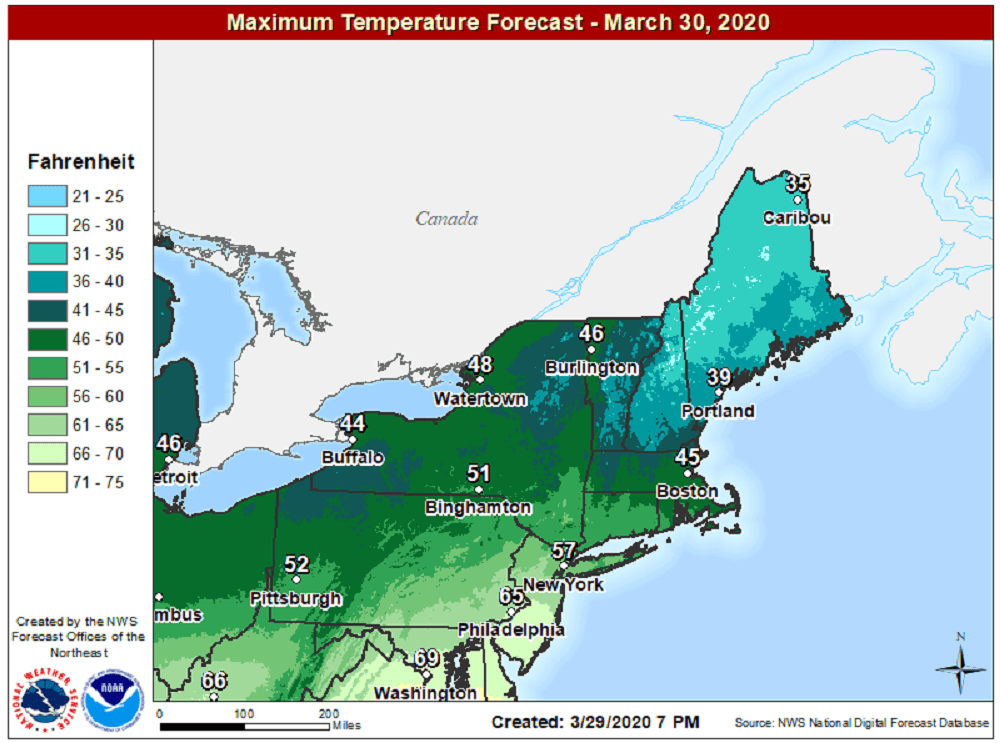 Most of us are looking for the best window of time to get outside. Your best bet today will be the first part of the day. The highest likelihood of showers comes late in the day and overnight tomorrow. It's the opposite for tomorrow, with rain most likely in the morning.
As of now, Wednesday and Thursday are looking dry, with temperatures in the 40s and warming to the lower 50s by Thursday. There is going to be a big ocean storm later this week, but it should completely miss us. The only thing to watch out for is that a small piece of energy may rotate around and bring some showers Thursday night or Friday. I'll have a better idea on whether or not this is going to happen tomorrow.
You can follow my updates here and on Twitter @growingwisdom.
---
Monday: Cloudy, raw and damp.  Rain and snow showers likely in the afternoon. Highs 38-44.
Monday night: A few rain and snow showers. A coating of snow on the grass is possible. Lows in the 30s.
Tuesday: An early shower, then sun and clouds. Highs 43-48.
Tuesday night: Partly cloudy. Lows 32-37.
Wednesday: Partly sunny with highs 45-50.
Thursday: Partly sunny. Highs 45-51.
Friday: Clouds, some showers possible. Highs nearing 50.
Saturday: Sunshine and clouds. Highs near 50.
Sunday: Partial sunshine. Highs in the lower 50s.