Harvard OB-GYN: In Fast-Changing Landscape, Much To Learn About COVID-19 And Pregnancy
05:06
Play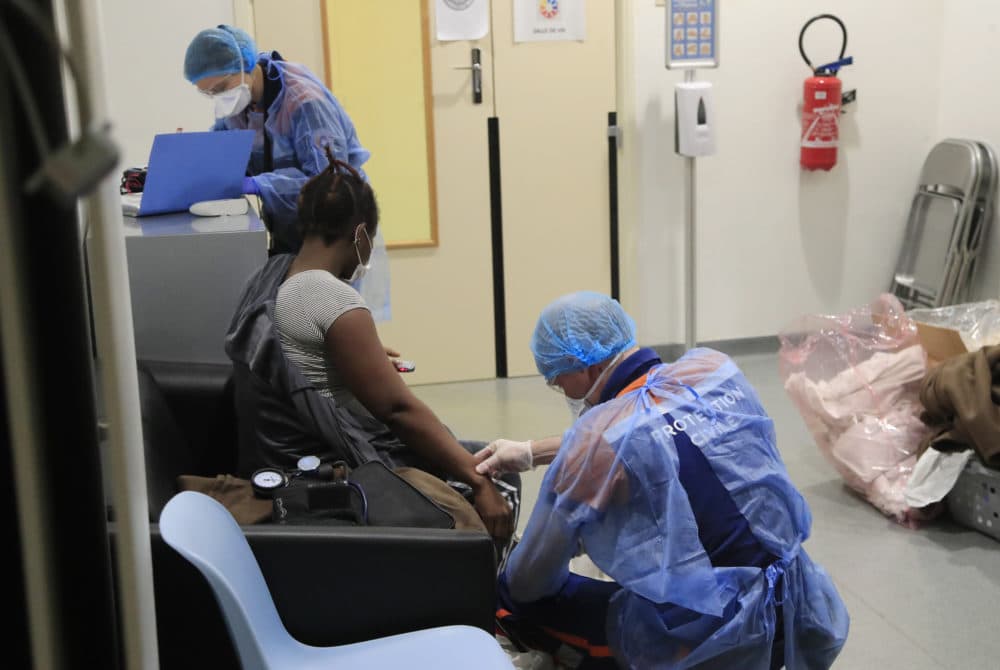 This article is more than 2 years old.
The coronavirus pandemic is profoundly changing the experience of pregnancy --  from the first trimester to labor, delivery and even those early weeks and months of a baby's life.
Dr. Neel Shah is an assistant professor of obstetrics, gynecology and reproductive biology at Harvard Medical School, director of the Delivery Decisions Initiative at Harvard's Ariadne Labs and an obstetrician-gynecologist at Beth Israel Deaconess Medical Center in Boston. He joined WBUR's Morning Edition to discuss the pandemic's affect on pregnancy.
Shah admits new data out of China suggests further research is needed into the question of whether pregnant mothers who have tested positive for COVID-19 could pass the disease along to their in-utero infant.
And unlike in New York City, Boston-area hospitals still have access to enough protective equipment to continue allowing a guest in the birthing room — for now.
Interview Highlights
On the increased need for virtual prenatal visits amidst the coronavirus pandemic
I think that we're all doing the best that we can under these really extenuating circumstances. The care is different for sure, and I'm sure that for a lot of people who are pregnant, being able to access their providers in traditional ways is very important, and these changes are disconcerting. But I think for the most part … we are able to connect on the important things. [And] when people really do need to come into the office, we find safe ways to make that happen.
On whether pregnant women who test positive for the virus are automatically hospitalized
Not automatically. We have an algorithm that tries to make sure that … we're certainly keeping everybody safe, but if somebody is pregnant, they may or may not be symptomatic; and if they're symptomatic, it sort of depends on what other risk factors they have. If they have what we consider moderate risk factors and they have symptoms, then we do bring them into the hospital for evaluation.
On whether Boston area hospitals are barring guests from accompanying a woman in labor
For the most part, hospitals [in the Boston area] are not allowing any visitors, with the two exceptions of the beginning of life, and the end of life. In New York City last week, they did restrict visitors for everything, including childbirth. And it's important to remember ... these are wrenching decisions to make and they're not made lightly, but they're really made with keeping the safety of the mom and the staff and the wider community in mind. The issue in New York City last week is they just didn't have enough protective equipment. Fortunately, in Boston right now, we seem to be OK.
On how the experience of pregnancy has changed in the time of COVID-19
It changes the experience. To be totally frank, it probably changes the outcome: Having a partner available, having birth support, is essential. And … part of the challenge in this new context that we're in, is that the services that used to be essential a few weeks ago are still essential; we're just not able to provide them in the same way. And so we've got to figure out new ways of delivering the kinds of care that people really need, like virtual prenatal visits.
On a new, small study out of China that suggests COVID-19-positive mothers could pass the virus along to their infant during pregnancy
Every couple days we learn new information. ... I've never been so dependent on such shaky data. A couple of weeks ago, it seemed like there was no evidence that there could be transmission from the mom to the baby. And now there seems to be some evidence that it could be possible, which means we have to dig into it further.
On the need to maintain strict distance from relatives after a hospital visit
It's one of the many ways that I think pregnancy, being pregnant and having a baby during these times, is really hard. … Right now, it does not seem that pregnant people are more likely to be severely infected than non-pregnant people, but they are more likely to be severely affected … they have to go home with a newborn baby and not have grandparents, aunts, uncles, other loved ones and community members available to be there and to support them.
On how worried pregnant women should be at this time
Everything that we're learning is understandably unsettling. And, you know, a mentor once told me that concern is productive and panic is not. I think that we should be appropriately concerned. I think that we should be willing to rethink assumptions that we made even just a few days ago as we learn new information. … For people who are out there who are pregnant, I will tell you that I've never been more proud to be part of the health care system that I'm a part of right now. Everybody is doing an extraordinary job of keeping people safe and providing good care.
This article was originally published on March 31, 2020.
This segment aired on March 31, 2020.