Health Care Workers Push Back Against Rationing Of Protective Equipment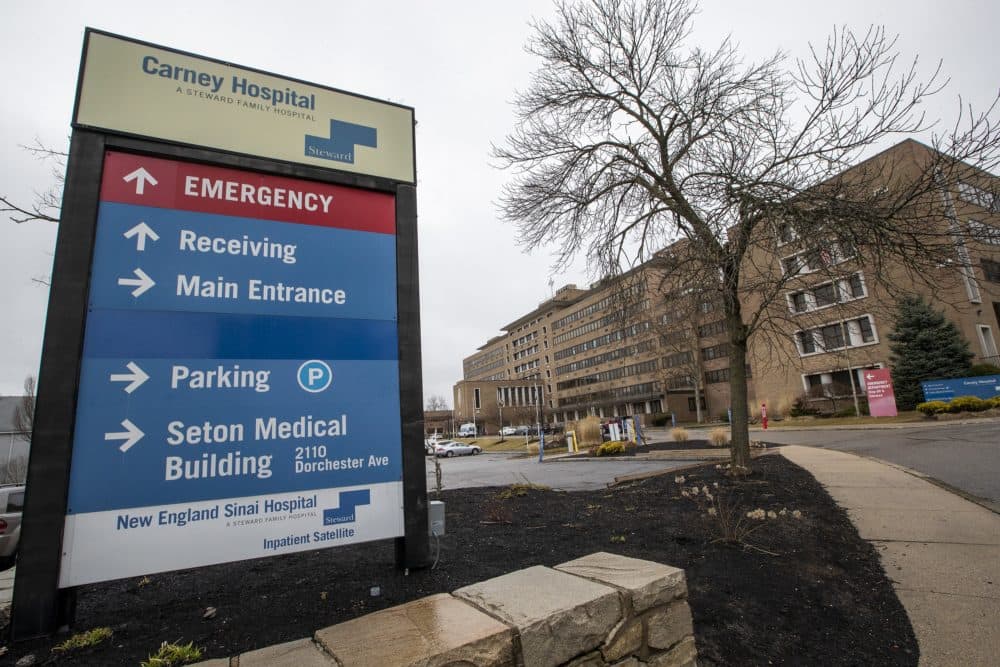 This article is more than 2 years old.
Alex Wright, a nurse at Mercy Medical Center in Springfield, says when he heard the announcement that staff should no longer routinely wear the tight-fitting N95 masks that protect them from airborne pathogens, he was astounded. Over the intercom, he says, management informed staff that the masks, which help guard against coronavirus infection, should only be used during special circumstances and that staff should reuse the same mask for each patient.
"You are allowed one N95 mask per patient. That means as many times as you go into that room, all your shifts, you are using the same mask and putting it in a brown paper bag again and again," Wright says. "If you told any nurse that a month ago, they would look at you like you had three heads."
The Massachusetts Nurses Association, where Wright is a union leader, says Mercy is one of several medical facilities in the state that have recently adopted concerning policies.
In statements released on Thursday, the union described it as part of a chaotic response to the COVID-19 pandemic at two large hospital networks: Trinity Health, which operates Mercy, and Steward Health Care, which operates Carney Hospital and eight other facilities in the state. The policies have left nurses confused and worried for their own health and that of their patients, union leaders say.
Steward Health Care's Carney facility in Dorchester became the site of the hospital system's designated COVID-19 unit last month, but some of the staff only learned about the unit through news media reports, according to the statement.
"Carney staff have been struggling since the announcement to put proper protocols in place, including establishing a safe ER screening process, as well as ensuring access to [protective equipment]," the Massachusetts Nurses Association wrote.
Coronavirus testing guidelines for medical workers have also been confusing at hospitals, says Peggy Conlon, a nurse at Carney Hospital and another Massachusetts Nurses Association leader. She says nurses have struggled to get tested for COVID-19 at Steward hospitals. Conlon says that makes it more difficult for clinicians to know if they might be inadvertently exposing their colleagues, patients or others to the coronavirus.
"There absolutely are not enough masks. We are getting exposed, and there's no clear-cut policy [on testing]," she says. "The problem is if you do have COVID, and you only have a cough, you don't know if you will get a fever later on. A friend of mine did have a cough, but they didn't want to test her. In the meantime, we're all exposed to her."
A global shortage of N95 masks and other protective gear, like face shields or goggles, has left hospitals scrambling for more equipment. The Centers for Disease Control and Prevention has issued guidance allowing medical providers to reuse masks, and representatives at both Steward Health Care and Trinity Health say they are adhering to those guidelines.
"It's false that it's harder to get tested at Carney Hospital," says Nicholas Puleo, a spokesman for Steward Health Care. "And the statement that we don't have adequate [protective gear] at Carney Hospital is completely untrue. We're committed to getting our staff the personal protective equipment that they need."
But nurses are unconvinced that the federal guidelines hospitals are following make sense. In normal circumstances, health workers say, they would discard their gown, gloves, eye protection and mask after each patient, and don a new set of gear for the next patient, when dealing with a contagion like the novel coronavirus.
"[Hospital management] were informing lab tech they could wear one gown to go from room to room to room. Anyone would know that's the definition of a vector for transmitting disease," says Mercy Medical Center's Wright. "It's absolutely absurd."