Pressley: 'Vulnerable Workers' Deserve Paid Sick Leave In Next Coronavirus Relief Deal
As congressional leaders and the White House spar over the scope of the next stopgap coronavirus relief bill, lawmakers are beginning to lose their patience. But some good news: a former governor is feeling better.
Pressley: Millions Of Workers Slipped Through Cracks Of Paid Leave Relief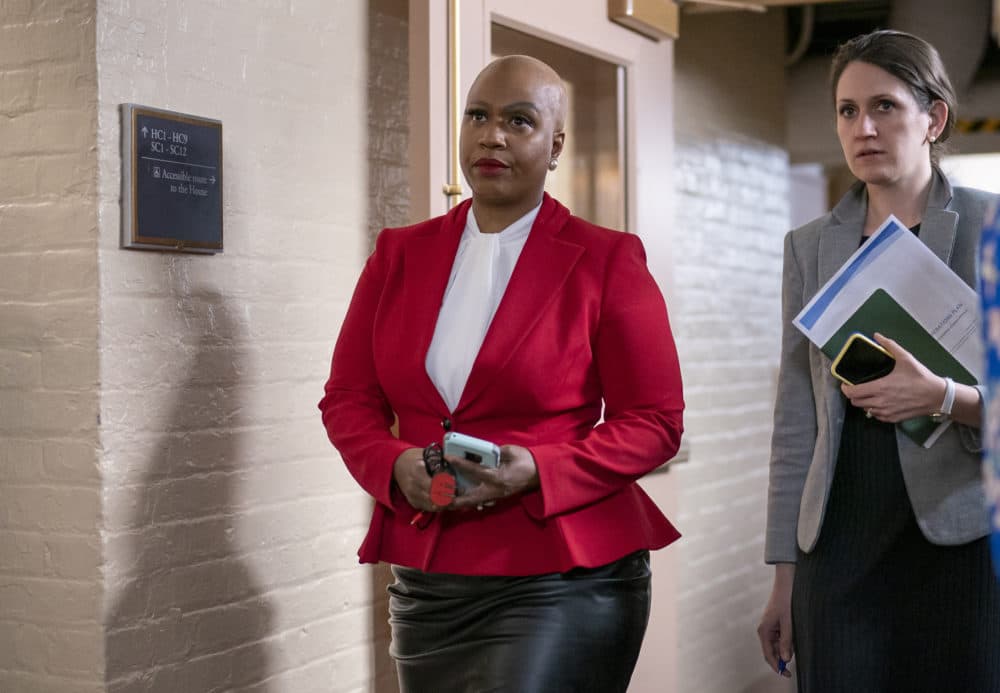 Democrats are pressing to close what they call problematic loopholes in the last coronavirus relief package — exclusions that prevent nearly half of the private sector workforce from getting emergency expanded paid leave.
Rep. Ayanna Pressley is among the lawmakers calling for the next relief deal to include a bill that would require employers to offer emergency paid sick leave during the COVID-19 crisis, and transition into a permanent national program that expands paid sick leave and family medical leave to all workers.
"This crisis has only pushed those who were already struggling even further to the margins," Pressley said, noting that millions of the exempted employees work for the nation's largest corporations. "Many of our most vulnerable workers — our service workers, janitorial staff and tipped restaurant workers — are facing financial ruin due to the lack of paid leave and family leave."
Pressley, Rep. Rosa DeLauro, of Connecticut, and Sen. Kirsten Gillibrand, of New York, will hold a telephone press briefing on the bill this afternoon.
Lynch Demands Inventory Of Military Coronavirus Medical Equipment
Rep. Stephen Lynch is calling for Secretary of Defense Mark Esper to provide an inventory of the personal protective equipment and medical supplies available to military and civilian Defense Department personnel.
Lynch, who chairs the House Oversight Subcommittee on National Security, noted that more than 2,500 service members and civilian personnel have tested positive from COVID-19.
"Without essential medical supplies and personal protective equipment, the coronavirus crisis could expand rapidly from a medical risk for DOD personnel to an operational and strategic threat to our national security interests," Lynch wrote Esper. "It is critical for Congress to have a complete understanding of any equipment or capability limitations the Department and military planners have identified so that supplemental appropriations can be made in forthcoming legislation to support the health and readiness of our military forces."
Lynch noted that a similar request made to Esper last month was ignored.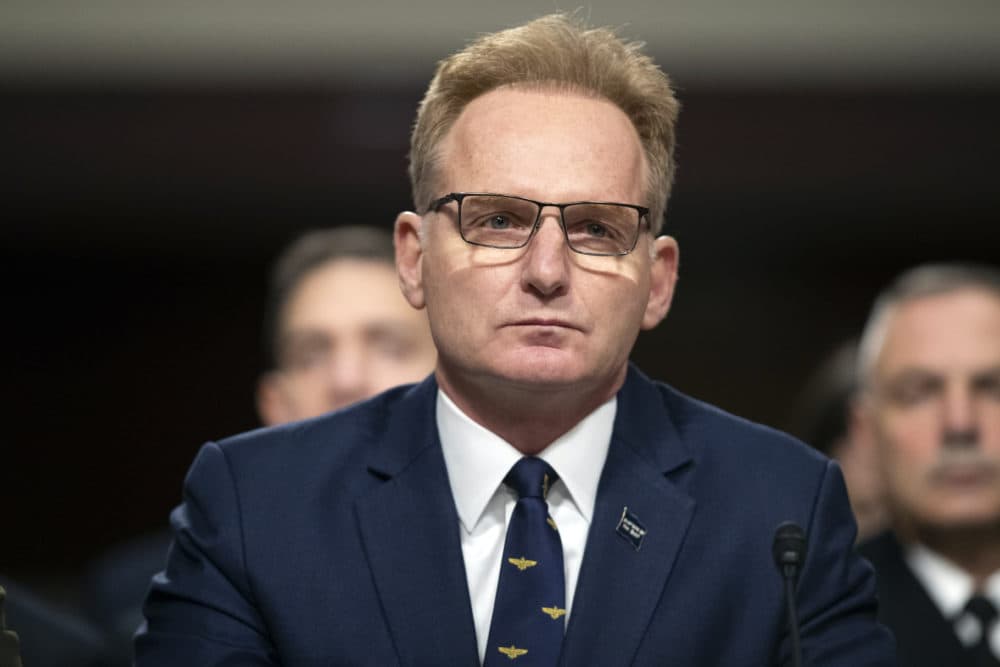 The South Boston Democrat also reacted to the resignation of Thomas Modly, acting secretary of the Navy. Modly had sacked Capt. Brett Crozier after the warship commander wrote a letter to superior officers seeking help for an onboard COVID-19 outbreak. That letter was leaked to the press.
"I hope this resignation will mark a change in course within the Department of the Navy toward the health and readiness of our nation's Sailors during this pandemic," Lynch said.
Markey 'Concerned' About Reported White House Coronavirus Surveillance Plan
Sen. Ed Markey raised privacy concerns about a reported Trump administration effort, led by White House senior advisor Jared Kushner, to create a national coronavirus surveillance system.
Markey said such a system could risk Americans' sensitive health information.
"The Trump administration has not given me or the American people any confidence that it is capable of creating or maintaining a massive health data network in a manner that doesn't undermine our fundamental right to privacy," Markey said in a statement.
Markey asked the Trump administration to detail the plan to lawmakers.
"As a nation, we are facing an historic public health emergency that is devastating individuals, families, and communities across this country," Markey said. "In moments of crisis like this, we should not simply accept the declarations by some in power who will tell us that we have to stray from the guiding principles and civil liberties that make us who we are. They are wrong."
3 More Things:
— Kennedy calls on state to collect COVID-19 race data: Rep. Joe Kennedy called on Massachusetts health care regulators to collect and release race and other demographic data on COVID-19 testing and treatment, noting "reports emerging in Massachusetts and across the country make clear that communities of color are once again bearing the brunt of a national crisis." It follows a call by Pressley for federal health officials to collect the data. Massachusetts began this week releasing partial data on race. Read more.
— McGovern, Pressley press for food security assistance: Rep. Jim McGovern and Pressley led a letter by 140 lawmakers demanding that upcoming congressional coronavirus relief efforts include food security measures. "SNAP is one of our country's most vital social safety nets, and it will continue to play a critical role in reducing hunger, malnutrition, and poverty throughout the COVID-19 health crisis," the lawmakers' letter to congressional leaders said. "We urge you to incorporate provisions that will: (1) boost the maximum SNAP benefit by 15 percent; (2) increase the monthly minimum SNAP benefit from $16 to $30; and (3) place a hold on harmful rules proposed by the Executive Branch that weaken SNAP eligibility and benefits."
— Dukakis on the mend after hospitalization: Former Massachusetts State Gov. Michael Dukakis was released from a Los Angeles hospital this week, telling the National Herald that he is "doing a lot better after nine days in the hospital and wrapping up the academic quarter here at UCLA."
"Hope we'll be heading back to Boston soon, but I think that will be awhile," said Dukakis, who was hospitalized two weeks ago for pneumonia. He tested negative for COVID-19.
---
WHAT I'M READING
What Lessons Does the AIDS Crisis Offer for the Coronavirus Pandemic? (New Yorker)
---
NUMBER OF THE WEEK
$36.5 million
That's the amount of federal funding Massachusetts community health centers received as part of the CARES Act to combat the COVID-19 crisis. That's the state's share of the roughly $1.3 billion in funding for CHCs nationwide. But the delegation said it isn't enough.
Citing a WBUR report that some community health centers in the state have begun to furlough staffers, Kennedy sent a letter to House Speaker Nancy Pelosi and Senate Majority Leader Mitch McConnell today, signed by the entire Bay State delegation, asking for $70 billion more in emergency funding for CHCs over five years in the next COVID-19 package.
---
TWEET OF THE WEEK
Warren is losing her patience with the slow speed of coronavirus relief efforts out of Washington.
---
PARTING NOTE
I know it feels like the news about the pandemic is coming at a fast and furious pace. Tomorrow I'll join Here & Now to try to help make sense of where the nation is at with its response efforts. Tune in to WBUR at noon, or check your local NPR listings.