Harvard Researchers: Social Distancing May Intermittently Last Into 2022
Play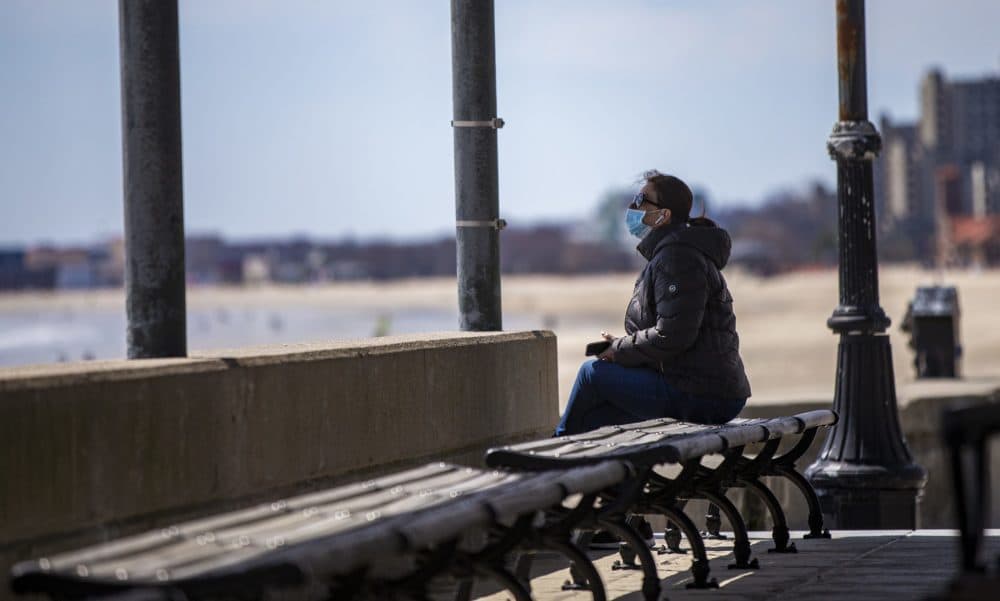 This article is more than 2 years old.
A group of researchers at Harvard University's T.H. Chan School of Public Health warns that the United States may need to practice periodic social distancing through 2022.
Dr. Yonatan Grad, assistant professor of immunology and infectious diseases at Harvard and co-author of the not-yet peer reviewed paper joined WBUR's Morning Edition to discuss their findings.
Interview Highlights
On how the pandemic ends and the impact of social distancing
Grad: "So there are two ways in which the pandemic ends. In one, we eliminate the virus; I think this one is very unlikely because we've already seen extensive global spread of the virus. In the other, it ends because of sufficient population immunity to diminish spread; and that is something we get to either through infection with people then developing immunity or through a vaccine.
"With that as a backdrop, we were interested in asking about the impact of social distancing. We know that we are doing social distancing [in order] to flatten the curve, with the idea that that will reduce the burden on hospitals and help prevent the collapse of our healthcare infrastructure.
"If we are successful in flattening the curve ... then many people will remain susceptible [to infection]. ... and then once we stop social distancing, all of those people who are susceptible will then be a pool in which we might see the rise of COVID-19 and its spreading again. So in the absence of other interventions we're seeing this resurgence in COVID-19, which could lead to restarting social distancing. That, in turn, could lead to a kind of on/off approach that could last awhile until enough of the population has been infected that there's herd immunity or until we have a vaccine.
"I think it's really going to be an issue of how we manage not just flattening the curve, but trying to time our acquisition of herd immunity or waiting until we get a vaccine."
Singapore as an example
Grad: "Singapore has arguably the best public health infrastructure in the world. They were able to control the first few cases of COVID-19 that they saw with excellent case identification and contact tracing. But after they started to open up, they had a resurgence in cases that has now led to a four-week lockdown.
"So again, we're seeing there the introduction of mitigation efforts and then as you ease on those mitigation efforts with a population that's mostly susceptible, we'll see a rise again. What we looked at in this paper was different ways to have a kind of on/off scenario where we would still ... be under the critical care capacity — and the whole point of flattening the curve again is to try to remain under that critical care capacity and maintain the infrastructure of our health care system. So is there a way to titrate our social distancing in such a way that, on and off, we can still remain under that capacity while accruing the population immunity that could get us to herd immunity and the end of the pandemic."
On how to achieve this
Grad: "I think a lot of the details of how we're going to do social distancing will be learned over the coming weeks and months, in part because many of the different places in the country — in the world — have taken different approaches and instituted different types of mitigation efforts. By studying those, we can get a sense of which ones were the most successful in diminishing transmission. And then we can take smarter approaches and really figure out which types of distancing efforts are most effective in diminishing spread and start to use those tailored efforts rather than the broad stringent efforts that we've been using so far."
On the challenges ahead
Grad: "It's challenging economically, socially, politically; and it's one of the reasons why we were doing this work: we were presenting it in part to spur innovation and thinking about ... all of the different possibilities that we can explore in order to to address exactly those kinds of challenges."
This article was originally published on April 15, 2020.
This segment aired on April 14, 2020.