Now Recovered From COVID-19, DPH's Bharel Describes 'Intense Exhaustion' And Fears She Faced
Play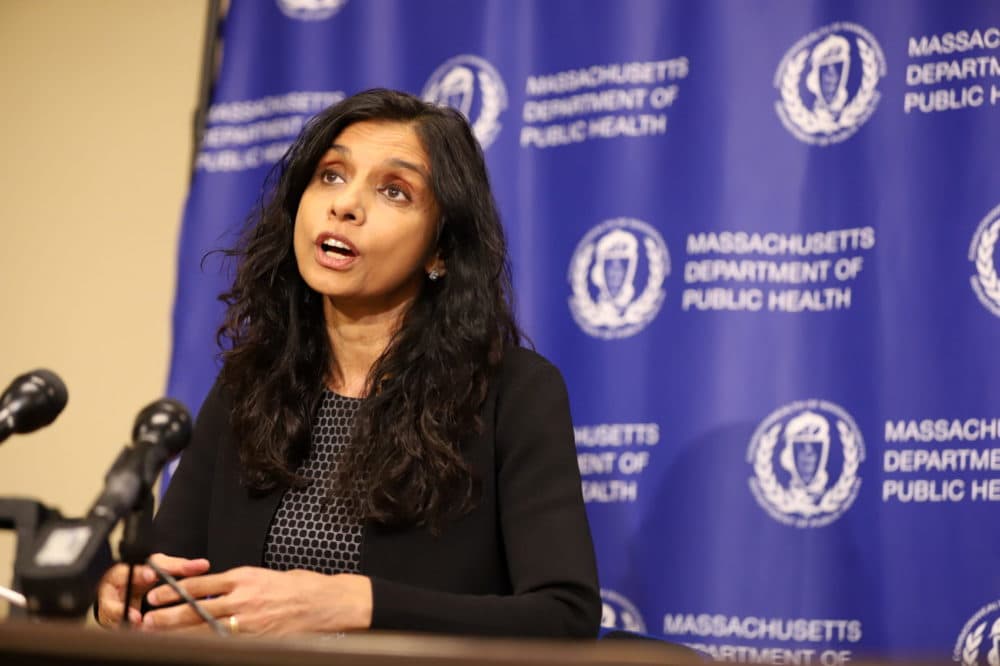 This article is more than 2 years old.
More than 46,000 cases of coronavirus have now been reported in Massachusetts and 2,360 of those people have died from the disease known as COVID-19.
Yet others have recovered, including Dr. Monica Bharel, commissioner of the Massachusetts Department of Public Health.
Dr. Bharel joined WBUR's Morning Edition to discuss her own experience and the way forward for Massachusetts.
Interview Highlights
On her own experience of COVID-19
Bharel: "It does vary from people being absolutely asymptomatic to of course, unfortunately, people dying from the disease. And my experience with it was something in between: I had first a cough and a fever with really severe muscle aches and the loss of smell that you hear a lot of people talk about — and for about a week, that was pretty much it. But the second week, there was just an intense exhaustion really beyond anything I had felt before. And then it took another week before I felt like myself. It's actually four weeks ago from today that I was diagnosed, but I was cleared out of isolation after over 21 days."
On her immediate family also testing positive
Bharel: "This infection is incredibly contagious; we don't know where it came from. My husband and I are both essential employees, so we were working in public health and healthcare systems, but we were really, really careful about social distancing. Our kids have been home the whole time. So I'm not sure, but it it really, for me, struck a chord that this disease — that because of being a physician and the commissioner and my work — this disease that I had been reading about, to have it impact me directly really increased my awareness of what this disease can do."
Contact tracing
Bharel: "So just like everybody else, you know, when we were diagnosed through our local boards of health and the Department of Health, our contacts were informed. You know, the usual process is your contact doesn't find out who they were exposed to unless you, of course, decide to tell them. I really was only going to work at the Department of Public Health and coming home, so I didn't have many contacts.
"... it's so hard for us to do the social distancing and stay home, but one piece of good news ... is that most people now have much fewer contacts. So that translates into much fewer chances of passing the virus on while you stayed home; while you were sick."
On how her own experience has shaped her thinking about the pandemic
Bharel: "What this illness has reinforced for me is a couple of things from the pandemic point of view: we must take this brutal virus seriously ... as a community here in the commonwealth. ... Expanding testing is critical. Being able to identify cases and do contact tracing is critical, as I mentioned to you in my case. And social distancing is such a key part of our work together to fight this virus, as well as making sure that our healthcare capacity continues to be able to address those individuals who do need to go into the hospital.
"At this point we're still in the surge of this disease, but we're watching it closely every day. And I urge everyone to stay home and stay safe as a community. We will get through this."
This article was originally published on April 24, 2020.
This segment aired on April 24, 2020.